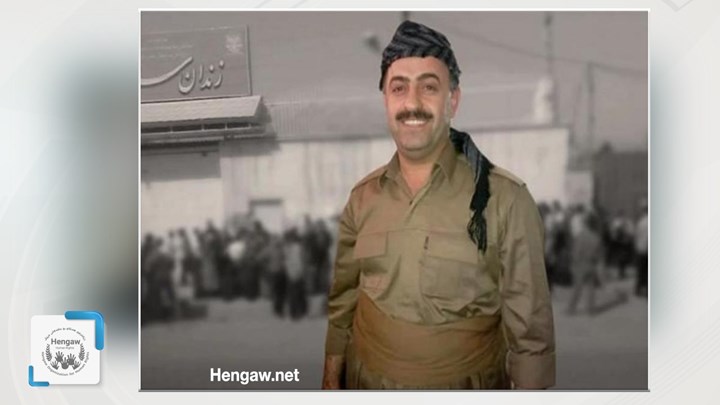 HENGAW — Kurdish political prisoner Haydar Qorbani has been secretly executed in the central prison of Sine (Sanandaj) without being allowed to hold the last meeting with his family.
According to the reports received by Hengaw Organization for Human Rights, the death penalty of Haydar Qorbani was secretly implemented at 4 a.m. on Sunday Morning, 19 December 2021. He was moved to solitary confinement at 23:00 the day before.
A family source told Hengaw that they were informed at 5 a.m. that Haydar Qorbani was being transferred to Tehran, and that the family could visit him immediately before his departure.
"But when we arrived in Sanandaj, they took us to the cemetery and showed us his grave. They did not even allow us to see his body," the source added.
The department of public relations at the Iranian Judiciary in Sine confirmed the execution in an official statement.
Hassan Qorbani, a brother of Haydar Qorbani, previously told Hengaw that they had appealed to the Supreme Court of Iran in accordance with Article 477 as they believed the sentence had no religious and legal grounds. The case was later referred back to the Court of Sine.
"I visited the Court of Sine later, but they said the appeal had been rejected, and that the death sentence was referred to relevant authorities in Kameran," Hassan Qorbani previously said.
Haydar Qorbani was arrested at his home on 16 October 2016 together with his brother-in-law, identified as Mahmoud Sadeqi. Family sources said he was forced into a televised confession on Iran's Press TV after suffering extreme torture for months.
Qorabni's sentence was first issued by the 1st Branch of Revolutionary Court of Sine in January 2021 for alleged membership and cooperation with the opposition Kurdistan Democratic Party of Iran.
Sources told Hengaw that Qorbani was not allowed to have any sort of communication with his family 20 months. Only months after the televised confession, the authorities allowed him to hold a phone call with his family.
The execution came after repeated objections for international human rights organizations, including Amnesty International which had described the sentence as unjust.
Local sources said Hossein Qorbani, a brother of Haydar Qorbani, has been arrested by Iranian security forces after he objected to the violations occurred in the procedures.