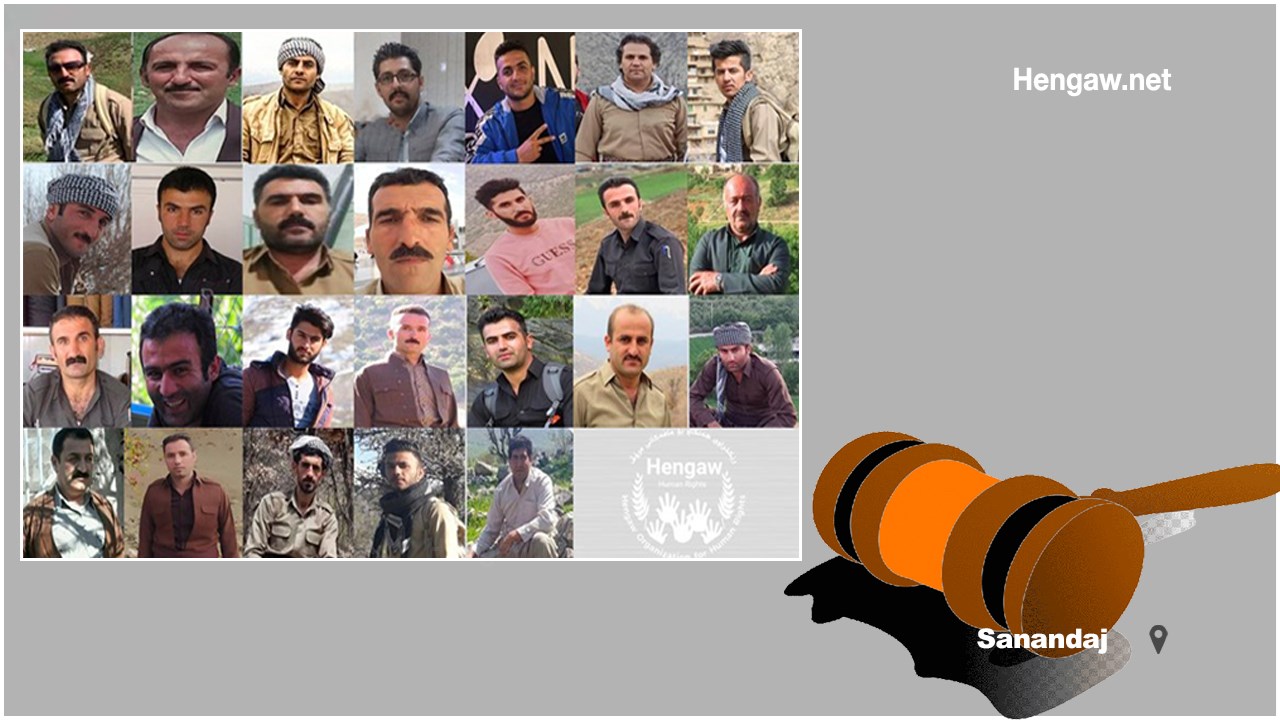 Hengaw: Monday, July 25, 2022
The hearing on the charges of at least 36 political and civil activists from the cities of Baneh, Saqqez, Marivan, and Sanandaj, who were arrested last fall during the widespread arrest of Kurdish citizens by the Intelligence forces, was held on Sunday, July 24, 2022, in branch 1 of Sanandaj Revolution Court headed by Judge Saeedi.

According to the documents received by Hengaw, the 36 Kurdish activists were sentenced by the security institutions to Propaganda in favor of parties or organizations opposing the Islamic Republic of Iran, membership in the Democratic Party, possession of weapons/munitions illegally, and fighting against the government, and they have been accused and tried by the court.

The identity of the 36 people, which has been verified for Hengaw, is as follows:
1- Karim Farozesh 2- Osman Mohammadpour 3- Farhad Pezeshki 4- Abubakr Pezeshki 5- Behzad Pezeshki 6- Jamal Marovoti 7- Siamak Arang 8- Salahaddin Pezeshki 9- Loqman Pezeshki 10- Wafa Pezeshki 11- Rafiq Pezeshki 12- Farzad Pezeshki 13- Kamran Pezeshki 14- Saeed Qaderi 15- Ahmad Pezeshki 16- Arsalan Pezeshki 17- Farid Derakhshani 18. Mohammad Mahjoor 19. Rahmatollah Salehian Yazibalaghi 20. Mohammad Ahmadi 21. Keyvan Minouyi 22. Arash Menbari 23. Edris Bahramian 24. Zaniar Menbari 25. Mohammad Nikpey 26. Faroq Nilpey 27. Abdolrahman Afshar 28. Saeed Rashidi 29. Mohammad Fadavi 30. Seivan Menbari 31. Abdollah Mahjoor 32. Abdolrahman Ashtak 33. Milad Menbari 34. Zagros Rashidi 35. Karim Pezeshki 36. Zanko Masoudi

The people were arrested last fall by the security forces during the mass arrest of Kurdish citizens in the cities of Sanandaj, Baneh, Marivan, and Saqqez and were taken to the detention center of this security institution in Sanandaj. A number of them were recently and temporarily released on heavy bail after 8 months of detention.

Hengaw previously reported that the detainees were deprived of the right to visit their families for several months and access to a lawyer.