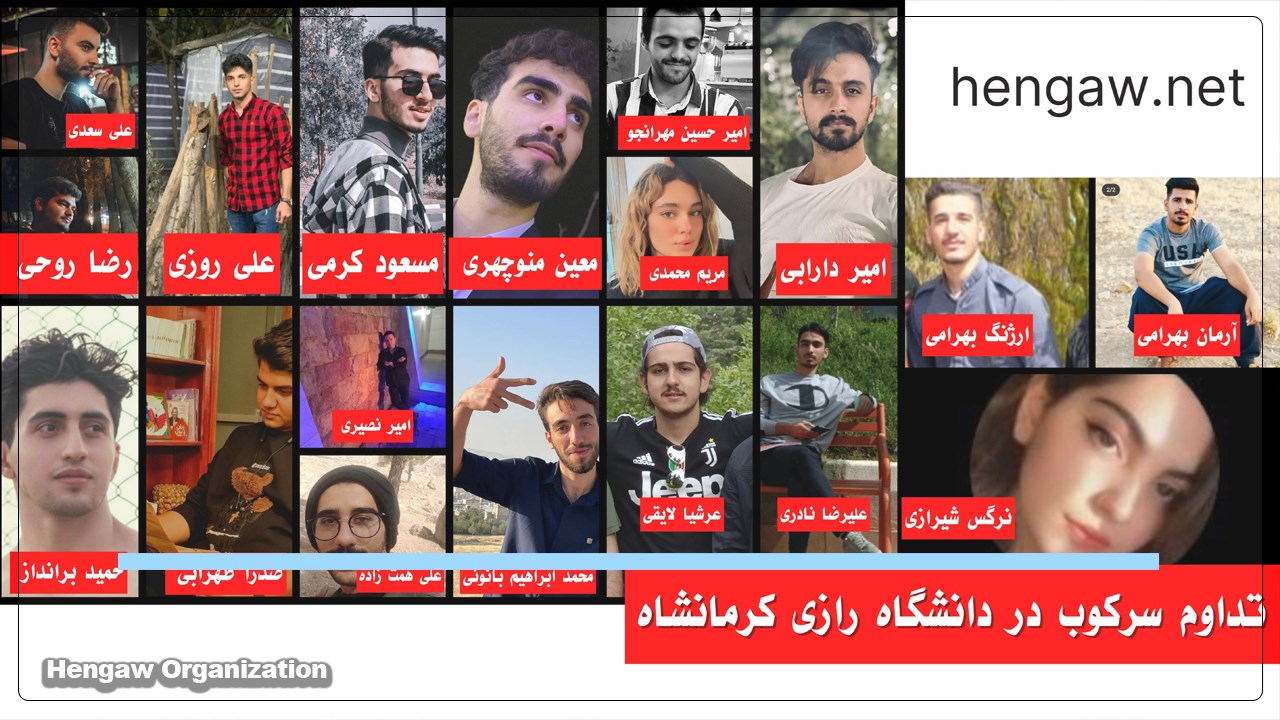 Hengaw; Saturday, November 19, 2022
The security institutions of the Islamic Republic, in cooperation with the security agents, besides issuing expulsion orders and suspending a number of university students, cooperate with them in abducting students. Until now, the identities of 14 of the abducted students have been confirmed.
According to the report received by Hengaw Human Rights Organization, in the last two months, the security guards of the Razi University of Kermanshah, on November 15, 2022, kidnapped 15 students of this university and arrested a number of others with the full coordination of the repression forces. They have been sentenced to complete exclusion from education and suspended.
According to the list received by Hengaw, Amir Nasiri, Moein Manouchehri, and Amir Hossein Mehranju are three students of Computer Engineering, Arshia Layeghi and Alireza Naderi are students of Petroleum Engineering, Ali Hematzadeh and Hamid Barandaz are Mechanical Engineering students, Sadar Zohrabi is a Material and Metallurgical student, Masoud Karmi of Civil Engineering student, Ali Rouzi of Petrochemical Engineering, Reza Rouhi of Oil Engineering have also been abducted.
Amir Darabi, a student of Literature, Muhammad Ibrahim Banouyi student of Islamic History, and Maryam Mohammadi, an incoming student of 2020, are three other students on this list.
Also, Narges Shirazi, a Nursing student of Medical Sciences in Sanandaj, was abducted by government forces on Wednesday, November 16, 2022, on Bahman 6th street in this city by violence.
According to the statements of an informed source, the security of the university started to identify the active students and provide their list to the government security and repressive forces.
According to eyewitnesses, the university security guards appeared at the entrance gate of the university with this list in their hands in the presence of the security forces and handed over the students to these forces.