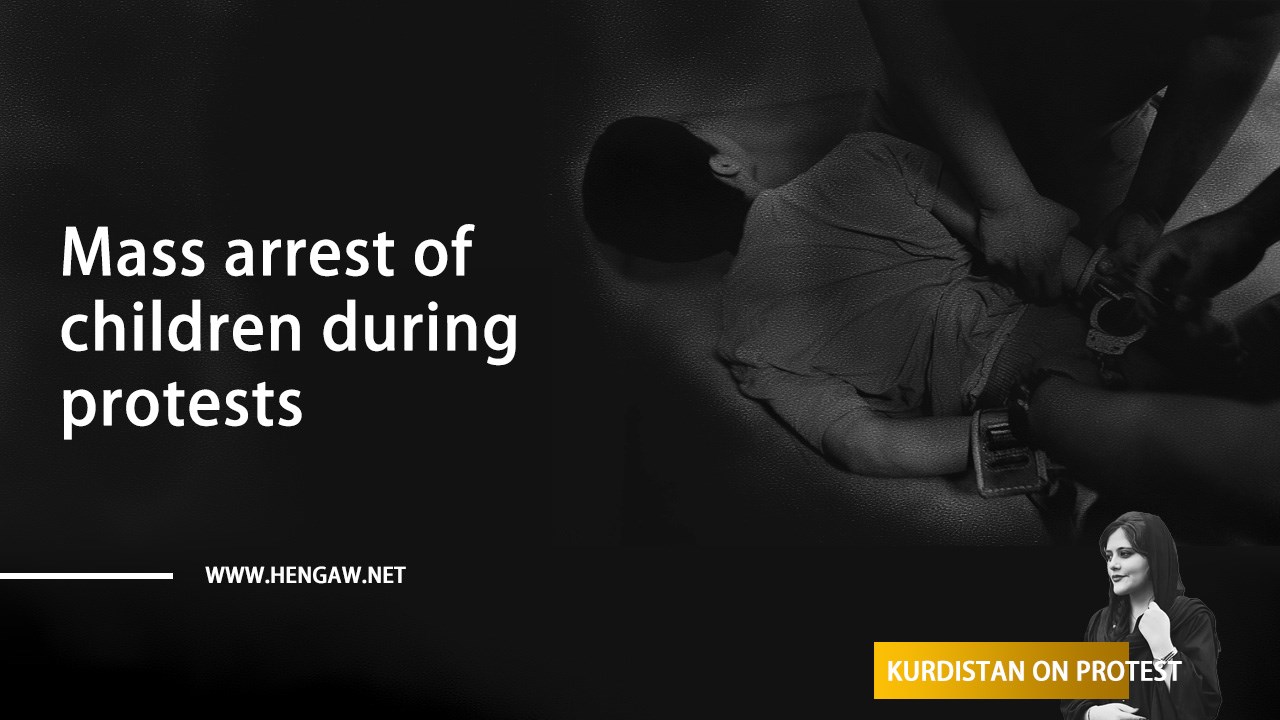 Hengaw: December 5, 2022
Over 300 students from different Kurdistan cities have been kidnapped by government troops over the previous 80 days, according to records kept in the Hengaw Organization for Human Rights' Statistics and Documents Center, although only 130 of them have been identified by the Hengaw so far.
103 boys and 27 girls out of a total of 130 kids had their identities confirmed. These figures show that Sanandaj city, with 17 cases, has the highest number of child abductions by security forces that have been reported. Additionally, 14 cases in Saqqez and 15 cases in Javanroud were documented.
The legal team of Hengaw is still monitoring the situation of the kids who have been kidnapped by the security institutions. According to the most recent information, some of these kids have been released after several days or weeks of ambiguity and isolation under illegitimate circumstances like making a pledge or occasionally with bail. Based on the reports received by Hengaw, these kids are in such a bad situation that they typically don't talk to anyone, are terribly isolated, and have experienced mental distress. It has been exceptionally difficult to interview these kids and their families due to this issue.
It is worth noting that, due to their vulnerable circumstances, children are always afforded exceptional protection in judicial systems, even if they commit a crime.
Limiting pretrial detention, allowing rapid access to family, prohibiting physical and psychological coercion, and providing access to legal advice and counsel suited to the child's condition are all examples of protective justice norms.
According to Hengaw, most kidnapped children were subjected to severe interrogation, with no regard for the children's protection rights.
These children have been denied even the basic rights of an adult detainee, such as notification of family, medical examination, and access to legal services.
Detention before trial should only be used as a last resort and, if required, in accordance with the Convention on the Rights of the Child, which the Iranian government has also signed. This is based on Article 9 of civil law. In this context, Article 287 of the Criminal Procedure Code in the Islamic Republic of Iran contains a provision for a similar situation. Based on this, it is legal to release a child or teenager to their parent or legal guardian and, if required, place them in jail during the preliminary investigation under stringent circumstances.
The violation of special processes for children is not limited to the pre-trial stage but has been extended to the subject of the competent court and the rights offered for children and teens in the court stage as well.
Based on the observations made thus far, the cases of some of these minors have been referred to the Revolutionary Court's branches.
According to Iranian legislation, children accused of crimes pursuant to the jurisdiction of the Revolutionary Court shall be tried in Criminal Court 1 with all the advantages provided for in the Children's Court. However, in the majority of cases, the matter was improperly referred to the Revolutionary Court, which is an extraordinary court that does not meet the minimum norms of a fair trial.
While the Hengaw legal team continues its research, it expresses deep concern about the repression forces' brutal behavior toward children.
It needs to be clarified that although 130 children have been authenticated, because of the need to protect the children's privacy, Hengaw refrains from mentioning their names and only presents statistics in this regard.
Separation of detained children based on provinces:
Kurdistan Province (Sanandaj): 64 cases, including 13 girls and 51 boys.
Sanandaj: 17 cases, Saqqez: 14 cases, Sarvabad: 11 cases, Dehgolan: 10 cases, Marivan: 4 cases, Bijar: 3 cases, Kamiyaran: 3 cases, Qorveh: 1 case, Baneh: 1 case.

West Azarbaijan Province (Urmia): 30 cases, including 2 girls and 28 boys
Piranshahr: 7 cases, Mahabad: 6 cases, Sardasht: 5 cases, Oshnavieh: 4 cases, Naqadeh: 3 cases, Bukan: 3 cases, Urmia: 1 case, Shahin Dej: 1 case.

Kermanshah Province (Kermashan): 24 cases, including 8 girls and 16 boys
15 cases in Javanroud, 5 cases in Paveh, 1 case in Ravansar, 1 case in Qasr-e Shirin, 1 case in Sonqor, and 1 case in Islamabad-e Gharb.

Ilam Province: 12 cases, including 4 girls and 8 boys.
Abdanan: six cases, Ilam: four cases, Darreh Shahr: one case, Dehloran: one case.