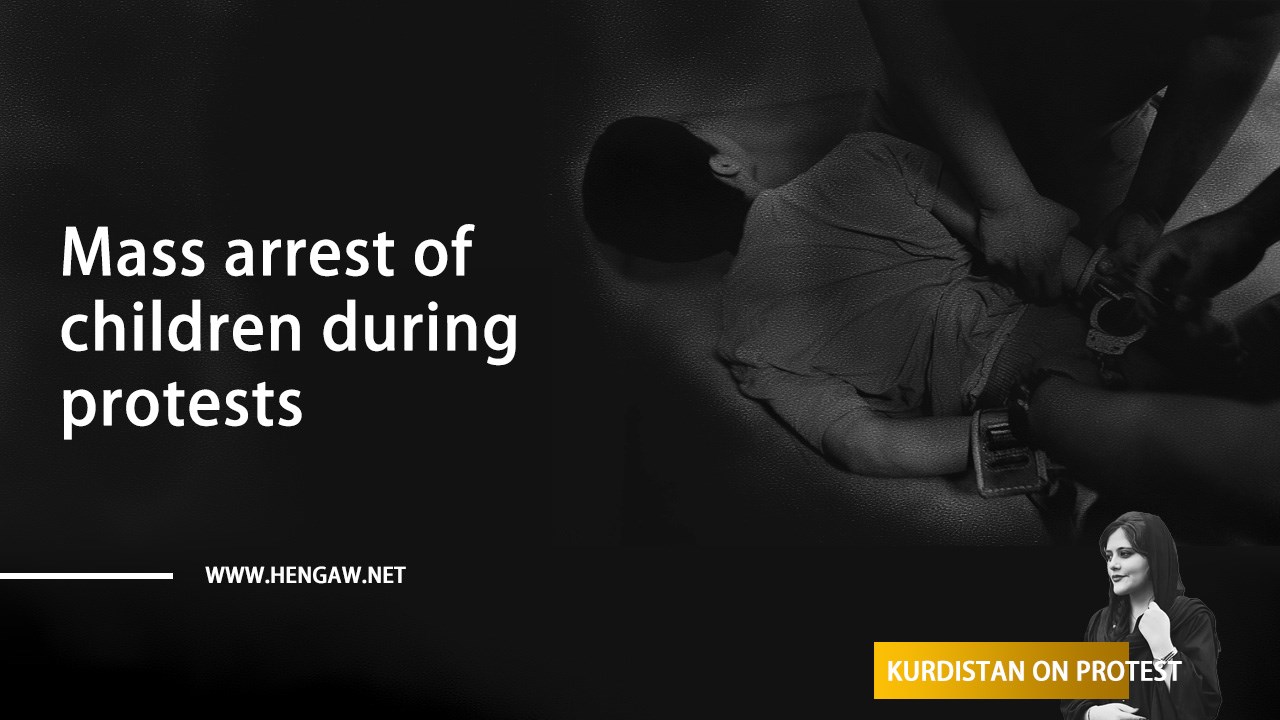 Hengaw: February 9, 2023
According to statistics recorded in the Statistics and Documents Center of the Hengaw Organization for Human Rights, approximately 400 students from various Kurdistan cities have been abducted by government forces over the past 5 months of the Zhina revolution; however, only 186 of them have been identified by the Hengaw thus far.
Out of a total of 186 children, 154 boys and 32 girls had their IDs verified. According to these data, the city of Javanrud has had the most child abductions by security forces, with a total of 28 incidents. 14 cases in Saqqez and 21 cases in Sanandaj were also recorded.
The legal team at Hengaw is still monitoring the situation of the children who have been abducted by security forces. According to the most recent evidence, some of these children have been released after several days or weeks of uncertainty and isolation under unlawful circumstances such as pledging or, on rare occasions, with bail. According to Hengaw's reports, these youngsters are in such horrible circumstances that they rarely talk to anyone, are isolated, and have experienced mental suffering. Due to this situation, it has been extremely difficult to interview these children and their families.
It is worth noting that, due to their vulnerable circumstances, children are always afforded exceptional protection in judicial systems, even if they commit a crime.
Limiting pretrial detention, allowing rapid access to family, prohibiting physical and psychological coercion, and providing access to legal advice and counsel suited to the child's condition are all examples of protective justice norms.
According to Hengaw, most kidnapped children were subjected to severe interrogation with no regard for the children's protection rights.
These children have been denied even the basic rights of an adult detainee, such as duration of detention, notification of family, medical examination, and access to legal services.
Detention before trial should only be used as a last resort and, if required, by the Convention on the Rights of the Child, which the Iranian government has also signed. This is based on Article 9 of civil law. In this context, Article 287 of the Criminal Procedure Code in the Islamic Republic of Iran contains a provision for a similar situation. Based on this, it is legal to release a child or teenager to their parent or legal guardian and, if required, place them in jail during the preliminary investigation under stringent circumstances.
The violation of special processes for children is not limited to the pre-trial stage but has been extended to the subject of the competent court and the rights offered for children and teens in the court stage as well.
Based on the observations made thus far, the cases of some of these minors have been referred to the Revolutionary Court's branches.
According to Iranian legislation, children accused of crimes under the jurisdiction of the Revolutionary Court shall be tried in Criminal Court 1, with all the advantages provided for in the Children's Court. However, in the majority of cases, the matter was improperly referred to the Revolutionary Court, which is an extraordinary court that does not meet the minimum norms of a fair trial.
While the Hengaw legal team continues its research, it expresses deep concern about the repression forces' brutal behavior toward children.
The names of the arrested children according to the provinces:
Kurdistan province (Sanandaj): 78 cases (15 girls and 63 boys)
Sanandaj: 1. Parsa Zolaikhapour, 16 years old, 2. Nima Saedi, 17 years old, 3. Matin Asadi, 18 years old, 4. Atusa Hosseini, 18 years old, 5. Hadia Mihemi, 18 years old, 6. Rahela Jafari, 18 years old, 7. Alan Hosseini, 16 years old, 8. Horam Hosseini, 15 years old, 9. Mardin Pardak, 14 years old, 10. Bita Ghasemi, 18 years old 11. Raman Hamzeh, 17 years old 12. Matin Moradi, 18 years old 13. Azadeh Poursamad, 16 years old 14. Ala Dasti, 15 years old 15. Qane Lotfi, 17 years old 16. Karwan Mohammadi, 17 years old 17. Diyako Niazi, 17 years old 18. Rozeh Guilian, 18 years old 19. Hadia Sobhani, 16 years old 20. Ahmed Asadi, 18 years old, 21. Rebwar Najafian, 18 years old
Saqqez: 1. Arin Majidi, 17 years old 2. Midea Rahimi, 17 years old 3. Rebaz Rezaei, 17 years old 4. Aria Majidpour, 18 years old 5. Milad Mirzaei, 18 years old 6. Kayhan Hashemi, 17 years old 7. Arin Abdullahzadeh, 17 years old 8. Mohammad Mohammadzadeh, 16 years old 9. Diyar Azmodeh, 17 years old 10. Zana Saberi 17 years old 11. Karo Amini, 17 years old 12. Elias Soleimani, 17 years old 13. Farzad Rahimi, 17 years old 14. Sina Ghadirpour, 17 years old
Sarvabad: 1. Parva Hosseini, 17 years old, 2. Sheniya Hosseini, 17 years old, 3. Ashkan Ebrahimi, 17 years old, 4. Aria Moradi, 17 years old, 5. Mobin Moradi, 17 years old, 6. Karo Fathi, 17 years old, 7. Peshawa Ahmadi, 17 years old, 8. Ashkan Dosti, 17 years old, 9. Helwest Rezaei, 18 years old, 10. Milad Azizi 18 years old 11. Mahan Nasaji, 18 years old
Kamiyaran: 1. Mobin Saliminejad, 16 years old 2. Mobin Faizi, 17 years old 3. Hejir Saed Mochshi, 17 years old 4. Ehsan Javaheri, 16 years old 5. Diyako Asadi, 17 years old 6. Zaniar Asadi, 16 years old 7. Siamak Ahmadi, 15 years old 8. Kianoush Ebrahimi, 17 years old 9. Farzad Ahmadi, 17 years old 10. Sirus Ebrahimi 17 years old 11. Nima Ebrahimi, 17 years old
Dehgolan: 1. Dlnya Khani, 17 years old, 2. Soran Mobaraki, 17 years old, 3. Saro Moradi, 17 years old, 4. Yasin Seif Panahi, 18 years old, 5. Bita Asadi, 17 years old, 6. Parsa Mohammadi, 17 years old, 7. Kijan (Kizhan) Karimi, 17 years old, 8. Aida Lotfi, 17 years old, 9. Shino Ahmadian, 16 years old, 10. Mohammad Hossein Panahi, 17 years old
Marivan: 1. Mardin Ghorbani, 17 years old, 2. Osama Panahi, 18 years old, 3. Shahvan Khavari, 16 years old, 4. Mobin Patini, 18 years old, 5. Karo Nasiri, 17 years old, 6. Sasan Irani, 18 years old
Bijar: 1. Hossein Ahmadi, 17 years old, 2. Daniyal Kabudovand, 17 years old, 3. Amir Abbas Ghanbari
Qorveh: 1. Mahan Khodadoost, 17 years old,
Baneh: 1. Milad Azizi, 17 years old
Kermanshah province: 50 cases (8 girls and 48 boys)
Javanrud: 1. Barzan Mostafaei, 17 years old, 2. Soran Azizi, 16 years old, 3. Amanj Ghasemi, 16 years old, 4. Kimia Alimoradi, 17 years old, 5. Sandos Yagoubi, 17 years old, 6. Hero Nouri, 17 years old, 7. Elina Ranjber, 17 years old, 8. Raha Sabouri, 17 years old, 9. Sara Karmi, 17 years old, 10. Mohammad Mohammadzadeh, 16 years old 11. Farsad Qadri, 17 years old, 12. Arash Azizi, 13 years old, 13. Osama Azizi, 16 years old, 14. Mobin Karimi, 16 years old, 15. Kardo Mohammadi, 16 years old, 16. Poya Golmohammadi, 17 years old, 17. Shahin Khodamoradi, 18 years old, 18. Bardia Azizi, 18 years old, 19. Hossam Mohammadi Tabar, 18 years old, 20. Ramsin Rahimi, 16 years old 21. Navid Moradi, 18 years old, 22. Sahand Aghaei, 16 years old, 22. Zana Sahragerd, 15 years old, 23. Alan Vaisi, 16 years old, 24. Mahan Babaei, 14 years old, 25. Mani Nouri, 17 years old, 26. Moaid Hosseini, 17 years old, 27. Sohail Ghanbari, 17 years old, 28. Arshiya Barzin, 17 years old
Paveh: 1. Sina Naderi, 16 years old, 2. Anas Waladbaigi, 17 years old, 3. Mahan Fathi, 17 years old, 4. Akar Salimi, 16 years old, 5. Aida Darvishi, 17 years old, 6. Soran Asadi, 16 years old, 7. Mardin Qaderi, 17 years old, 8. Mohammad Waladbaigi, 16 years old, 9. Arin Mahmoudi, 16 years old, 10. Heja Soleimani, 16 Year
Ravansar: 1. Matin Mohammadi, 16 years old, 2. Bahman Moradi, 15 years old, 3. Kiyan Khorrami, 17 years old, 4. Soroush Sharifi, 17 years old, 5. Arin Piri, 17 years old, 6. Matin Mohammadi, 17 years old
Kermanshah: 1. Shaho Gudarzi, 15 years old, 2. Sina Karami, 15 years old, 3. Nazanin Jamalondi, 18 years old
Qasr-e Shirin: 1. Arin Rezaei, 17 years old
Sonqor: 1. Saman Kamasi, 16 years old
West Azarbaijan province (Urmia): 38 cases (4 girls and 34 boys)
Mahabad: 1. Mahdi Qobadi, 15 years old, 2. Hawar Haqparest, 15 years old, 3. Artin Mohammadnejad, 14 years old, 4. Shima Seideh, 16 years old, 5. Amir Mahmoudi, 17 years old, 6. Kiyan Zinali, 16 years old, 7. Zakaria Khizirpour, 15 years old, 8. Hoya Zahabi, 17 years old
Piranshahr: 1. Zaniar Nasiri, 16 years old, 2. Milad Elahi, 18 years old, 3. Kawian Piruti, 11 years old, 4. Daniar Qaderi, 16 years old, 5. Arman Payadar, 17 years old, 6. Zaniar Hosseini, 17 years old, 7. Karan Firouzi, 14 years old
Sardasht: 1. Abdul Rahman Khizrpour, 17 years old, 2. Soran Sulaimanpour, 17 years old, 3. Peshawa Ahmadi, 16 years old, 4. Armin Molani, 18 years old, 5. Matin Rahmani, 17 years old, 6. Siawash Amini, 16 years old
Oshnavieh: 1. Amin Khaleghi, 14 years old, 2. Matin Mihankhah, 14 years old, 3. Wahab Rasouli, 17 years old, 4. Hiwa Sheikh Ahmadi, 18 years old, 5. Ehsan Mohammadi, 16 years old, 6. Komar Shaboyi, 14 years old
Bukan: 1. Hanieh Azizi, 12 years old, 2. Mohammad Bahrami, 15 years old, 3. Pouya Mohammadzadeh, 17 years old, 4. Mohammad Naseri, 17 years old, 5. Diyar Sheikhi, 16 years old, 6. Rozhan Kazemi, 18 years old
Naghadeh: 1. Kiyan Abdullahpour, 16 years old, 2. Farhad Milani, 16 years old, 3. Mardin Ahmadi, 17 years old
Urmia: 1. Samaneh Fathi, 15 years old
Shahin Dej: 1. Milad Karimi, 17 years old
Ilam province: 19 cases (4 girls and 15 boys)
Abdanan: 1. Sania Sharifi, 17 years old, 2. Amir Reza Mousavi, 16 years old, 3. Amir Hossein Mousavi, 16 years old, 4. Mohammad Mahdi Mohammadi, 17 years old, 5. Mahdi Joshan, 17 years old, 6. Ashkan Ahmadi, 18 years old, 7. Mohammad Yusif Mohammadzadeh, 16 years old, 8. Ashkan Nosratyan, 15 years old, 9. Yazdan Hasli, 15 years old 10. Ali Barfi, 18 years old
Ilam: 1. Elaheh Momeni, 16 years old, 2. Nilofar Ghazi, 17 years old, 3. Sara Shirdel, 18 years old, 4. Amir Mohammad Gholami, 17 years old, 5. Mohammad Kamil Zandkhani, 16 years old
Dareh Shahr: 1. Farzad Asadi, 18 years old, 2. Mohammad Amin Faridi, 18 years old
Dehloran: 1. Amir Mohammad Bigpour, 17 years old
Sarableh: 1. Koresh Gravand, 17 years old
Other cities of Iran: case (1 girl)
Tehran: 1. Helia Barkhi, 18 years old from Eslamabad-e Gharb