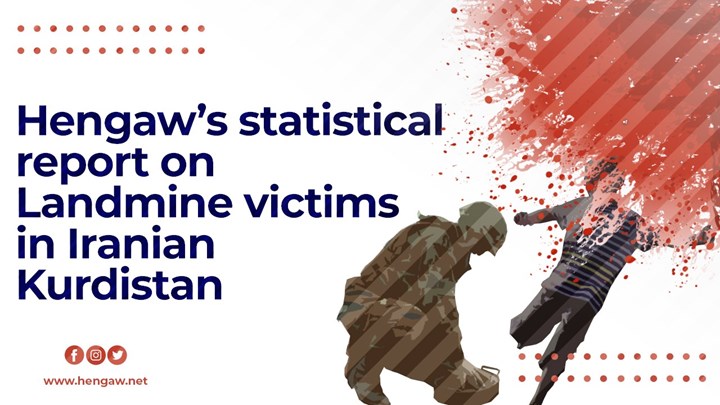 Hengaw: Hengaw Human Rights Organization publishes a statistical report on landmine victims over the past year on April 4, "World Mine Awareness Day", in order to reflect the presence of minefields and victims of this deadly hiden weapon in Kurdistan. This is a 500 percent increase in the number of child and female victims compared to last year.

According to statistics recorded by Hengaw Human Rights Organization's Statistics and Documentation Data Center, from April 2021 to April 2022, at least 50 citizens were killed on the borders of Kurdistan by landmines and explosives left over from the 8-year Iran-Iraq war and new mines planted by the Revolutionary Guards. This statistic has increased by 12 cases or 32% compared to last year.

Of the 50 victims, 12 died and 38 were injured. Last year, 10 citizens were killed and 28 were injured.

According to the report, eight children and teenagers were killed on the Kurdistan borders during last year. A 10-year-old child was killed on the Dehloran border, and 7 children and teenagers were injured on the borders of Mehran (5 cases), Baneh, and Qasr-e-shirin, each with one case.

Also, at least 4 women were injured in Ghasr-e-shirin (2 cases), Soumar, and Dehloran (1 each).

According to the Hengaw's statistics, there were at least 12 cases of women and children being victimed in 2021, which is an increase of 500% compared to last year which 2 cases were registered.

Separation of victims by province:

During last year, most of the landmine victims were recorded on the borders of Ilam province, with 19 cases.

Kurdistan Province (Sanandaj): 10 victims including 4 killed and 6 injured
Ilam province: 19 victims including 4 killed and 15 injured
West Azerbaijan Province (Urmia): 6 victims including 6 injured
Kermanshah province: 15 victims including 4 killed and 11 injured

Separation of landmine victims by social class:

Most of the landmine victims in Kurdistan during last year were from the working class, which 38 Kolbars, drivers, shepherds, and workers were killed.

Workers, farmers, and ranchers: 38 cases including 9 killed and 29 injured
Military: 6 cases including 3 killed and 3 wounded
Ordinary citizen: 6 cases including 6 injured

International humanitarian law and disarmament law define anti-personnel mines as prohibited weapons. In contrast, landmines are not considered as absolute prohibitions, and restrictions to minimize their effects are largely subjected to customary law in international law. For example, the sides of the conflict must maintain a map of minefields or clear these fields after ceasefire to support civilians.

The 1997 Ottawa Convention obliges governments to refrain from producing and stockpiling anti-personnel mines, which unfortunately the Government of the Islamic Republic of Iran has not yet acceded to despite the presence of landmine victims.

Various statistics indicate that the number of mines planted in five provinces bordering Iraq, including West Azerbaijan (Urmia), Kurdistan (Sanandaj), Kermanshah (Kermashan), Ilam and Khuzestan, is 16 to more than 20 millions, which covers an area of ​​about four million and two hundred thousand hectares. Most of these mines have been planted in Kurdistan, with an average of two mines per Kurdish citizen.

Besides the existing mines (Iran-Iraq war), the Hangaw research shows that the Iranian government has planted new mines on the border over the past few years under the pretext of confronting Kurdish opposition parties. The growing number of landmine victims in the provinces of Kurdistan and West Azerbaijan is one of the effects of this security policy.