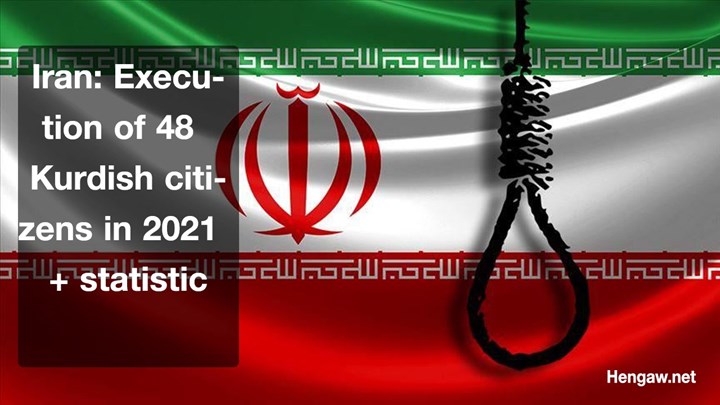 Hengaw: In 2021, at least 48 Kurdish prisoners were sentenced to death by the Iranian judiciary and were executed in prisons in Iranian Kurdistan.
Citing the registered statistics of Hengaw Human Rights Organization, at least 48 Kurdish prisoners were executed in Ilam, Loristan, Kermanshah, Sanandaj and West Azerbaijan provinces. A political activist was among the execution victims. In addition, one of the prisoners who were sentenced to death was still a minor at the time of the crime.
Kurdish political prisoner Haydar Ghorbani was executed in Sanandaj on December 19, 2021. The prisoner was subjected to a range of human rights abuses pending his execution. He was held in solitary confinement for several months, tortured and forced to confess. In addition, he was denied contact with his family for several months during his captivity. His execution was also carried out in secret.
In 2021, the 25-year-old Kurdish prisoner Sadjad Sandjari from Kermanshah, who committed a crime at the age of 15, was executed in secret after ten years of imprisonment, also without the knowledge of his family.
Executions by Charges:
Political activism: 1 case
Murder/manslaughter: 31 cases
Drug offences: 16 cases
Executions by provinces:
West Azerbaijan province: 22 executions
Kermanshah Province: 16 executions
Sanandaj Province: 5 executions
Ilam province: 2 executions
Loristan Province: 3 executions
Citing Hengaw statistics, the judiciary of the Islamic Republic of Iran only announced the execution of political prisoner Haydar Ghorbani out of a total of 48 executions recorded.
Download PDF file list of names