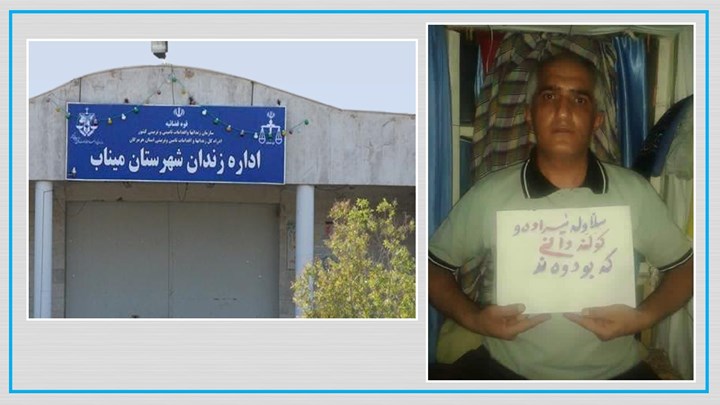 Hengaw: A Kurdish political prisoner who has been detained in Minab Central Prison for 12 years without the right to leave has got a heart attack and has been returned to prison despite his crititical physical condition.
According to a report received by Hengaw Human Rights Organization, on Monday, March 1, 2021, Kamal Sharifi, a political prisoner and journalist from Saqez, suffered a heart attack in Minab Central Prison and was transferred to a medical center in the city under strict security measures.
A relative of Mr. Sharifi told Hengaw that after Kamal Sharifi was sent to the medical center, it was reported that he had been poisoned by the spraying of the prison wards , but after completing the tests and taking an ECG, they said that he had suffered a heart attack for four days. He was hospitalized in the ccu ward of Abolfazl Hospital in Minab.
The source further stated that, during these four days, Kamal Sharifi has been under strict security measures so that despite having severe pain in his chest, he was handcuffed and tied to the hospital bed, which has led to the reaction of the medical staff of the hospital.
According to the source , the doctors of Abolfazl Hospital said that Kamal Sharifi should be transferred to Bandar Abbas medical centers for angiography, however, the prison authorities returned him to Minab prison on Friday, March 6, despite his unfavorable physical condition.
Kamal Sharifi, 48, from Saqez, was arrested by the Iranian Islamoc Revolutionary Guards on Sunday, May 25, 2008, and was sentenced by First Branch of the Iranian Islamic Revolutionary Court On Saqqez, headed by Judge Shayek, to 30 years in prison on charges of "membership in the Kurdistan Democratic Party." He was sentenced to one year in exile.
It is worth mentioning that the trial of this journalist lasted only 5 minutes and he was able to talk to one of his lawyers only a few minutes before the trial.
The political prisoner was severely tortured by government security forces during his detention.
Kamal Sharifi is currently serving 12 years of his 30-year sentence in Minab Prison and has been denied leave.