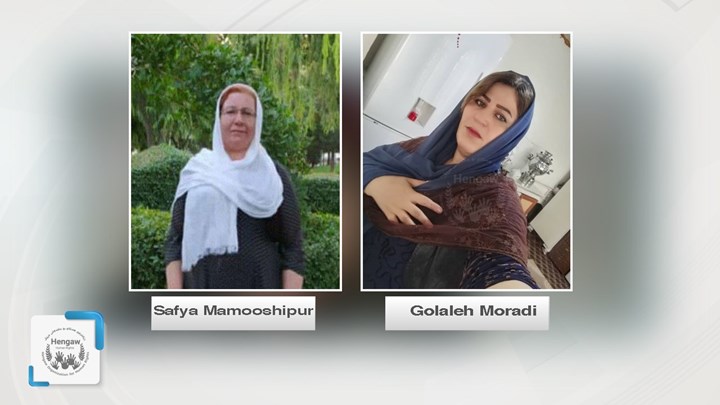 Hengaw: Two Kurdish women from the Piranshahr district of West Azerbaijan (Urmia) Province have been transferred to Urmia Central Prison after more than 45 days of detention.
According to a report received by Hengaw Human Rights Organization, in recent days, Safia Mamushipo and Galaleh Moradi, both from Piranshahr, have been transferred to the women's ward of Urmia Central Prison after 45 days being in custody.
According to an informed source from Urmia Prison, the:3 two women were severely tortured during their detention in the IRGC Intelligence Detention Center in Urmia.
Safia Mamoushipo, 48, and Galaleh Moradi, 47, the wife and mother-in-law of Osman Haji Hosseini, a member of the Revolutionary Guards who was shot dead on the evening of Friday, April 16, 2021, on Zivieh Road in Piranshahr.
" Zagros Eagles" group claimed responsibility for killing Osman Haji Hossini and these two women have been arrested in connection with the killings.
Galaleh Moradi was arrested on Saturday,April 17, 2021, and Safia Mamushipour was arrested by Piranshahr IRGC intelligence forces on Wednesday, April 21, and transferred to Urmia.
It is worth mentioning that two of Galaleh Moradi's children, Taher Bazzazi (son-in-law of Osman Haji Hosseini) and 14-year-old Matin Bazzazi, were also arrested in this regard, but they were later released.