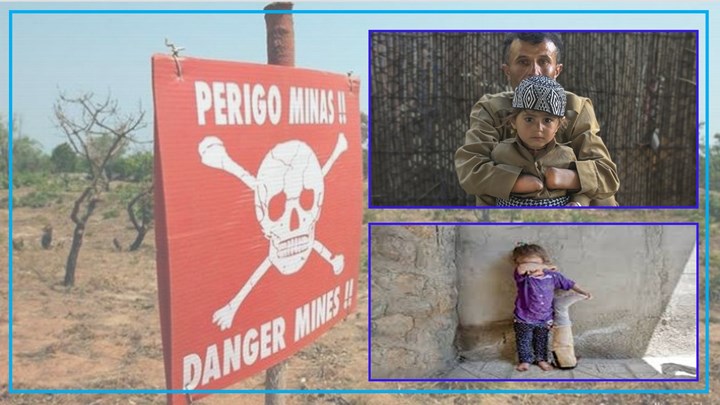 Hengaw : Landmine explosives left over from the eight-year Iran-Iraq war, as well as mines planted by the Iranian Islamic Revolutionary Guards Corps in recent years, continue to cause casualties in Iranian Kurdistan.
According to statistics registered in Statistics and Documentation Data Center of Hengaw Human Rights Organization, during 2020, at least 40 citizens on the borders of Iranian Kurdistan were killed and injured due to landmines and explosives left over from the eight -year Iran-Iraq war and newly planted landmines by Iranian Islamic Revolutionary Guards Corps which compared to 2019 with 27 casualties, a 32.5% increase has been recorded .
Of the 40 victims, 10 lost their lives and 30 were injured and amputated .
One of the victims was under 18 years old. 14-year-old Payam Rostami lost his life in a landmine explosion on the Khosravi border areas in Kermanshah province.
Separation of victims by province:
During the past year, most of the registered landmine explosion victims were in the border areas of Kurdistan and Kermanshah provinces, in which 11 citizens were killed and injured in each of these two provinces.
Kurdistan Province (Sanandaj): 11 cases (2 killed and 9 injured )
Ilam province: 10 cases (3 killed and 7 injured )
West Azerbaijan ( Urmia ) Province : 8 cases ( 2 killed and 6 injured )
Kermanshah province: 11 cases (3 killed and 8 injured)
Separation of victims by social class:
Most of the mine victims in Kurdistan during 2020 were from the working class, which 18 Kolbars , drivers, shepherds and workers were killed.
Worker: 18 cases (8 killed and 10 injured)
Military: 18 cases (1 killed and 17 wounded)
Civil: 4 cases (1 killed and 3 wounded)
Although customary international law does not consider landmines as absolute prohibitions, but there are limitations to minimize their effects. For example, the parties to a conflict must maintain a map of minefields or, at the end of the conflict, clear the minefields to support civilians.
The Ottawa Convention requires governments to refrain from producing and stockpiling anti-personnel mines, which the Islamic Republic of Iran has not yet acceded to despite the casualties of landmines.
According to a study conducted by the Red Cross to develop customary rules governing humanitarian law, several restrictions in Rules No. 21, 22, and 13 on landmines were defined as customary law.
- When using, precautions must be taken to reduce human casualties.
- The side that uses the landmines must record the locations
-At the end of the active conflict, the governments must provides the option to clear the land mines
However, the Iranian and Iraqi governments refuse commit to the the biding customary international law.
For downloading the names list PDF click here