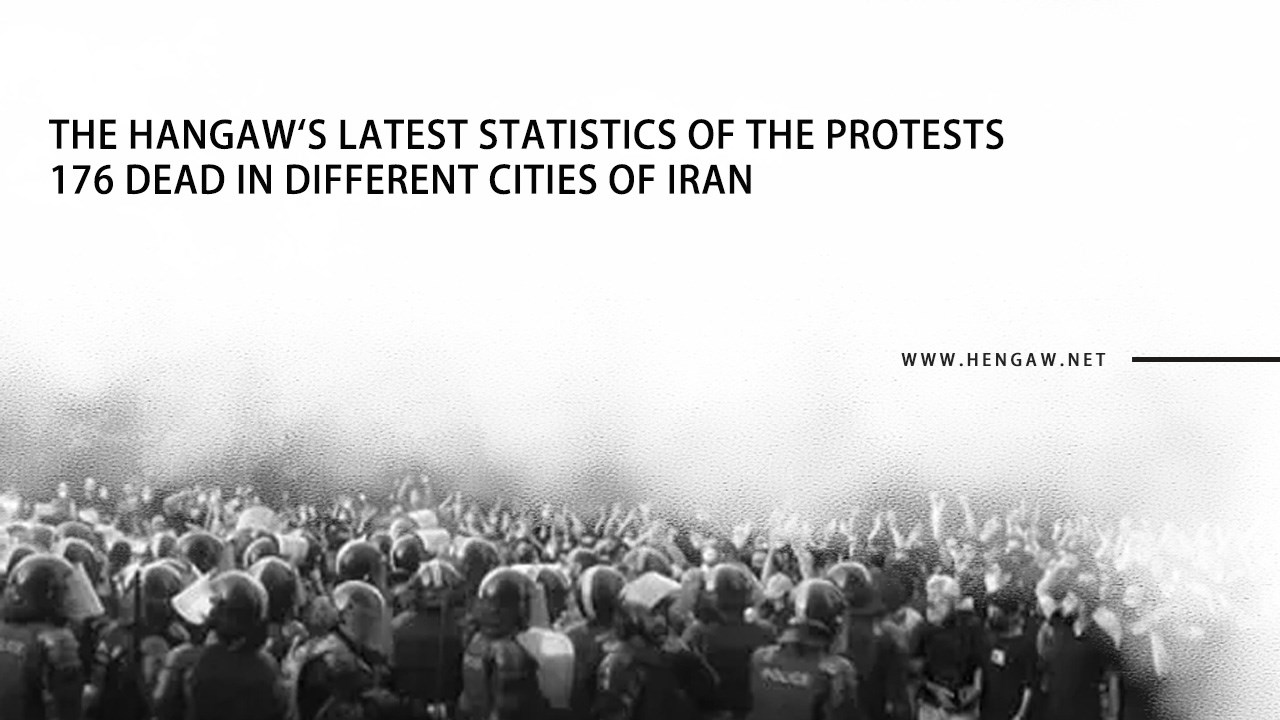 Hengaw: Saturday, October 14, 2022
At least 176 citizens have been killed due to indescribable violence and shootings from the Iranian security forces of the Islamic Republic of Iran since the beginning of nationwide protests against the killing of Zhina (Mehsa) Amini, which started on Saturday, September 19, 2022 in Saqqez district of Kurdistan and spread to 105 cities across the country.

The number of people killed following Hengaw's investigation and verification is announced as follows. It is worth mentioning that this statistical report only includes the cases in that Hengaw has been able to verify their complete identity.

Based on the statistics registered in the statistics and documents center of the Hengaw Human Rights Organization, during the recent protests, at least 176 protestors have been killed in 17 provinces of Iran in the past 20 days.

The highest number of deaths of protesting citizens have been recorded in the provinces of Sistan and Baluchistan with 88 cases, Mazandaran with 15 cases, Tehran and Kurdistan with 11 cases each, and West Azarbaijan (Urmia) and Gilan with 10 cases each.

The first person who was killed by the security forces following the general strike in the cities of Kurdistan was in the Diwandara district of Kurdistan province.

Statistics of killed children:
Also, among these statistics, 31 people have been killed by the security forces, who are considered children and adolescents based on the norms of international human rights, two of them are girls.
11 of the children who died were from Sistan and Baluchistan, 4 each in West Azerbaijan (Urmia) and Tehran provinces, 3 teenagers in Kermanshah and Mazandaran, 2 teens in Alborz and Khorasan Razavi, 1 teen each in Gilan and Kohkiloyeh and Bovirr Ahmad. They all have lost their lives.
Killed women:
Among these figures, 8 women were killed by the Iranian security forces, two of whom died as a result of beatings.
Mazandaran Province: 3 cases
Alborz province: 2 cases
Kermanshah, Tehran and Isfahan provinces, one case each
It is worth mentioning that two of these people died after being arrested. Nima Shafiqdoost, a 16-year-old teenager from the Selmas district of West Azerbaijan (Urmia) province died due to a severe injury caused by a war bullet and subsequently being abducted by Iranian security agencies and denied treatment.
Emad Heydari, a former political prisoner and civil activist from Ahvaz, died after being arrested. Also, Esmail Dezwar from Saqqez died after being detained under torture.
Faraz Firouzi, the legal advisor of Hengaw, also states that the announced statistics are based on valid documents and up to October 14, While expressing concern about the fate of the detainees who were injured and kidnapped by the Iranian government forces, as well as the interruption of Internet access in various cities, he announced the number of those killed is likely to increase.
Separation of the victims according to provinces;
Sistan and Baluchestan Province: 88 cases (86 men)
Mazandaran Province: 15 cases (3 women and 12 men)
Kurdistan Province (Sanandaj): 11 cases (11 men)
Tehran Province: 11 cases (1 woman and 10 men)
West Azarbaijan Province (Urmia): 10 cases (10 men)

All the dead were Kurdish citizens in Urmia.
Gilan: 10 cases (10 men)
Kermanshah Province (Kermashan): 9 cases (1 woman and 8 men)
Alborz province: 6 cases (2 women and 4 men)
Khorasan-Razavi Province: 4 cases (3 men)
Kahkiloyeh and Boyerahmad: 2 cases (2 men)
Qazvin Province: 2 people (2 men)
Zanjan province: 2 people (2 men) including a teenager
Isfahan province: 2 cases (1 female and 1 male)
Ilam Province: 1 case (1 male)
Khuzestan province: 1 case (1 male)
Hamedan province: 1 person (1 man)
Semnan: 1 person (1 man)
Note 1: It should be noted that 4 of the citizens who were killed by direct fire from Iranian government forces in the cities of Qochan, Tehran, and Qazvin were Kurdish citizens, and in these cases, 36 Kurdish citizens have lost their lives during the protests.
Point 2: Two Afghan citizens, including a 14-year-old teenager, died during the protests in Zahedan and Tehran as a result of direct fire by Iranian government forces.