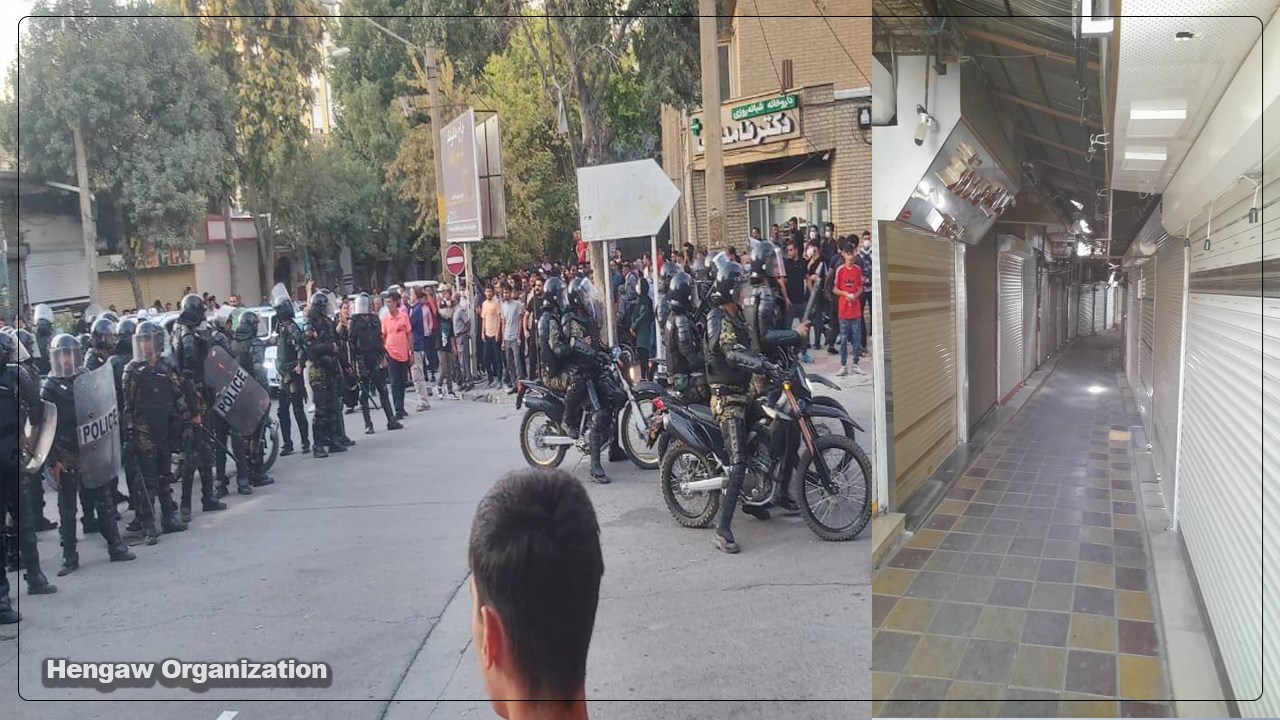 Hengaw: Tuesday, September 20, 2022

Based on the statistics recorded in the Statistics and Documents Center of Hengaw Human Rights Organization, during the strikes and protests on Monday, September 19, 2022, at least 3 citizens were killed and 221 others were injured, and more than 250 Kurdish citizens were forcibly abducted by the security forces of the Islamic Republic.

According to the information of Hengaw, on Monday, September 19, 2022, people went on strike in 24 cities of Kurdistan as a sign of protest against the murder of Zhina Amini by the government, and protest gatherings were held in 13 cities.
Strike in 24 cities
On Monday, September 19, 2022, despite the threat of security institutions merchants and a large part of private businesses in the cities of Ilam, Abdanan, Malekshahi, Kermanshah, Ravansar, Javanrud, Paveh, Kamiyaran, Sanandaj, Dehgolan, Qorveh, Marivan, Saqqez, Baneh, Divandare, Bijar, Piranshahr, Sardasht, Mahabad, Bukan, Tekab, Urmia, Oshnavyeh and Qutur were widely on strike in such a way that people even stayed in their homes and refused to do activities such as morning exercise to protest the murder of Zhina Amini, a 22-year-old girl from Saqqez.
Cities where protests took place during the strike
According to the documents received by Hengaw, they came to the streets in 13 cities of Divandareh, Saqqez, Baneh, Marivan, Sanandaj, Kamiyaran, Dehgolan, Bijar, Qorveh, Tekab, Mahabad, Sardasht, and Bukan. As a result of security forces shooting at ordinary people, at least 3 citizens were killed and 221 other citizens were injured, of which 43 were women and 24 were teenagers and children.
Mohsen Mohammadi from Divandareh, Reza Lotfi, 25, from Dehgolan, and Fereydoun Mahmoudi from Saqqez are 3 citizens who were killed as a result of government forces firing. It is worth noting that the identity of a large number of injured people has also been verified for Hengaw, which we refrain from publishing due to the safety of individuals.
Separation of killed and wounded citizens in different cities:
Divandareh: 1 killed and 33 wounded, 4 teenagers
Saqqez: 1 killed and 37 injured, 16 women and 4 teenagers
Baneh: 40 wounded, 10 women and 6 teenagers
Mahabad: 23 injured, 8 women and 7 teenagers
Bukan: 17 wounded, 4 women and 3 teenagers
Sanandaj: 14 wounded, 6 women
Marivan: 5 wounded
Dehglan: 1 killed and 16 injured
Bijar: 9 wounded
Group: 9 wounded
Kamiyaran: 11 wounded
Tekab: 7 wounded, 3 women.
In this regard, based on the research of Hengav, it has been determined that 4 of Bukan's injured people, including a 10-year-old girl, are in the "Qalipur" special care unit of this hospital. Also, 5 of the wounded from Saqqez were transferred to Tabriz, and 4 of the wounded from Divandareh were transferred to Sanandaj medical centers, and the physical condition of two of them, Fuaad Ghadimi and Zaniar Karimi, and one of the wounded from Saqqez, named Shoresh, is reported to be very serious.
In this regard, during yesterday's protests, about 250 people were abducted by the security forces in the cities of Paveh, Kamiyaran, Sanandaj, Qorveh, Bijar, Dehgolan, Marivan, Saqqez, Divandareh, Baneh, Bukan, Mahabad, Oshnavyeh, and Tekab. Currently, Hengaw has been able to verify the identity of 30 of them.
It is worth mentioning that, at the same time, the legal team of Hengaw will investigate the actual issues based on the received images, audio files, and interviews with the informants and will publish their legal theory in this regard. The number of images and reports is very large and Hengaw will inform immediately after the verification.