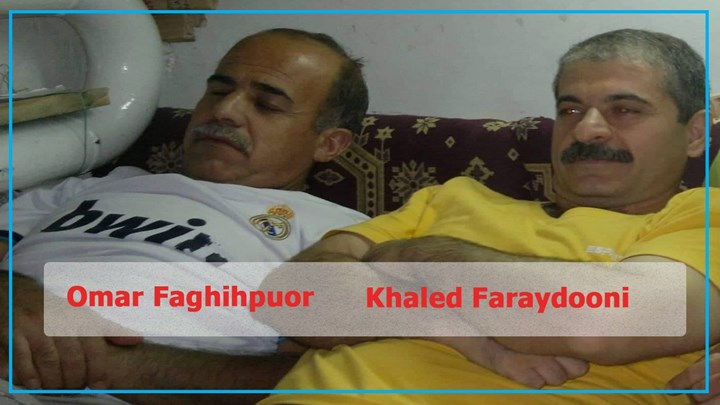 Hengaw: Two Kurdish political prisoners currently serving their sentences in Urmia Central Prison are still deprived of their right to leave after more than 20 years of imprisonment.
According to a report received by Hengaw Human Rights Organization, Two Kurdish political prisoners, Khaled Fereyduni from Mahabad and Omar Faqihpour from Bukan, have been held in Piranshahr, Mahabad, Rajai Shahr, Karaj and Urmia prisons for more than 20 years without even one day leave.
Omar Faqihpour and Khaled Fereydoni were Peshmerga members of the Kurdistan Democratic Party of Iran (KDPI) who were detained in an ambush by the Iranian Islamic Revolutionary Guards on August 31, 2000, during a mission for raising funds in a village near Piranshahr.
These two prisoners have been subjected to horrific psychological and physical torture since their detention in Piranshahr and Mahabad Intelligence Detention Centers.
Finally, in the fall of 2000 , the The Iranian Islamic Revolutionary Court In Mahabad sentenced them to death for being members of the Kurdistan Democratic Party of Iran (KDP) on charges of Moharebeh( Fight Against God ). This sentence was reduced to life imprisonment a few years later on April 30, 2005 by the provincial court of appeals.
Khalid Fereydoni and Omar Faghihpour were deported to Rajai Shahr Prison in Karaj on December 3, 2007, after their death sentences were reduced to life imprisonment. These two prisoners alongside Muhammad Nazari were returned to Urmia Central Prison on Wednesday, November 15, 2017, after 10 years of experience in inhumane conditions.
Reza Sharifi-Bukani, a former political prisoner and friend of these two political prisoners in Rajai Shahr Prison, told Hengaw that they had not met with their family members during 10 years of being held in Rajai Shahr Prison in Karaj and were only allowed to call their relatives once in a while .
Khalid Fereyduni had the least opportunity to visit his family during his imprisonment, and Omar Faqihpour's family had no contact with him because they lived in the city of Qaladze in Kurdistan region. It is worth mentioning that his daughter was three years old at the time of his arrest and was denied meeting her father during all these 20 years years.
These two political prisoners were even deprived of health facilities and the right to access appropriate treatments, so much so that Omar Fiqhpour lost his eyesight when he was detained in Urmia Prison because prison authorities refused allowing him out-of-prison for receiving medical treatments .
They have been in a very different condition for providing their very basic needs due to financial issues of themselves and their families and they have to earn money by doing labour and knitting in the prison .
Over the past three years, Prison authorities have repeatedly informed these two prisoners that they have been pardoned and asked them to fill out forms, but each time they were deprived from the general pardon by different pretexts .