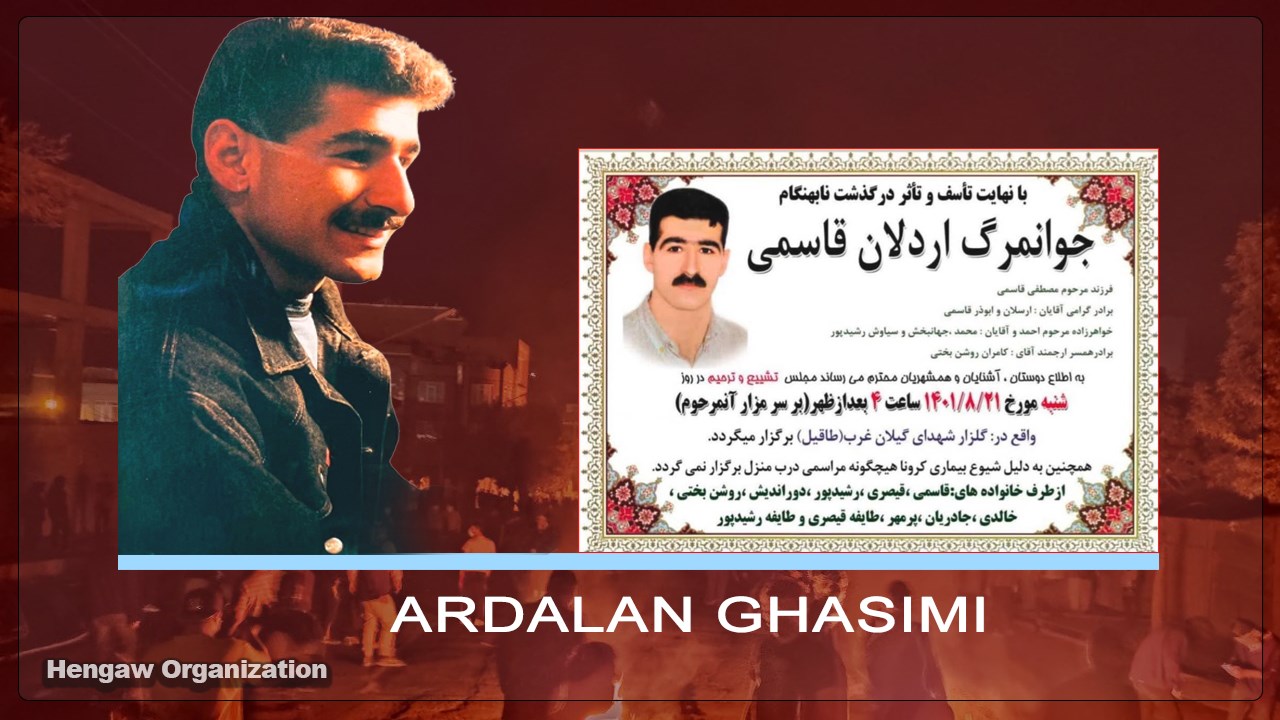 Hengaw: Saturday, November 12, 2022
Ardalan Ghasemi, a Kurdish resident of Gilan-e Gharb, was murdered by direct fire from Iranian government forces while writing anti-government slogans on Kermanshah's Taq-e Bostan Boulevard.
According to the report received by the Hengaw human rights organization, 44-year-old Ardalan Ghasemi from Gilan-e Gharb, Kermanshah, was shot dead on the evening of Thursday, November 10, 2022, along with his other friend, while writing slogans in one of the streets of Kermanshah. This citizen was shot twice in the waist, according to one of the family members who observed his body.
Ardalan Ghasemi's friend is also seriously injured and is now under medical care at Taleghani Hospital.
According to one of the relatives of Ghasemi's family, on November 11, 2022, the Iranian security agencies summoned Ghasemi's family to Kermanshah and took them to a medical center near his injured friend. Ardalan's friend, who was still bleeding, told them in "strange statements": "We got into a car loaded with weapons to deliver to the protesters, and the security forces shot at our car, and Ardalan was killed."
Mr. Ghasemi's brother also told Hengaw in this regard: "The security agencies first asked for 400 million tomans [about USD 11,500] in cash to hand over my brother's body, but later they said that if you remain silent and state the reason for his death as carrying a weapon for rioters, they will deliver the body for only 16 million tomans."
According to him, on November 12, 2022, the body of his brother Ardalan was handed over to his family, and a written commitment was obtained from them that if they spread this news to the media, they will arrest Ardalan's elder brother as the "leader of the riots."
Ardalan Ghasemi's body was buried in his hometown at Taghil cemetery on Saturday amid strict security measures. 44-year-old Ardalan Ghasemi worked for a tourism cooperative company.