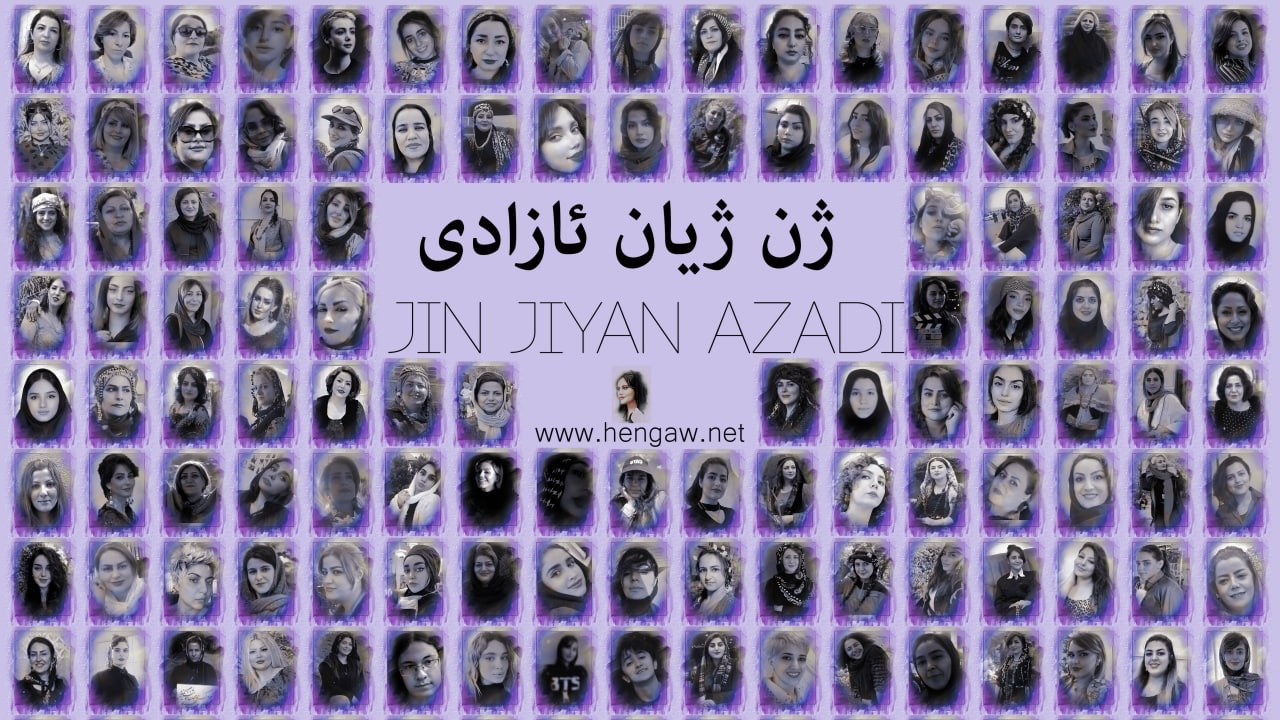 Hengaw: December 28, 2022
At least 202 Kurdish women were detained and abducted by Iranian government forces during the popular resistance in various cities of Kurdistan and Iran, 30 of them were under 18 and thus qualified as children under international human rights standards.
According to statistics kept in the Statistics and Documents Center of the Hengaw Organization for Human Rights, Iranian government forces abducted more than 500 Kurdish women activists during the 100 days of popular resistance in the provinces of Ilam, Kermanshah, Kurdistan (Sanandaj), West Azerbaijan (Urmia), and other cities. Only 202 of them have had their identities confirmed so far by Hengaw Organization.
Hengaw's investigation shows that of the 202 women whose identities have been confirmed, 27 were students, 6 were teachers, one was a basic lawyer of a judiciary, and 30 were under the age of 18, with the majority being students.
Separation by province: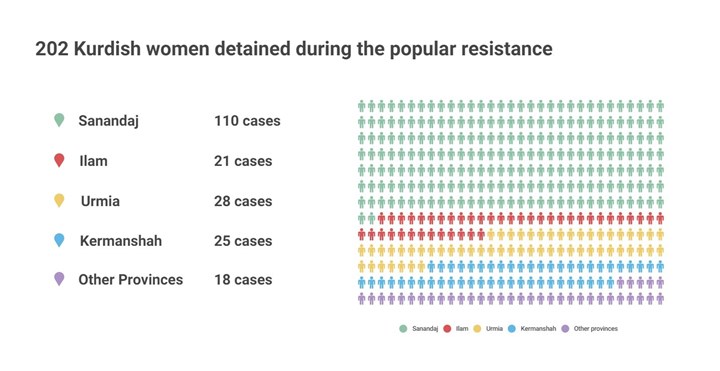 Kurdistan Province (Sanandaj): 110 cases, West Azerbaijan Province (Urumiyah): 28 cases, Kermanshah province: 25 cases, Ilam Province: 21 cases, and Other cities of Iran: 18 cases
It needs to be clarified that the most women who have been arrested with 72 cases have been recorded in Sanandaj city. The cities of Ilam with 13 cases, Kermanshah, Qorveh and Dehgolan are also in the next ranks with 10 cases of arrest of women each.
According to this investigation, 7 women arrested by the judicial system of the Islamic Republic have been tried without observing the minimum requirements of a fair trial.
In this regard, Rozhin Yousefzadeh was sentenced to 15 years of imprisonment, Soheila Moatai to 5 years of imprisonment, Fatemeh Bigpour to 5 years of imprisonment, Golnaz Bigpour to 5 years of imprisonment, Zainab Bavir to 2 years of imprisonment, Sakineh Alirezaei to 2 years of imprisonment and Negar Davoudi has been sentenced to 5 years in prison.
The newest status of the imprisoned women will be disclosed as soon as the results of Hengaw's special investigation into the particular circumstances of the detained women are confirmed and validated.
Separation of arrested women by province:
Kurdistan Province (Sanandaj): 109 cases
Sanandaj:
1- Zhina Modres-Gorji 2- Rezan Ahmadi (from Dehgolan) 3- Hayat Almasi 4- Frank Rafiei 5- Goshin Mohammadian 6- Saria Sharifi, 7- Bahareh Zangiband 8- Baran Saedi 9- Rozhan Qadri 10- Munira Mohammadi 11- Mahro Hedayati 12- Azadeh Jamati 13- Soraya Khidri 14- Layla Pashaei (from Saqqez) 15- Sirweh Shahabi 16- Shadi Aslani 17- Mahsa Afzali 18- Sana Ghafouri 19- Pariya Mortezaei 20- Negin Moradi 21- Atusa Hosseini 22- Hadayeh Mihemi 23- Rahela Jafari 24- Bayan Azizi (Baneh) 25- Galavezh Tahmasbi 26- Samia Ebrahimi 27- Farida Nemati 28- Golaleh Vatandost 29- Sara Samavati 30- Pariya Ebadi 31- Masoumeh Rashidi 32- Varan Mohammadnejad 33- Pardis Javed 34- Rada Fatehi 35- Soheila Mohammadi 36- Vida Mohammadnejad 37- Sahar Wahabi 38- Atrin Azarfar 39- Sarwar Malai 40- Elham Qadri 41- Sawsan Razani 42- Hana Vakil 43- Bita Ghasemi 44- Ghashang Ahmadi 45- Sairan Menbari 46- Soheila Khalidi 47- Maryam Mohammadi 48- Nasreen Mohammadi (from Marivan) 49- Bayan Salehi 50- Mobina Bokai 51- Azadeh Poursamed 52- Arezoo Poursamed 53- Shiva Mafakheri 54- Afaq Saedmochshi 55- Shamsi Saedmochshi 56- Ala Dasti 57- Niloufer Najafpour 58- Bita Vaisi (from Paveh) 59- Shiler Zamani 60- Sana Khidri (from Javanrud) 61- Rizvan Bazani Qala (from Javanrud) 62- Hanieh Chahardoli (from Javanrud) 63- Tina Khodri (from Javanrud) 64- Roza Guillian 65- Hadida Sobhani 66- Faridah Saedpanah (from Kamiyaran) 67- Parisa Habibpour (from Urmia) 68- Nazanin Zahra Sarvi 69- Layla Golbandi 70- Kimia Vahabifar 71- Shakila Sharifi 72- Shilan Kurdistani
Dehgolan:
1- Sirweh Rahmani 2- Soheila Moatai 3- Dilnia Khani 4- Sarina Hosseini 5- Sharara Vaisi 6- Sirweh Salimi 7- Bita Asadi 8- Kizhan Karimi 9- Aida Lotfi 10- Shino Ahmadian
Qorveh:
1- Soheila Babaei 2- Sairan Ilami 3- Zahra Babamohammadi 4- Maria Falahi 5- Shiva Abdulmaleki 6- Hiwa Abdulmaleki 7- Zainab Jajian 8- Fatemeh Khademi 9- Ziba Omidifar 10- Fatemeh Rostami
Baneh:
1- Galawezh Khakpour 2- Somiya Kitabi 3- Roya Dolati 4- Rozhin Dolati 5- Sharmin Abdullah Panah 6- Setareh Azizi 7- Nahid Mohammadi
Marivan:
1- Evin Rati 2- Zhila Hajbari 3- Marzieh Hosseini
Bijar:
1- Layla Abbasi 2- Malika Kawandi 3- Ziba Qulijkhani
Kamiyaran:
1- Layla Qalwazi 2- Turan Rahmani
Sarvabad:
1- Parva Hosseini 2- Shinia Hosseini
Diwandarreh:
1- Esra Beymohammadi
West Azarbaijan Province (Urmia): 28 cases
Takab:
1- Layla Hamami 2- Zahra Azimi 3- Roya Shahbazi 4- Elham Shuai 5- Aida Mokhtari 6- Negin Tahmasabi
Piranshahr:
1- Shirin Mustafa Nejad 2- Sinwr Qadri 3- Masoumeh Hejbari 4- Mohwash Tawasli 5- Zainab Batouteh 6- Amina Darvizheh
Mahabad:
1- Shilan Pouramini 2- Negar Abdullahzadeh 3- Shima Seideh 4- Zahra Nabizadeh
Bukan:
1- Sarvin Heydari 2- Hanieh Azizi 3- Sairan Hormuzi
Oshnavieh:
1- Zhaleh Ibn Abbasi 2- Shima Ibn Abbasi 3- Mahnaz Rezaei
Urmia:
1- Kausar Kausarnia (from Mahabad) 2- Bawan Lotfi (from Mahabad) 3- Samaneh Fathi
Shahin Dej:
1- Layla Mahmoudi
Qatur:
1- Negar Hadizadeh
Naghadeh:
Sarwar Rafei
Kermanshah Province (Kermashan): 25 cases
Kermanshah:
1- Shakiba Hoshiar 2- Andisheh Jalali 3- Mahshid Mashashai 4- Aida Muradbeighi 5- Kimia Jamshidi 6- Samia Abdul Tajdini 7- Sara Rashidi 8- Rozhin Karimi 9- Fatemeh Heidarian 10- Hasna Heidari
Paveh:
1- Gulara Moradi 2- Soma Naqshbandi 3- Anis Maqsoodi 4- Aida Darvishi 5- Negin Rostamrad 6- Negin Mahmoudi
Javanroud:
1- Kimia Alimoradi 2- Sandus Yaghoubi 3- Hero Nouri 4- Elina Ranjbar 5- Raha Sabouri 6- Sara Karmi
Ravansar:
1- Nergis Mohammadi 2- Maria Mozafari
Sahneh:
1- Faezeh Ranaei
Ilam Province: 21 cases
Ilam:
1- Elaheh Momeni 2- Nilofar Ghazi 3- Sara Shirdel 4- Mina Marvotti 5- Kajal Watanpour (from Gilan-e Gharb) 6- Nergis Mirza Mirjani 7- Parisa Faryadian 8- Sohila Sabeti 9- Mahshid Khani 10- Tayebeh Morshidi 11- Negar Davoudi 12- Nazanin Jamalundi 13- Fatemeh Barzerdi
Dehloran:
1- Maryam Chameh 2- Fatemeh Bigpour 3- Golnaz Bigpour 4- Zainab Bavir 5- Sakineh Alirezaei
Abadanan:
1- Shima Biranvand 2- Sonia Sharifi
Malekshahi:
Fariba Bagheri
Other cities of Iran: 18 cases
1- Mozhgan Kavousi (in Nowshahr) 2- Bahar Aslani (in Tehran) 3- Rozhan Mohammadi (in Tehran) 4- Zahra Alamdari (in Tehran) 5- Helia Bakhe (in Tehran) 6- Nazila Maroufian (in Tehran) 7- Ghazal Masoum Shahi (in Tehran) 8- Gashin Saeedi (in Tehran) 9- Azadeh Karmi (in Tehran) 10- Muhadetheh Mardani (in Shirvan) 11- Rozhin Yousefzadeh (in Tehran) 12- Nasim Mardokhi (in Tehran) 13- Manijeh Azizi (in Tehran) 14- Hero Sheikh Al-Salami (in Tehran) 15- Marjan Davoudi (in Tehran) 16- Elham Modaresi (in Karaj) 17- Mahsa Ghorbani (in Tehran) 18- Maryam Momeni (in Karaj)