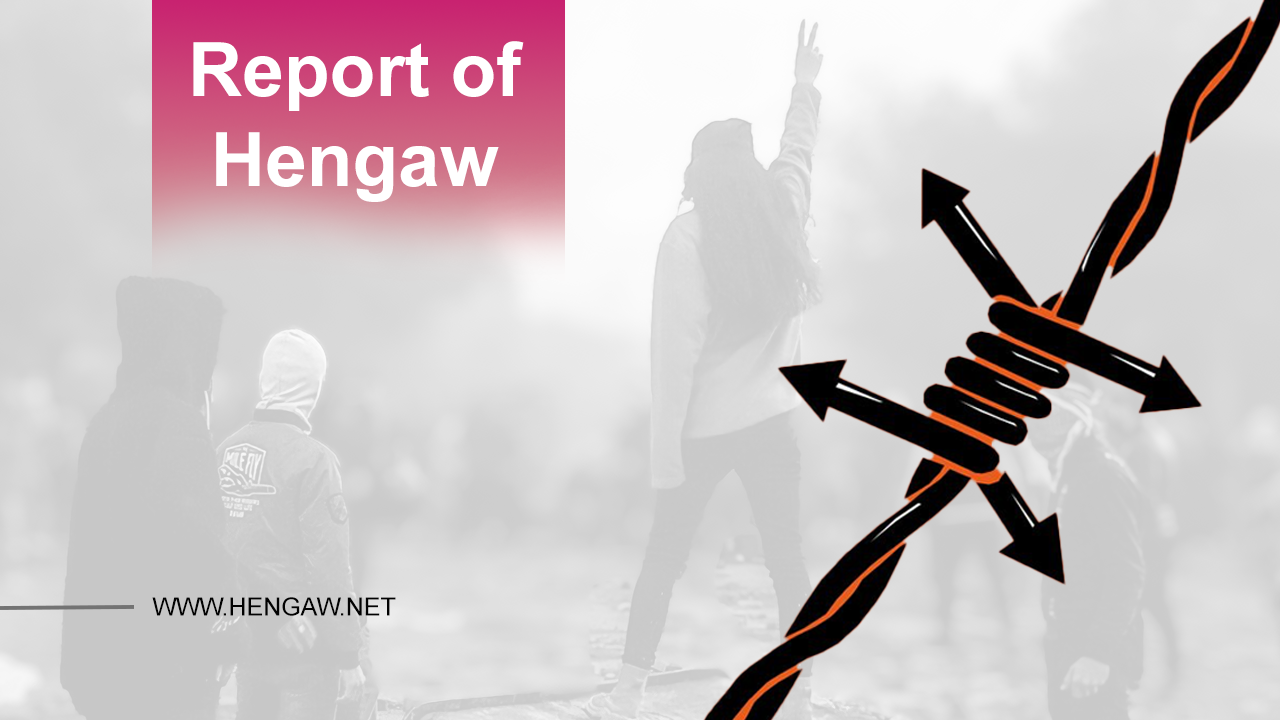 Hengaw; Monday, September 11, 2023
The Iranian authorities have subjected hundreds of Kurdish citizens to unfair trials and harsh sentences following the Woman, Life, Freedom Movement. The Hengaw Organization for Human Rights documented the legal proceedings against these citizens, who participated in or supported the movement, and verified the identities of approximately 202 detainees so far.
Among these cases, one Kurdish citizen was sentenced to death and executed, while 201 others received a total of 715 years and 6 months of imprisonment, 21 years, and 6 months of suspended imprisonment, 2,227 lashings, as well as additional monetary fines and social deprivation.
Moreover, at least 15 Kurdish citizens were convicted by security and regime courts on charges related to "waging war against God" and "corruption on earth", which could result in severe punishments such as capital punishment or long-term imprisonments. These include Saman Yasin from Kermanshah (Kermashan), Purya Jawaheri from Kamiaran,Ehsan Mohammadi 16 years age, Farhad Tahazadeh, Farzad Tahazadeh, Faryad Hamzashour, Shahram Maerouf Mala, Reza Eslamdoust, Karvan Shahiparvaneh, and Farzad Mahmoodpour, all from Oshnavieh (Shno), Reza Rassai from Sahneh, Kaywan Zendekarimi, Sardar Shahmoradi, Aram Azad, and Houshang Chahargorge from Sanandaj (Sine).
Hengaw's statistics also indicate that during the woman, life, freedom movement, at least 192 children from various cities in Kurdistan were arrested by the security and intelligence organizations of the Islamic Republic of Iran. Their identities have been confirmed by Hengaw. Among them, four children received sentences; these are: Kourosh Grawand, aged 17 from Sarableh, sentenced to 7 Months of imprisonment; Farhad Nowaei, aged 16 from Mahabad, sentenced to 2 years of imprisonmen; Arshia Barzin from Javanrud, sentenced to 3 years of imprisonment and 74 lashes, Kianoush Azami from Javanrud, sentenced to 10 months of imprisonment and 74 lashes.
The intelligence authorities have also targeted Kurdish female activists for their involvement in the movement. According to Hengaw's statistics, at least 23 Kurdish female activists have been collectively sentenced to 69 years and 7 months of imprisonment and 18 lashings by the judicial system of the Islamic Republic of Iran. Among them, four female activists received suspended sentences ranging from one to three years.
Furthermore, the Iranian authorities have persecuted Kurdish teachers and students for their support of the movement. According to Hengaw's statistics, more than 100 Kurdish students were detained by security institutions during the movement. Several of them were deprived of continuing their education, and at least eight individuals received a total of 19 years and 1 month of imprisonment and three years of suspended imprisonment. One of these students also received 74 lashings as part of the sentence. Additionally, at least four Kurdish teachers received a total of 16 years and 4 months of imprisonment by the judicial system of the Islamic Republic of Iran.
The regime has also harassed Kurdish Mamustas (Kurdish clerics) and religious Sunni activists for their participation in the movement. According to Hengaw's statistics, at least 13 Mamustas and religious trainees in Kurdistan received a total of 47 years and 5 months of imprisonment and five years of suspended imprisonment by the judicial system of the Islamic Republic, especially the special clerical courts in Kermanshah, Hamadan, and Urmia. Additionally, four of them received a total of 294 lashings and other penalties such as exile, prohibition from delivering sermons, and forced removal of clerical attire.
The Judiciary authorities have convicted at least 44 detainees in Kurdish cities to flogging as a form of punishment. Flogging constitutes a grave violation of international human rights law, which prohibits flogging as an inhuman, cruel, and degrading practice. According to the statistics of Hengaw, the judicial system of the Islamic Republic imposed a total of 2,227 lashings on at least 44 Kurdish individuals in detention. These individuals include children, women, students, teachers, and Mamustas..
Hengaw's legal department emphasizes that, in most cases, due process rights, even under the laws of the Islamic Republic of Iran , have not been respected . The majority of detainees have experienced physical and psychological torture and have been denied access to legal counsel or attorney. The cases have been constructed solely based on the power of intelligence agents, resulting in the issuance of conviction sentences. The judicial authorities have not demonstrated any judicial independence in carrying out their duties. Further investigations by Hengaw's legal department concerning other detainees are ongoing, and updates will be provided in subsequent reports.
Hengaw Legal Departement