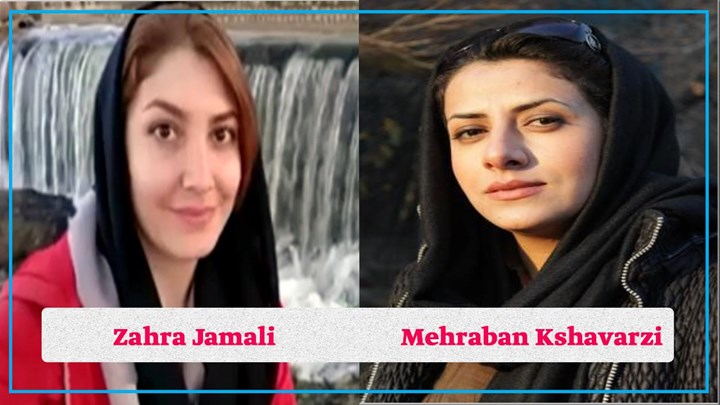 Hengaw: In the past few days, two Kurdish women activists in Tehran and Kermanshah, who had previously been sentenced to imprisonment by the judiciary system of the Islamic Republic of Iran, have been detained to serve their sentences.
According to a report received by Hengaw Organization for Human Rights, on Wednesday, August 19, 2020 Mehraban Keshavarzi, a civil activist from Marivan residing in Tehran, was arrested after attending the Evin Courthouse and sent to Evin Prison to serve her sentence.
Mehraban Keshavarzi, a master's degree student in acting at the Tehran University of Arts, was arrested by the Intelligence Forces of the Revolutionary Guards (Etlaat) in September 2014 , and was temporarily released on bail after three weeks.
The activist was sentenced to one year in prison by Branch 28 of the Revolutionary Court of Tehran, presided over by Judge Moghiseh, on April 16, 2016 for "propaganda activities against the regime." The sentence was reduced by Branch 54 of the Court of Appeals to three months and one day.
Furthermore, on Monday, August 10, 2020, a civil activist from Kangavar, identified as "Zahra Jamali", was arrested to serve her sentence and transferred to Dieselabad Prison in Kermanshah.
Zahra Jamali, along with her sister Samira Jamali and another person identified as Ali Gholilou, were arrested on Sunday March 3rd, 2020 after they released a video in opposition to the mandatory hijab, and were released on bail of 50 million tomans.
The Kurdish activist was sentenced by the 5th Branch of the Revolutionary Court of Kermanshah to one year in prison for "propaganda against the regime", which was reduced to six months by the Provincial Court of Appeals.
In the second part of the case, she was tried by Branch 102 of the Kangavar Criminal Court and sentenced to 91 days in prison, two milion Tomans as fines and 548 hours of chastity and hijab classes in the seminary on charges of "discovering hijab in public and promoting corruption and prostitution".