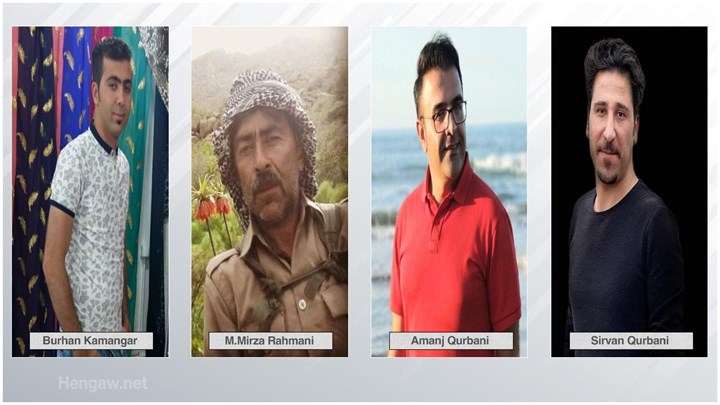 Hengaw: Four citizens who were detained by security forces during the funeral of Haidar Ghorbani, a Kurdish political prisoner, were sentenced to prison.

According to a report received by Hengaw Human Rights Organization, in the recent days, four citizens from Kamyaran called Mullah Mohammad Mirza Rahmani, Borhan Kamangar, Sirvan Ghorbani, and Amanj Ghorbani have been sentenced to 91 days in prison each by Branch 101 of Criminal Court 2 of Kamyaran. This sentence has been officially notified to them.

The sentence was handed down in two years for attending the funeral of Haidar Ghorbani, a political prisoner from Kamyaran who was executed in Sanandaj prison, as well as for "propaganda in favor of opposition parties."

Mullah Mohammad Mirza Rahmani and Amanj Ghorbani were arrested on Wednesday, December 22nd, 2021, after being summoned to the Kamyaran Intelligence Office, and Sirvan Ghorbani and Borhan Kamangar were arrested on Thursday in a street in the city, but they were released temporarily on bail after three weeks.

Haidar Ghorbani, a Kurdish political prisoner who was sentenced to death in an opaque, unjust, and illegal trial, was secretly executed in Sanandaj Central Prison on December 19, 2021, last year.