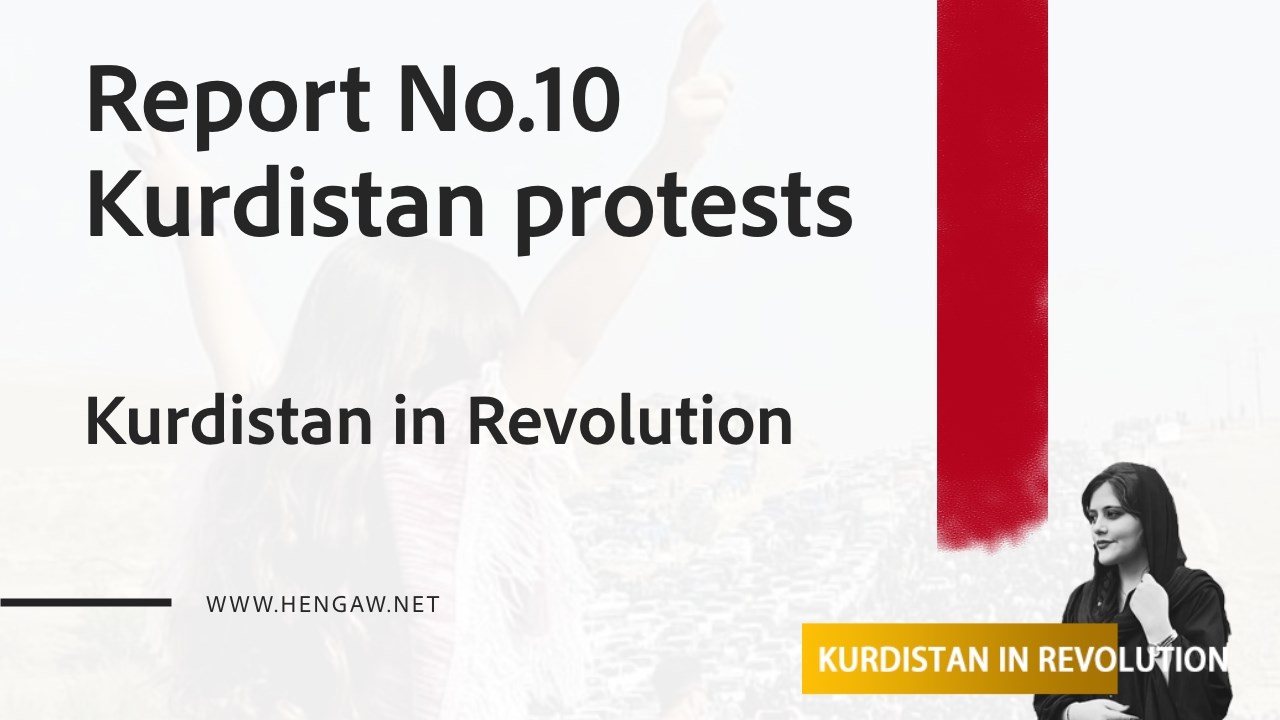 Hengaw: Monday, November 7, 2022
During the 50 days of protests and resistance in Kurdistan (Iran) which took place in 38 cities, at least 61 Kurdish citizens have been killed and more than 5,000 are injured by the direct fire from the repressive Iranian government forces.
Based on the statistics registered in the Statistics and Documents Center of the Hengaw Human Rights Organization, out of a total of 61 citizens who were killed in the recent protests, 51 cases equal to 83.6% of the total cases were killed by direct fire from the Iranian government forces.
It should be noted that Hengaw no longer uses the term "security forces" regarding agents of the Islamic Republic of Iran, which is totally against people's security and will use the alternative term "government forces" in all its reports.
Thematic separation according to how the protestors were killed:
- Direct fire from the government forces:
51 cases equivalent to 83.6% of the total cases
- Death under torture:
5 cases equivalent to 8.1% of total cases
- Death by baton strikes:
4 cases equivalent to 6.6% of the total cases
- Death due to suffocation with tear gas:
1 case equivalent to 1.7% of the total cases
Among the killed Kurdish citizens, 53 people were killed in the cities of Kurdistan and 8 others were killed in other cities across.
Out of a total of 61 people killed, 8 were women and 11 were children.
* The term "child" refers to all people under the age of 18, who are considered children according to international laws and documents on children's rights.
-Information and identities of the victims by separation of the cities:
Sanandaj:
1- Dariush Alizadeh
2- Peyman Menbari
3- Mohammad Amini
4- Yahya Rahimi
5- Aziz Moradi
6- Ramin Fatehi
7- Mohammad Shariati (from Muchesh)
8- Keyvan Darvishi
9- Mohammad Lotfalahi
10- Sarina Saedi (16 years old)
11- Ibrahim Mirzaei (from Dehgolan)
12- Momen Zandkarimi
Kermanshah:
1- Minoo Majidi (from Qasr Shirin)
2- Reza Shahparnia
3- Amir Hossein Basaty, 15 years old
4- Armin Sayadi, 18 years old
5- Sina Naderi
6- Ramin Karmi (from Sarpol-e-Zahab)
Mahabad:
1- Ismail Moloudi
2- Kobra Sheikh Saqqa
3- Zaniar AbuBakri
4- Shahu Khezri
5- Fereshte Ahmadi (from Sardasht)
6- Masoud Ahmadzadeh
Oshnoviyeh:
1- Amin Marafet, 16 years old
2- Milan Haqiqi
3- Sadruddin Litani
4- Abdulsalam Ghader Galwan
5- Saman Qaderpour
Urmia:
1- Farjad Darvishi
2- Abdullah Mohammadpour, 16 years old 3- Danesh Rahnama
4- Nima Shafiqdoost (from Selmas)
5- Nasim Sediqi (from Shahindej)
Islamabad-e Gharb:
1- Saeed Mohammadi
2- Amir Fuladi, 16 years old
3- Iman Mohammadi
Piranshahr:
1- Zakaria Khayal, 16 years old,
2- Samad Barginia,
3- Kumar Darfatadeh, 16 years old
Banes:
1- Motalleb Saeed Pirou
2- Fereydun Faraji
3- The Dastab Rasoul Muhammad Agha (from the Kurdistan region of Iraq)
Sonqor and Kalyaei:
1- Alireza Fathi
2- Rouzbeh Khademian
3- Mohammad Zarei
Quchan:
1- Ali Mozafari Salanqoch, 17 years old
2- Mehdi Babrnejad
Divandreh:
1- Fawad Qadimi
2- Mohsen Mohammadi
Saqqez:
1- Fereydoun Mahmoudi
2- Ismail Dezwar
Ilam:
1- Mohsen Qeysari
2- Mohammad Abdullahi
Marivan:
1- Mukhtar Ahmadi
2- Nasrin Ghaderi
Dehgolan:
1- Reza Lotfi
Salas-e Babajani:
1- Arian Moridi
Bukan:
1- Kamal Faqihi
Qorveh:
1- Nagin Abdul Maliki
Qasr-e Shirin:
1- Afshin Asham
Separation of the victims by province:
Kurdistan Province: 21 killed
Sanandaj: 12 cases,
Baneh: 3 cases,
Diwandarreh: 2 cases,
Saqqez: 2 cases,
Marivan: 1 case,
Dehgolan: 1 case
West Azarbaijan Province (Urmia): 19 killed
Mahabad: 6 cases,
Urmia: 5 cases,
Oshnaviyeh: 4 cases,
Piranshahr: 3 cases,
Bukan: 1 case,
Kermanshah Province: 11 killed
Kermanshah: 6 cases,
Islamabad-e-Gharb: 3 cases,
Qasr-e- Shirin: 1 case,
Salas Babajani: 1 case,
Ilam Province: 2 killed
Ilam: 2 cases
Kurdish citizens killed in other cities: 8 cases
Quchan: 2 cases,
Tehran; 3 cases,
Hamadan: 1 case,
Qazvin: 1 case,
Karaj: 1 case

Information on the arrested citizens:
After 50 days of protests, more than 4,000 Kurdish citizens have been arrested and kidnapped by Iranian security agencies, and in the current situation, Hengaw has been able to verify the identity of 940 of them. Out of these 942 people, 133 are women and 79 are children.
It needs to be clarified, based on the final investigation, Hengaw confirms that the detainees are systematically subjected to physical and mental torture.
In this regard, at least five of these detainees have died under torture in the cities of Urmia, Saqqez, Ilam, Sanandaj, and Tehran.
The situation of the injured citizens:
During the protests, it is estimated that around 5,000 Kurdish citizens have been injured by direct fire from the Iranian government forces, 20 of whom have been reported to be severe.
Hengaw's legal team, which is in charge of investigating and verifying the received reports, emphasizes that the available statistics only include those cases that Hengaw has been able to somehow communicate and confirm with the families of the killed, detained, and injured or people close to them, and also based on the available information and images.
But Hengaw believes the number might increase if the Internet connection gets back to normal and also if the families decide to share the information with the media.
The report will be updated as the investigation by Hengaw's legal team continue.