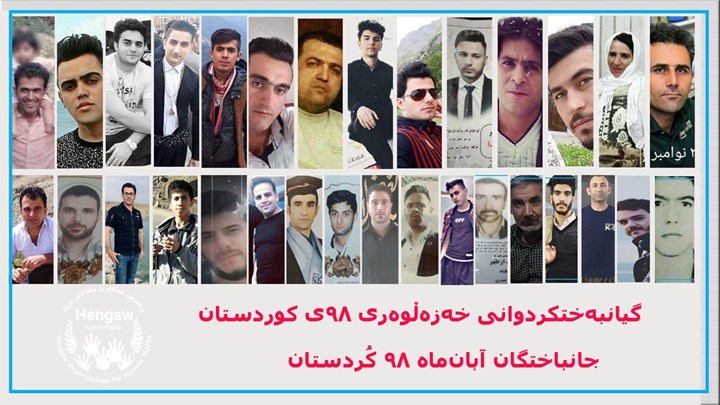 Hengaw: On the morning of November15, 2019, while people in Iran and especially Kurdistan were dealing with hard economical crisis and misery , the Iranian government doubled the gasoline prices that reached to 3000 Tomans . This decision was made without any further notice to the people and public opinion .

On the same day, in different cities of Iran , people who gasoline was one of their daily essentials and could not afford to buy gasoline at the new prices took to the streets and protested the government's new decision. Majority of people also heavily reacted to this on social media calling for a reduction in gasoline prices. Government officials did not react to the protests. Only President Rouhani said he was unaware of the increase in gasoline prices . Rouhani's reaction and remarks angered protesters even more .

The next day, on November 16th, the protests reached Iranian Kurdistan. In different cities of Kurdistan, people, especially young people, workers and women, took to the streets. Marivan, Saqez, Sanandaj, Baneh, Javanroud, Kermanshah, Thalas Babajani, Sarpolzahab, Ravansar, Kami , Urmia witnessed the protests of dissatisfied people.

On the first day of the protests in Kurdistan, the reaction of Iranian security and police forces was severe and violent, that resulted in the death and wounding of several Kurdish citizens . In the following days, due to the military atmosphere in some cities, people were not allowed to leave their homes and the markets in most cities in Kurdistan were closed. This was while protests and the presence of people in the streets continued in the cities of Marivan, Javanrood, and Kermanshah. Also, the cities of Tehran, Karaj and Islamshahr, which have a significant Kurdish population witnessed the presence of Kurds in the protests alongside other residents Where a number of Kurdish citizens were also massacred along with other Iranian citizens.

During these few days, following Ayatollah Khamenei's remarks and comments about the type of reaction and treatment of protesters and addressing them as "miscreants" , the security forces brutally suppressed the protesters that resulted in killing and wounding of dozens protesters. On November 16,17 and 18 , at least 50 Kurdish citizens were killed by direct shooting from Iranian security security forces.

The identities of the Kurdish citizens killed in different cities of Iranian Kurdistan are as it follows :
Kermanshah:
Muhammad Mirzayi
Nader Bijanvand ( From chard Abel of Îlam province )
Yunos Ezzati
Burhan Mansourniya(From Mariwan)
Abdulreza Shirzadi
Mustafa Farzami
Hesam Barani Rad ( 17 -year-old from Rawansar)
Armin Ghaderi ( 15 years old )
Bahman Azizi
Muhamad Palani
Yunos Jalili
Hamzeh Faraji
Muhsen Karaminiya
Saeed Rezayi
Sajjad Bagheri
Muzafar Vatandust


Javanrood:
Kaveh Muhammadi
Ibrahim Moradi ( 18 sale )
Mobin Abdullahi ( From Rawansar)
Jabbar Tajareh
Yunos Firozbakht

NOTE : The information from Kermanshah province have been reached through a security source and so far the identities of 13 victims in Kermanshah and 1 in Javanrood are unknown.

Mariwan:
Osman Naderi
Mehran Tak ( From Kalatarzan)
Daniel Ostovari ( From Nodushe)
Behrouz Maleki ( From Sanandaj )
Aryan Rajabi

Sanandaj :
Muhammad Reza Ahmadi ( 17 years old )
Ziba Khushgovar

Tehran, Karaj and Islamshahr:
1. Mina Sheikhi (from Saqqez)
2.Mohsen Jafarpanah (from Bijar) 3.Mohammad Heydarian (from Sunqor) 4.Nasser Rezaei (from Qarwa)
5.Pouria Naserikhah (from Kermanshah) 6.Mohammad Reza Mohammadi (from Islamabad Gharb)
7. Sardar Azami ( From Ravansar)
8.Farzad Kamangir (Sanandaj)

According to statistics registered in Statistics and Documentation Data Center of Hwngaw Human Rights Organization, more than 2,000 protesters were detained during the November 2019 protests in Iranian Kurdistan, whom only 250 have been identified so far . It is worth mentioning that 5 of the detainees of November 2019 protests in Iranian Kurdistan were tortured to death by Iranian Intelligence Security Forces and increased the total number of victims to 55 people.

The 5 citizens that were tutored to death are identified as it follows :

1.Kaveh Visani (from Kamyaran)
2.Ershad Rahmanian (from Sarvabad) 3.Hashem Moradi (from Ravansar)
4.Nader Rezaei Abtaf (from Kermanshah) 5.Sajjad Ismaili (from Ayvan Gharb)

Also, a protester from Kermanshah, identified as Reza Omidyarijani, who was detained during the November protests and sentenced to 4 years in prison by the Iranian judiciary, ended his life in the Kermanshah's central prison.

During the November protests, many citizens were also injured, who refused to go to medical centers due to fear of being detained by security forces and received treatments at their home. The security forces conducted house-to-house inspections to find Wounded citizens , and many citizens were later summoned to the court and some were sentenced to prison for giving shelter to the wounded protesters.

Following the mass murder of protesters by the Iranian Security Forces and people's widespread reaction to the protests on social media And publishing the identity of killed and wounded protesters , the internet lines were cut off by the government for several days.

Due to interruption in Internet lines the news and information about the protest and numbers of killed and wounded protesters could not be reached and published correctly and fully by Media .

The detainees later stated that during their detention, and especially in the early days, they were held in groups in the courtyards of military bases in the open air. Some of them, who their clothes were torn or completely destroyed, were kept naked for several nights. They spent the daytime in November's cold weather without any food. Those held indoors reported being tortured by Iranian security forces with cold air conditioners and cold water.

The exact number of people injured in the November protests is still unknown. For security reasons and the fear of arrest, citizens rarely talk about their injuries.

Following the November protests, despite a widespread wave of civilian detentions, the Iranian government sentenced all those who had published news about protests on social media to harsh sentences after being severely harassed and tortured in Iranian intelligence detention centers. According to statistics registered in Statistics Data Center of Hengaw Human Rights Organization, 16 Kurdish citizens have been sentenced to a total of 57 years and 8 months in prison and 30 lashes for participating in November 2019 protests.

The identities of these 16 people are as it follows:
1- Mohieddin Asghari from Sanandaj, sentenced to 1 year in prison .
2- Saed Banafshi from Sanandaj, sentenced to 2 years in prison.
3- Bakhtiar Rahimi from Saqez sentenced to 2 years in prison
4- Fatemeh Davand from Bokan sentenced to 5 years and 5 months imprisonment and 30 lashes.
5- Rasoul Karimi Jalalvand from Kermanshah sentenced to 5 years in prison .
6- Amin Kaseb from Kermanshah,sentenced to 2 years in prison .
7- Seyed Payam Bidrood from Kermanshah, sentenced to 3 years in prison .
8- Parviz Naseri from Urmia, sentences to 5 years in prison .
9- Ali Saedi from Qorveh sentences to 6 months in prison .
10- Mojgan Kavousi from Kelardasht, sentenced to 6 years and 4 months in prison .
11- Sohbatullah Omidi from Kermanshah, sentenced to 10 years in prison .
12- Mehdi Abdali from Kermanshah sentenced to 1 month in prison .
13- Khalil Asadi from Kermanshah sentenced to 3 months in prison
14- Pishtiwan Afsar from Marivan sentenced to 5 years in prison .
15- Mobin Moradi from Kermanshah sentenced to 6 years in prison .
16- Reza Omidi Yarijani from Kermanshah sentenced to 4 years in prison .

It is worth mentioning that according to the interviews done by Hengaw with the detainees most of them were denied from minimum rights of access to legal advice and lawyers, protection from torture and psychological harassment, and access to family even under the Iranian Islamic Republic's domestic law .
Until the preparation of this report, the Iranian Islamic Republic's authorities have not yet commented on killing of protesters by the military and security forces, and no legal mechanism has been provided to prosecute and address the victims' complaints.