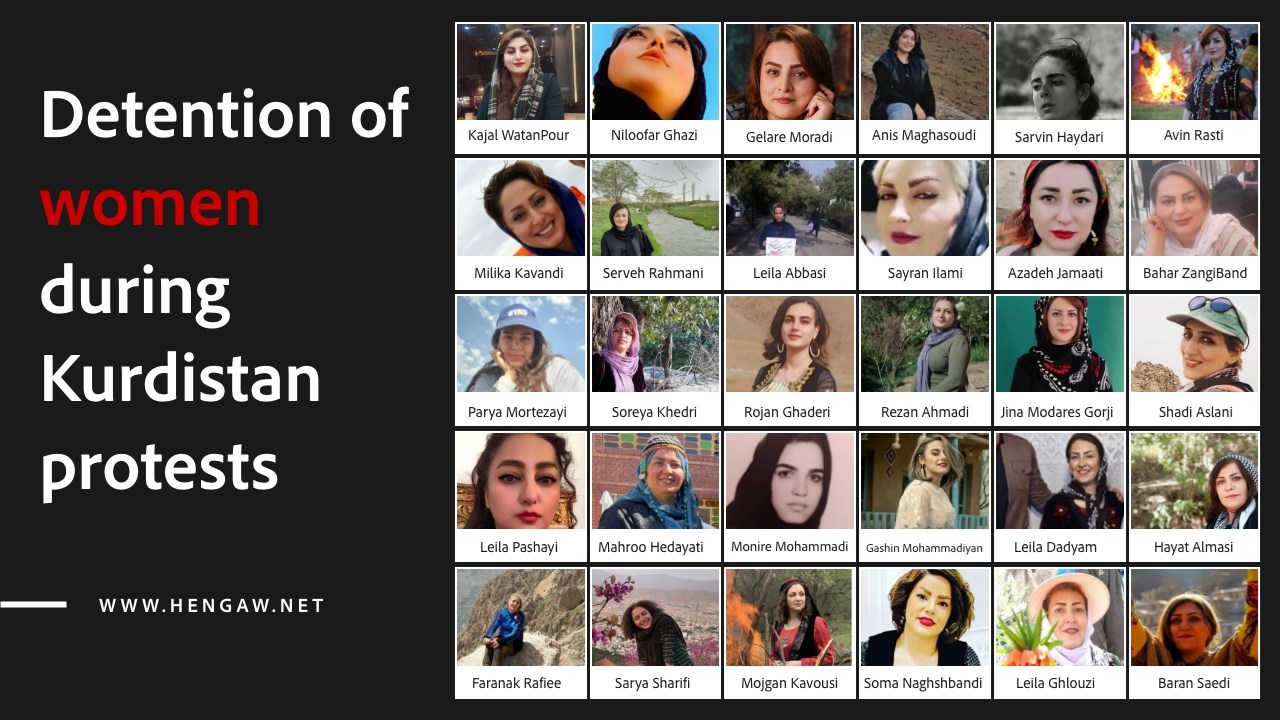 Security forces have detained scores of women and girls during the recent protests in Kurdistan over the state kill of Zhina Amini, which coincided with huge protests in most of Iran's towns. To date, 52 of these detainees' identities have been confirmed.
According to statistics recorded in the Statistics and Documents Center in Hengaw, more than 70 Kurdish women have been detained in various locations throughout Kurdistan since the start of the protests, and so far the identities of 52 of them have been confirmed for Hengaw. At least four of the arrested women are 18 or under the age of 18. These four individuals are 17-year-old Aida Darwishi from Paveh, 16-year-old Elahe Momeni, 17-year-old Nilufar Ghazi, and 18-year-old Sara Shirdel from Ilam.
Only four of these women were released after obtaining a legal commitment, while the others are still being held at Kermanshah, Sanandaj, Ilam correctional centers, and Miandoab jail. Some of those detained are being held at the IRGC's Shahr Amfard detention center in Sanandaj.
Nilufar Ghazi has asthma, according to Hengaw, while Zhina Modaresgorji started on a hunger strike two days ago to protest the brutality of prison authorities and the mistreatment of detained women at Sanandaj Correctional Center.
Names of 52 arrested women
Sanandej Province: 30 women
Sanandej: Zhina Modaresgorji, Rezan Ahmadi (from Dehgolan), Hayat Almasi, Farank Rafiei, Goshin Mohammadian, Saria Sharifi, Bahareh Zangiband, Baran Saedi, Rozhan Qadri, Munira Mohammadi, Mahro Hedayati, Azadeh Jamati, Soraya Khodri, Layla Pashayi (from Saqqez), Sirwa Shahabi, Shadi Aslani, Mehsa Afzali, Sana Ghafouri, Pariya Mortezaei, and Negin Moradi
Dehglan: Seroh Rahmani
Mariwan: Awin Rasti
Bijar: Layla Abbasi, and Malika Kawandi
Baneh: Galawezh Khakpour, and Somiya Kitabi
Qorveh: Sohayla Babaei, and Sayran Abbasi
Kamiyaran:Layla Qalwazi, and Turan Rahmani
Kermanshah Province: 5 women
Paveh: Gilara Moradi, Soma Naqshbandi, Anis Maqsoudi, Aida Darwishi, and Negin Mohammadi
Ilam Province: 9 women
Ilam: Elahe Momeni, Nilufar Ghazi, Sara Shirdel, Mena Marvotti, Kajal Watanpour (from Gilangharb), Narges Mirza Mirjani, Parisa Faridian, and Soheila Zibayi
Abadanan: Shima Biranvand

West Azarbaijan province (Urmia): 7 women
Tikab: Layla Hamami, Zahra Azimi, Roya Shahbazi, Elham Shuai, Aida Mokhtari, and Negin Tahmasbi
Bokan: Sarwin Heydari
Mazandaran Province: 1 woman
Nowshah: Mozhgan Kawsi