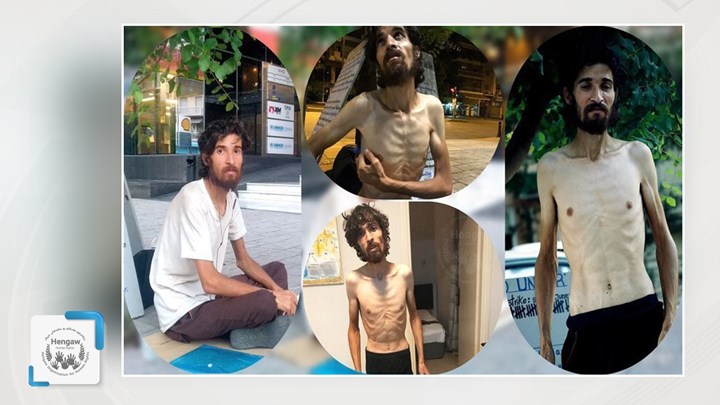 Hengaw: A Recognized Refugee from Mahabad is now reportedly on day 24nd of his 3rd-hunger strike at the doorsteps of the office of the United Nations Refugee Agency (UNHCR) in Athens, Greece due to lack of a durable solution to his continued predicament in this country.
According to the report received by Hengaw Organization for Human Rights, Mr. Nillufary as a result of UNHCR's drastic failure in responding to his demands for a durable and sustainable solution has entered his 3rd Hunger Strike on Tuesday, September 14, 2021.
Anwar Nillufary who says has been held Hostage and deprived of everything in Greece ever since 2014, told Hegaw: "Today is the 24nd day of my 3rd-Hunger Strike in front of the UNHCR office in pursuit of Seeking Asylum OR Resettlement outside the European Union, such as Canada, USA or Australia. Because Europe did not grant me asylum, and also because of my illegal deportation from Sweden in 2015, as well as the Dublin Regulations, it is now impossible for me to obtain asylum anywhere in Europe" and continues" I didn't enter this Hunger Strike by choice, but rather it's been forced on me."
Followed by 24 days of Hunger Strike, Nillufary has already lost too much weight and currently in a serious physical condition.
This political activist has also gone on a 73-days long Hunger Strike in front of the office of the United Nations High Commissioner for Refugees (UNHCR) in Athens last year, which ultimately due health complications, his physical deterioration and the formation of gallstones in his Gallbladder, had to be hospitalized on two occasions. Talking his current Hunger Strike into account, this is now the third time he had entered a prolonged hunger strike in recent years in front of this UN Agency.
According to Mr. Nillufary, over the course of years of his continued protest, the Greek police have destroyed his shelter(s) (tents) on five occasions and left him without shelter. He has been arbitrarily detained on dozens of occasions and had been forced to spend hours and hours in temporary detention. The forces also broke several of his cell phones, and he has been made to appear before the Greek Courts on 22 separate occasions. He has been jailed on five occasions and has also been sent to a deportation camp In 2018, where he had spent 36 days in detention.
Anwar Nillufary, entered Greece in 2014 and received Refugee Status and travel document with which he travels to Sweden and seeks Asylum there due to lack of protection in Greece. However, the Swedish Migration authorities did not consider his appeal and decide for his deportation back to Greece. The Agency has cited Dublin Regulations as the grounds for his illegal deportation to Greece.
Mr. Nillufary has now been undocumented ever since March 19, 2018.
Although during his first Hunger Strike in 2017, which lasted for 64-days, Mr. Nillufary's dire situation has publicly brought to the attention of the European Parliament, but even to date his situation still remains unresolved and he is still suffering from the worst inhumane condition imaginable and had been left in front of the UNHCR for all these years, without shelter, without food and everything essential for his survival.
Anwar Nillufary holds a degree in Civil Engineering from Salahuddin University in Erbil, Iraqi Kurdistan. He also published two books during his stay in this region.

In order to sign Nillufary's online petition, please Click here.