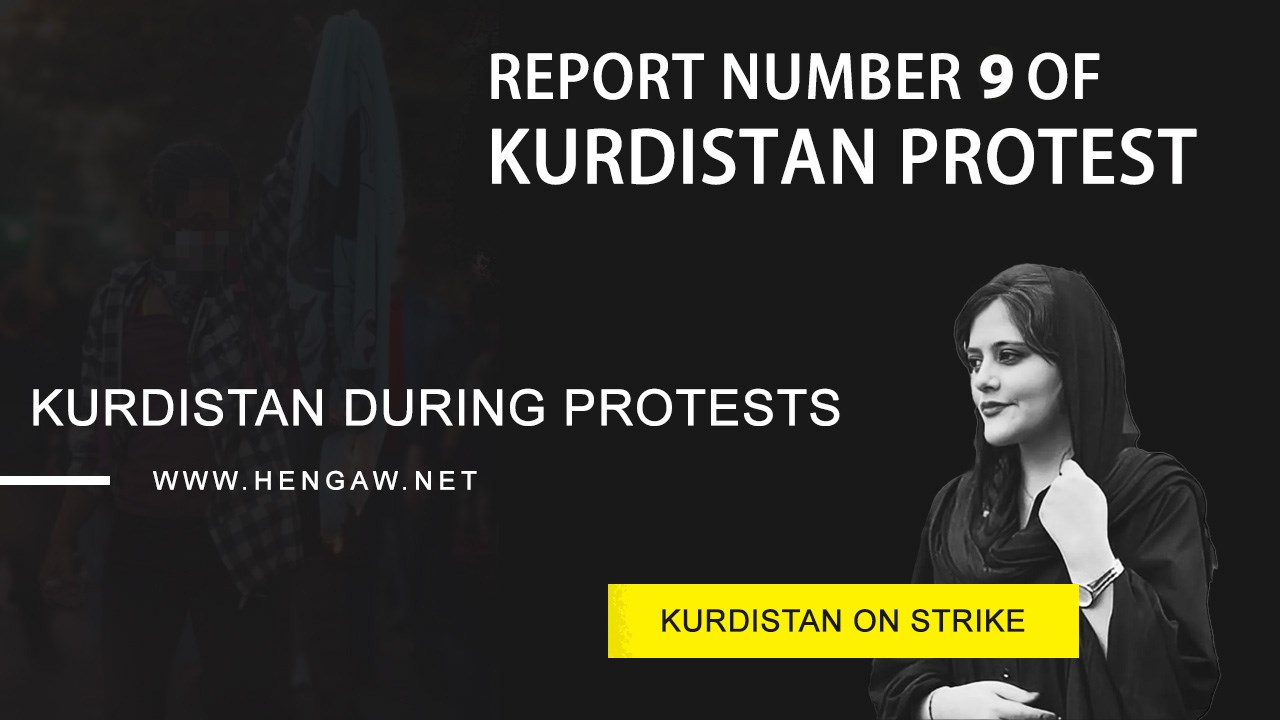 ‌Hengaw: Tuesday October 11, 2022
At least five civilians were killed, two detainees were tortured and murdered, and over 400 people were injured as a result of machine gun fire and other violence perpetrated by government forces during protests in Kurdistan throughout the past three days.

The number of identified civilians killed by government forces during these protests has risen to 32.
Protests on Saturday October 8th, 2022 took place alongside a widespread strike in several cities in Kurdistan and Iran.
Reports received by the Hengaw Organization for Human Rights indicate that protests continue in major Kurdish cities across Iran.
During the past three days, protests have taken place in in Salas-e Babajani, Sanandaj, Dehgolan, Saqqez, Mariwan, Divandareh, Bukan, Mahabad, Kermanshah, and Javanrud.
Cities where protesters have been shot and killed:
Sanandaj: Dariush Alizadeh, Peyman Menbari, Mohammad Amini, Yahiya Rahimi.
Oshnovieh- Urmia province: Amin Marafat (16 years old), Milan Haqiqi, Sadraldin Litani, and Abdul Salam Qadir Galvan
Urmia: Farjad darwishi, Abdulla Mahammadpour, Dansh Rahnima, and Nima Shafiqdoost.
West Islamabad: Saeid Mohammadi, Amir Fuladi, and Iman Mohammadi
Kermanshah: Mino Majidi, Reza Shahparnia, and Amir Hossein Basati (15 years old)
Sonqor: Alireza Fathi, Rouzbeh Khademian, and Mohammad Zarei.
Divandareh: Foad Qadimi and Mohsen Mohammadi
Piranshahr: Zekaria Khial (16 years old), and Samad Barginia.
Saqqez: Faridoun Mahmoudi, and Ismail Dzwar
Ilam: Mohsen Qaisari
Dehgolan: Reza Lotfi
Quchan: Ali Mozafari Salanqoch (17 years old)
Mariwan: Mukhtar Ahmadi
Salas-e Babajani: Arian Muridi
Statistics on people killed and injured by cities since the begining the protests in Kurdistan
Sanandej Province: 9 cities
Diwandareh: 2 killed and 50 injured, Saqqez: 2 killed and 170 injured, Baneh: 47 injured, Sanandej: 4 killed 455 injured, Mariwan: 1 killed 50 injured, Dehgolan: 1 killed and 50 injured, Bijar: 17 injured, Qorveh: 40 injured, and Kamyaran: 11 injured.
West Azarbaijan Province (Urmia): 9 cities
Oshnovieh: 4 killed and 67 injured, Urmia: 4 killed and 80 injured, Piranshahr: 2 killed and 96 injured, Mahabad: 54 injured, Bukan: 80 injured, Takab: 7 injured, Maku: 6 injured, Naghadeh: 27 injured, and Sardasht: 36 injured.
Kermanshah Province: 5 cities
Kermanshah: 3 killed and 60 injured, West Islamabad: 3 killed and 40 injured, Paveh: 20 injured, Salas-e Babajani: 1 killed and 9 injured, and Javanrud: 11 injured.
Ilam Province: 3 cities
Ilam: 1 killed and 40 injured, Ivangharb: 11 injured, and Abdanan: 6 injured.
In other cities in Iran: 3 more Kurdish civilians killed.

In total: 32 killed and 1541 injured
Over 2500 Kurdish protesters have been arrested during the protests:
Since the start of the protests in Kurdish cities, the security forces have detained more than 2500 Kurdish citizens, according to statistics recorded in the Statistics and Documents Center of the Hengaw Organization for Human Rights. The identities of more than 550 of these people have been confirmed for Hengaw, including 80 women rights activists, and 30 minors.
It should be noted that many of the detainees were severely tortured and at least two of them died under torture in the cities of Urmia and Saqqez.
Hengaw estimates the number of killed, injured, and detained is higher than these statistics.