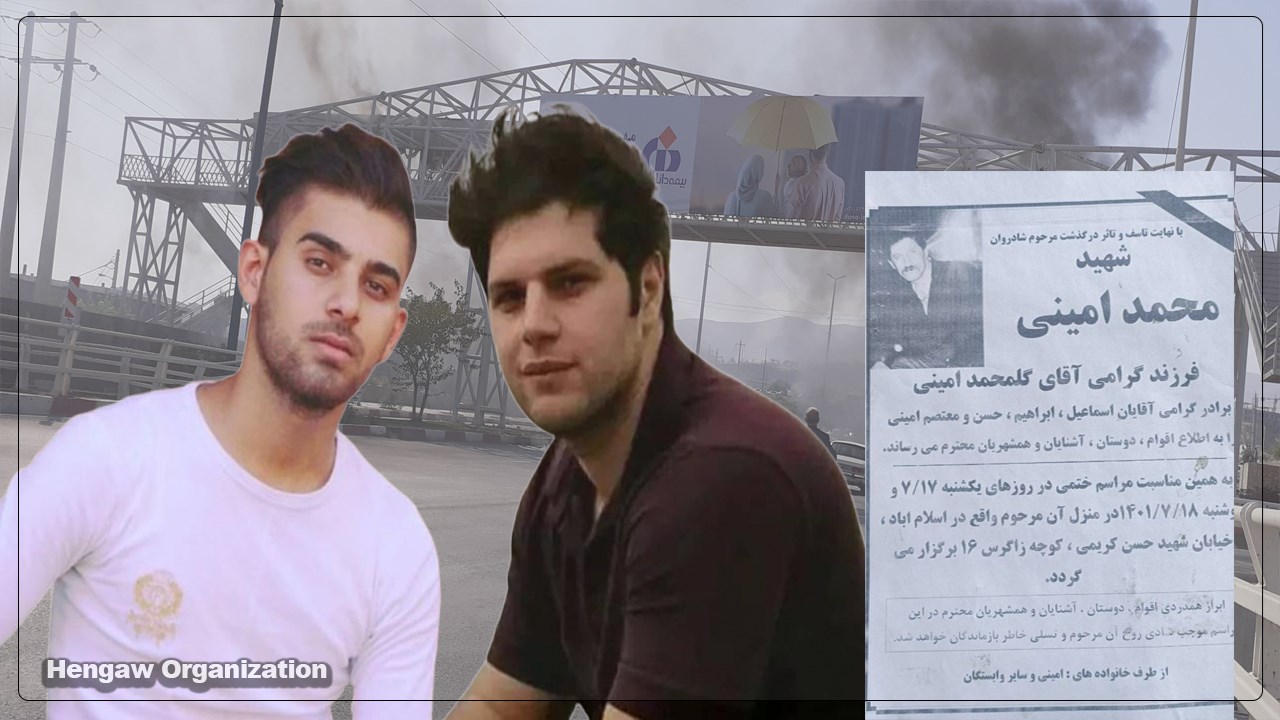 Hengaw: October 9, 2022

At least 4 Kurdish residents were killed by government troops yesterday, October 8, 2022, during the widespread protests of the populace in several Kurdish cities in Iran, while 130 more were injured.

The demonstrations from yesterday began in Sanandaj and afterward spread to Saqqez, Kermanshah, Javanrud, Kamiyaran, Bukan, and Mahabad.

According to the reports received by Hengaw at least four people died during the protests in Sanandaj city on Saturday, October 8, 2022. Hengaw is been able to confirm the identities of three of the deceased so far.

Dariush Alizadeh, who was wounded in the waist and thigh, was one of the casulties. He died at Besat Hospital after being taken there. Peyman Menbari, a 29-year-old Sanandaj resident from the village of Niar, is the other casualty of direct fire from the security forces; he was killed close to Mardokh bridge. In addition, Mohammad Amini, a resident of Sanandaj's Islamabad area, was killed by direct fire from troops stationed on the roof of a training center in this neighborhood.

According to information provided to Hengaw, one of the protesters who was shot in the abdomen by IRGC security forces today in Sanandaj died.

October 8, 2022#MahsaAmini#NikaShakaramipic.twitter.com/Sra66bsbxJ

— Hengaw Organization for Human Rights (@Hengaw_English) October 8, 2022
It should be noted that the identity of the person who was shot in the head inside the Pride car has yet to be confirmed. So far, it is clear that the owner of the mentioned Pride is a man named "Yahiya Rahimi," and Hengaw is still unsure whether the owner of the car is the same person who was killed by security forces.

On 6 Bahman Street in Sanandaj, security forces opened fire on a car and killed the driver, a man.

This individual was shot in the head during the protests.

October 8, 2022#MahsaAmini#NikaShakarami#Kurdistanpic.twitter.com/LKxsgeIwAA

— Hengaw Organization for Human Rights (@Hengaw_English) October 8, 2022
Hengaw has been informed that at least three of the deceased's burials were held at night and under severe security measures.

More than 50 people were injured by direct fire from government forces during the protests in Sanandaj, and 15 people were injured in the cities of Javanrud and 65 in Saqqez, including 20 women whose identities were confirmed by Hengaw.

In Sanandaj, one of the government forces, Gholamreza, was killed and two others were injured during the legitimate defense of the people against the attack of the security forces. Two members of the government forces were injured in Javanrud, and two more were injured in Saqqez, including the prosecutor of Saqqez, Mohammad Reza Rezapour.
Protests persisted till early this morning in Bukan, Mahabad, Sanandaj, Saqqez, Kamiyaran, and Javanrud.