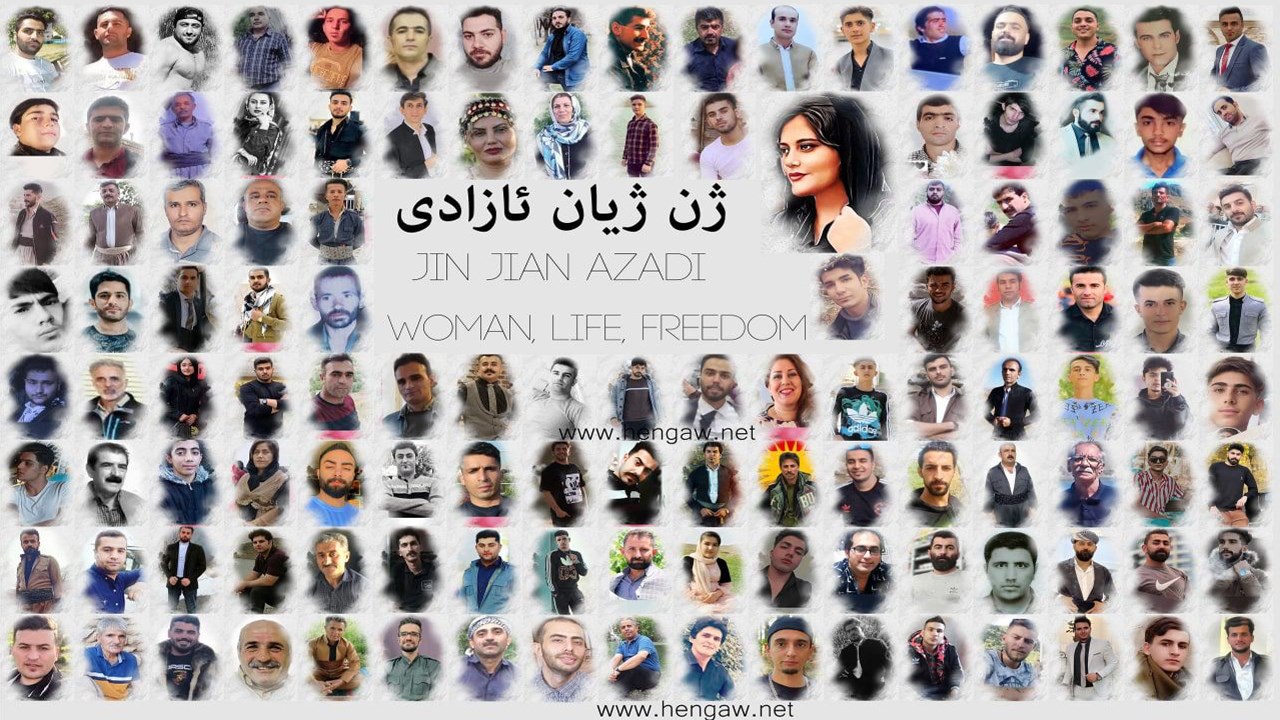 Hengaw: December 7, 2022
During the 80 days of protests and resistance in Kurdistan (Iran), which took place in 47 cities, at least 122 Kurdish citizens were killed and more than 8,000 were injured by the direct fire of the repressive forces of the Iranian government.
Based on the statistics registered in the Statistics and Documents Center of the Hengaw Organization for Human Rights, out of a total of 122 citizens who were killed in the recent protests, 106 cases, equivalent to 87% of the total cases, were killed by the direct shooting of war bullets from the Iranian government forces.
Separation by the cause of death:

- Direct fire from Iranian government forces: 106 cases, accounting for 87% of all cases.
- Torture-related killings: 7 cases, accounting for 5.7% of all cases.
- Being killed by a baton: 7 cases, accounting for 5.7% of all cases.
-Death due to suffocation with tear gas: 1 case, accounting for 0.8% of all cases
- Being stabbed to death: 1 case, or 0.8% of all cases

It needs to be clarified that out of the 122 people killed, 7 were women and 14 were children.
The term "child" refers to all people under the age of 18, who are considered children according to international laws on children's rights.

The available statistics are based on the verification and authentication of the identities of the victims so far, and Hengaw's research team still believes that the numbers of dead and wounded are higher than this, and they will update the numbers as soon as more information is obtained.

Separation of the Killed citizens by city :
Sanandaj:
1- Dariush Alizadeh
2- Peyman Manbari
3- Mohammad Amini
4- Yahya Rahimi
5- Aziz Moradi
6- Ramin Fatehi
7- Mohammad Shariati (from Muchesh)
8- Kayvan Darvishi
9- Mohammad Lotfalahi
10- Sarina Saedi (16 years old)
11- Ibrahim Mirzaei (from Dehgolan)
12- Momen Zandkarimi
13- Hamid Goli
14- Zanyar Allahmoradi
15- Isa Beygleri (from Sarovabad)
16- Shaho Bahmani
17- Aram Habibi
18- Omid Hosseini
19- Farhad Khosravi (from Kermanshah) 20- Hassan Abd Panah

Bukan:
1- Kamal Faqihi
2- Saman Qaderbeygi
3- Salar Mojaver
4- Asad Rahimi
5- Mohammad Hassanzadeh
6- Hazhar Mam Khosravi
7- Amjad Enayati
8- Hiva Jan Jan
9- Milad Maarofi
10- Mustafa Shabani
11- Shahriyar Mohammadi
12- Suleiman Shokri
13- Ghafoor Moloudi
14- Saadi Shahrokhifar
15- Hemin Aman
16- Ibrahim Sharifpur
17- Awat Qaderpour

Mahabad:
1- Ismail Moloudi
2- Kobri Sheikh Saqqa
3- Zanyar Abu Bakri
4- Shahu Khedri
5- Fershte Ahmadi (from Sardasht)
6- Masoud Ahmadzadeh
7- Fayeq Mamqaderi
8- Azad Hasanpour
9- Mohammad Ahmadi Gagesh
10- Seyed Kamal Ahmedpuri
11- Mehran Rahmani
12- Rebaz Salehivand
13- Shamal Khedirivand
14- Shorish Niknam
15- Farzin Maroufi

Kermanshah:
1- Minoo Majidi (from Qasr-e-Shirin)
2- Reza Shahparnia
3- Amir Hossein Basati 15 years old
4- Armin Sayadi 18 years old
5- Sina Naderi
6- Ramin Karami (from Sarpul-e-Zahab)
7- Koresh Pazhakh (from Islamabad-e-Gharb)
8- Ardalan Ghasemi (from Gilan-e-Gharb)

Javanrud:
1- Erfan Kakaie
2- Bahaddin Weisi
3- Johar Fathi
4- Ismail Gol Anbar
5- Tahsin Miri
6- Jamal Azami
7- Masoud Timuri

Piranshahr:
1- Zakaria Khayal, 16 years old,
2- Samad Barginia
3- Kumar Daroftadeh, 16 years old
4- Amir Ferasti Shad
5- Jalal Ghorbani
6- Taher Azizi
7- Karwan Qader Shokri.
Oshnaviyeh: 1- Amin Marafet, 16 years old
2- Milan Haghighi
3- Sadruddin Litani
4- Abdulsalam Qader Galvan
5- Saman Qaderpour

Urmia:
1- Farjad Darvishi
2- Abdullah Mohammadpour, 16 years old
3- Danesh Rahnama
4- Nima Shafiqdoost (from Salmas)
5- Nasim Sediqi (from Shahindej)

Islamabad-e-Gharb:
1- Saeed Mohammadi
2- Amir Fuladi 16 years old
3- Iman Mohammadi
4- Alireza Karimi

Diwandrreh:
1- Fouad Qadimi
2- Mohsen Mohammadi
3- Fouad Sawari
4- Habibullah Fathi

Saqqez:
1- Fereydoun Mahmoudi
2- Ismail Dezwar
3- Daniyal Pabandi
4- Abdur Rahman Bakhtiari

Baneh:
1- Motalleb Saeed Pirou
2- Ferydun Faraji (from Saqqaz)
3- Dastab Rasoul Muhammad Agha (from the Iraqi Kurdistan Region)
4- Aso Qaderi (from Rabat)

Sonqor and Keliai:
1- Alireza Fathi
2- Rouzbeh Khademian
3- Mohammad Zarei

Marivan:
1- Mukhtar Ahmadi
2- Nasrin Qaderi
3- Jabar Farghizadeh

Kamiyaran:
1- Fouad Mohammadi
2- Burhan Karami
3- Reza Kazemi

Qochan:
1- Ali Mozaffari Salanqoch, 17 years old
2- Mehdi Babrnejad

Ilam:
1- Mohsen Qeysari
2- Mohammad Abdullahi

Kangavar:
1- Erfan Khazaei
2- Ehsan Ghasemifar

Dehgolan:
1- Reza Lotfi
2- Mohsen Niazi

Salas Babajani:
1- Arin Moridi

Qorveh:
1- Nagin Abdul Maliki

Qasr-e-Shirin:
1- Afshin Asham

Takab:
1- Saman Mohammadi

Sahneh:
1- Sepehr Azami

Separation of killed citizens by province
Kurdistan Province: 38 cases

Sanandaj: 19 cases,
Baneh: 4 cases,
Diwandrreh: 4 cases,
Saqqez: 4 cases,
Marivan: 2 cases,
Dehgolan: 2 cases,
Kamiyaran: 3 cases,

West Azarbaijan (Urmia) Province: 47 cases
Mahabad: 14 cases,
Urmia: 5 cases,
Oshnaviyeh: 4 cases,
Piranshahr: 7 cases,
Bukan: 17 cases,

Kermanshah Province (Kermashan): 20 cases
Kermanshah: 8 cases,
Javanroud: 7 cases,
Islamabad-e-Gharb (Shabad): 3 cases, Qasr-e-Shirin: 1 case,
Salas Babajani: 1 case,

Ilam Province: 2 cases
Ilam: 2 cases

Kurdish citizens killed in cities outside of Kurdistan: 15 cases
Tehran: 5 cases,
Karaj: 4 cases,
Quchan: 2 cases,
Hamadan: 1 case,
Qazvin: 1 case,
Arak: 1 case,
Varamin: 1 case,

Statistics related to the arrested citizens:
After 50 days of protests, more than 6,500 Kurdish citizens had been arrested and kidnapped by Iranian security agencies, and in the current situation, Hengaw has been able to verify the identities of 1,510 of them. Out of these 1,510 people, 171 are women and 138 are children.
It needs to be clarified that, based on the final investigation, Hengaw declares that the arrested citizens are systematically subjected to physical and mental torture.
In this regard, at least 7 of these citizens have been killed under torture in the cities of Urmia (2 cases), Saqqez, Ilam, Sanandaj (2 cases), and Tehran.

The situation of the injured citizens:
During the recent protests, it is estimated that around 8,000 Kurdish citizens have been injured by direct fire from the Iranian government forces, and the physical condition of 40 of them is reported to be critical.
Hengaw's legal team, which is in charge of investigating and verifying the obtained reports, emphasizes that the available statistics only include those cases in which Hengaw has been able to somehow communicate with the families of the victims, the arrested, the injured, or people close to them, and also based on the available information and images. But Hengaw believes that the numbers would increase if the internet were fully restored, as would the possible decision of the families to speak about the matter.

This report will be updated as the investigation by the legal team continues.