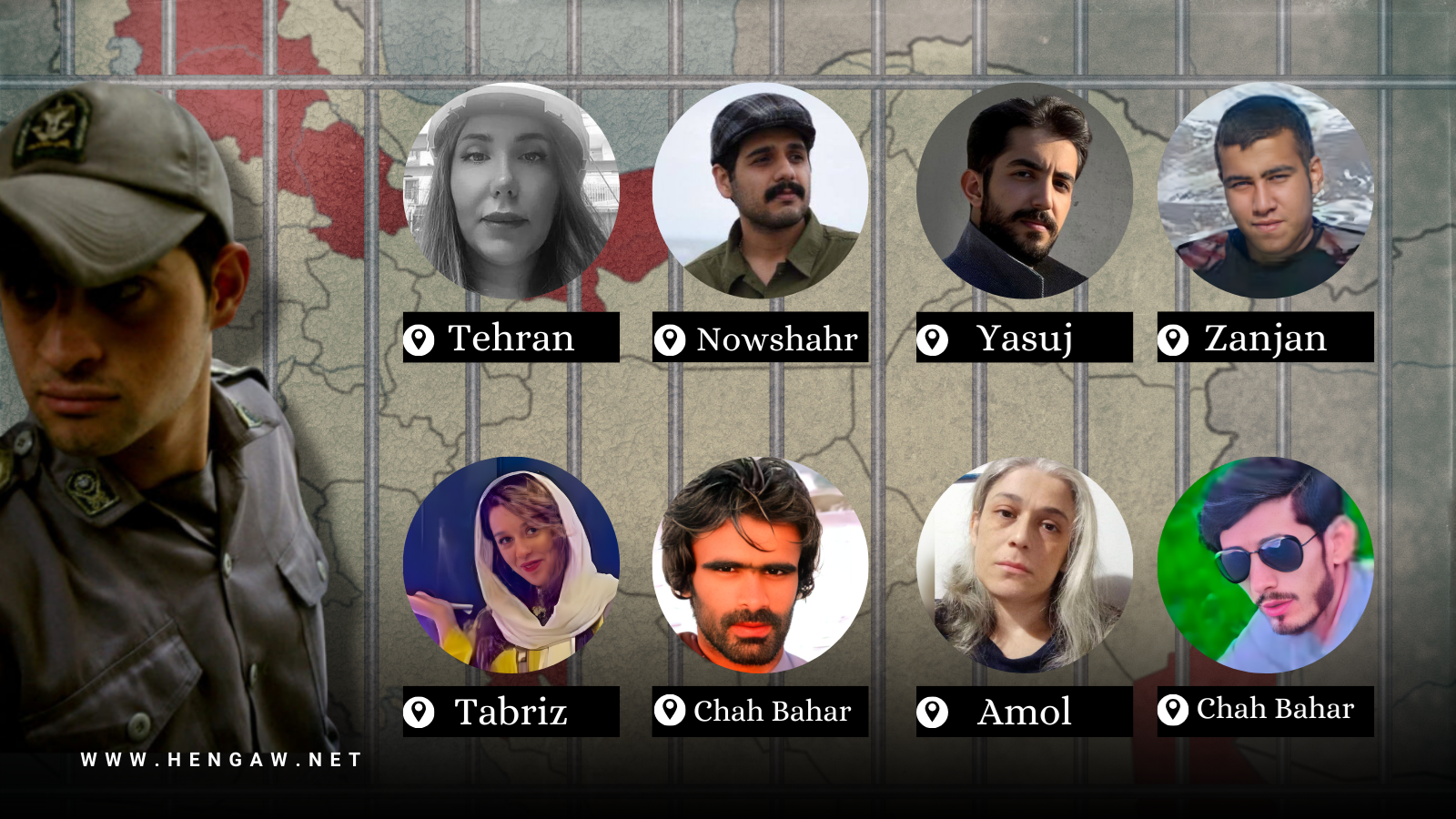 Hengaw; Fraiday, September 22, 2023.
During the current week, government forces of the Islamic Republic have detained eight individuals including Mahrab Farsad Mokhtari, Masoumeh Ghasemi Pour, Zahed Malazehi, Anwar Salahzehi, Ramin Zahedi, Armita Pavir, Zeinab Kazemi, and Behrad Shafieyan in the cities of Noshahr, Amol, Chabahar, Zanjan, Tabriz, Tehran, and Yasuj.

According to reports obtained by the Hengaw organization for Human Rights, on Wednesday, September 20, 2023, Mahrab Farsad Mokhtari, the Secretary of Education in Chalus city, was detained by government forces in his private residence located in Noshahr, Mazandaran.

Government forces also detained Zahed Malazehi, an 18-year-old, and Anwar Salahzehi, a 27-year-old, both employees of the Chabahar Steel Company and fathers of three children. Both individuals are residents of the "Kamb" village in Chabahar in Sistan and Baluchestan province.

On the evening of September 18th, 2023, Zeinab Kazemi, an engeneer was detained in her home in Tehran by security forces. Earlier this month, she had been sentenced to flagging of 74 lashes by the judiciary of the Islamic Republic of Iran.

On the same day, Behrad Shafieyan, a resident of Yasuj, was transferred to an intelligence detention center after detained by government forces.

Furthermore, on Sunday, September 17th, 2023, Masoumeh Ghasemi Pour, an actress, was detained in Amol, Mazandaran, by government forces and subsequently transferred to an undisclosed location.

On Saturday the 16th of September, Ramin Zahedi, a 26-year-old resident of Zanjan, was detained by government forces and his personal social media accounts were also suspended.

Also, Armita Pavir, a student activist, was transferred to the women's ward of Tabriz prison following her arrest by government forces.

This student activist had previously been detained during the "Jin, Jian, Azadi" movement, and on October 22nd, 2022, she was released from Tabriz prison after posting bail of 250 million Tomans.