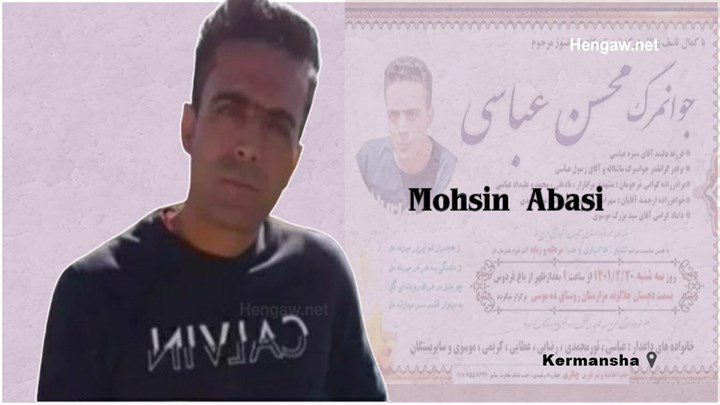 A young man from Kermanshah, Mohsen Abbasi, 39, who was detained by the Karaj Anti-Narcotics Headquarters and severely tortured and beaten by officers, died of his injuries after being transferred to Buin Prison.

Mohsen Abbasi was reportedly detained by the Anti-Narcotics Headquarters in early April this year on charges of "drug-related crimes" and after a month of torture for forced confession on Thursday, May 5, last week, according to a report received by Hengaw, and has been transferred to Buin Zahra prison.

Hengaw sources reported that Mohsen Abbasi, who was severely tortured in the Karaj Anti-Narcotics Headquarters detention center, died on Friday, May 6, just one day after being transferred to the quarantine ward of Buin Zahra Prison.

"The body of Mohsen, which showed signs of torture and bruising, has been autopsied and the Abbasi family is waiting for a forensic doctor's opinion," a relative of the Abbasi family told Hengaw.

The body of Mohsen Abbasi was handed over to his family today, after five days, Tuesday, May 10, and was buried in the village of "Deh Musa" in the Sarfiroozabad district of Kermanshah.