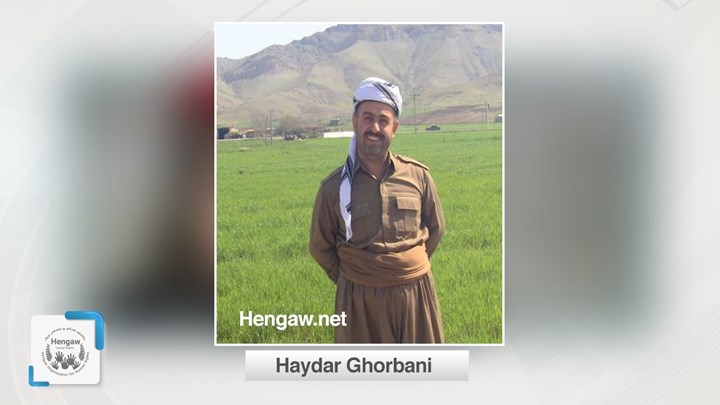 Hengaw: The death sentence of Haidar Ghorbani was sent to Kamyaran and the prisoner was in serious danger of execution.
According to a report received by the Hengaw Human Rights Organization, in the past few days, the General Justice of Sanandaj has rejected the request of the Supreme Court to review the case of Haidar Ghorbani and has sent his death sentence to be carried out in accordance with Kamyaran's sentences.

"According to Article 477, we had asked the Supreme Court that Haidar Ghorbani's verdict was issued against the Sharia and against the law, and they also referred his case to the Sanandaj General Court for review," Hassan Ghorbani, Haidar's brother, told Hengaw. "I went to the General Court of Sanandaj on Monday, August 9, and they said that we had rejected your request and sent the sentence to carry out the sentences of Kamyaran."
Mr. Ghorbani continued: "Today, Wednesday, they referred to the execution of Kamyaran's sentences and they also said that this sentence will be notified to Sanandaj Central Prison and Haidar Ghorbani's sentence will be executed soon.
The political prisoner, who was arrested at his personal home by his brother-in-law, Mahmoud Sadeghi, on October 25th,2016, spent months in solitary confinement and, according to relatives, under the most severe physical and mental torture, which eventually led to his forced confession on English TV Press had to.

Haidar Ghorbani was sentenced to death by the First Branch of the Revolutionary Court of Sanandaj, headed by Judge Saeedi, on February 2020, on charges of "prostitution" and "cooperation and membership in the Kurdistan Democratic Party of Iran. This sentence was was officially notified to him in Sanandaj Central Prison on January 28th,2020.
The death sentence of Haidar Ghorbani, a political prisoner from Kamyaran, was upheld by Branch 2 of the Supreme Court on Thursday August 6th,2020.
According to a relative of Mr. Ghorbani, Haidar Ghorbani had not been in contact with his family for 20 months, and a few months after his televised confession was released, they were able to speak to him on the phone for the first time.
Hengaw requests all human rights organizations and activists to be informed promptly to put pressure on the Iranian government to prevent the execution of this political prisoner.