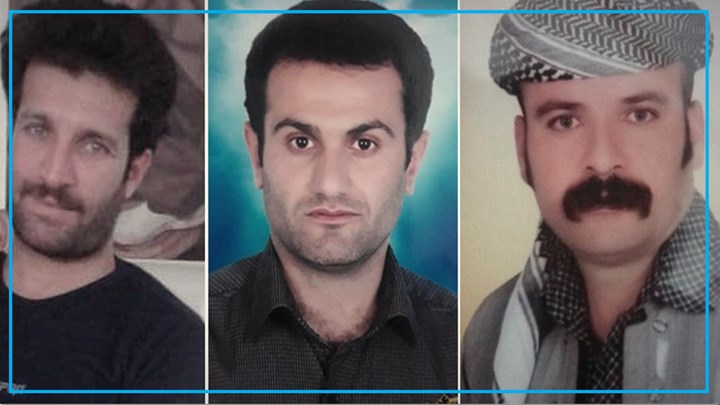 Hengaw: 3 members of a kurdish-Iranian family from Saqqez who had been arrested and sentenced to prison by the security services and judiciary of the Islamic Republic of Iran last winter ,have been detained to serve their sentences.
According to a report received by Hengaw Human Rights Organization, on Sunday, November 8, 2020, 3 Kurdish citizens from Saqqez and Divandareh, identified as Hamed Sheikhi, Nabi Molaviseh, and Ayub Kakakhani, who had previously been sentenced to prison by the Sanandaj Revolutionary Court, Have been arrested and transferred to Saqez and Bijar prisons.
These 3 Kurdish citizens were arrested by the Iranian intelligence services in Saqez on Friday, February 14, 2020, and after 40 days, on March 26, 2020, they were temporarily released on bails of 200 Million Toman ( nearly $8000) for each person until their trial was being held.
Hamed Sheikhi and his two sons-in-law, Nabi Malaviseh and Ayub Kakakhani from Divandareh, were detained during the death anniversary of Rauf Sheikhi, a member of the Kurdistan Free Life Party(PJAK).
These 3 Kurdish citizens were finally sentenced to one year in prison each by the First Branch of the Revolutionary Court of Sanandaj, headed by Judge Saeedi, in June 2020 on charges of collaborating with the Kurdistan Free Life Party (PJAK). Later their sentence was decreased to 4 months in prison including their previous detention period by the appeal court .
According to Hengaw sources, Ayub Kakakhani has been transferred to Bijar Central Prison and Hamed Sheikhi and Nabi Malaviseh have been transferred to Saqqez Central Prison after being detained.