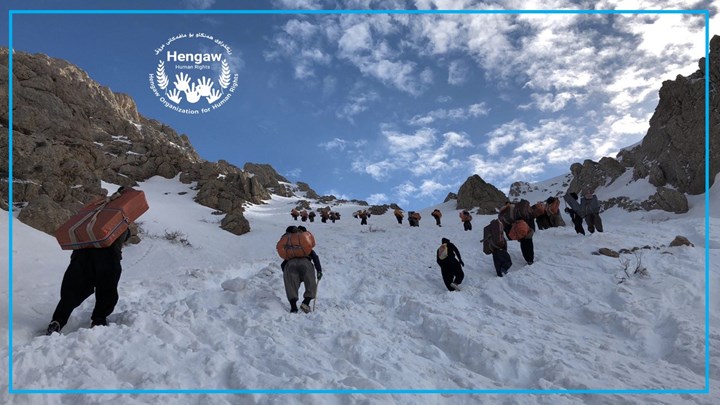 Hengaw: At least 252 Kurdish Kolbers killed and wounded in 2019 by the direct firing of Iranian armed forces.

Hengaw Organization for Human Rights publishes reports of human rights violations in Kurdistan in line with its own humanitarian missions on a regular and annual basis and categorical division.

The report on hand surveys the number of Kolbers who killed and wounded by Iranian armed forces in 2019. The mentioned information have been collected based on field investigations and interviews with the victims and their families. All documentations and interviews have been archived by Hengaw.

According to the registered statistics of Hengaw statistics center, during the year of 2019, at least 252 Kolbers have been targeted in the roads and mountains of Kurdistan which 76 of them have been killed and 176 have been wounded. This statistics indicate an increasing of 8.3 percent compared to the year of 2018 which had been registered killing and wounding of 231 Kolbers.

Causes of death or injury
Approximately 77 percent of Kolbers have been killed or wounded by direct firing of Iranian border and security forces.
Direct firing : 194 cases including ( 50 killed and 144 wounded)
Landmine explosion: 12 cases including ( 1 killed and 11 wounded)
Natural disasters such as avalanches, frostbite, falling from mountains and ....42 causes including (23 killed and 19 wounded)
Driving accidents: 4 cases including ( 2 killed and 2 wounded)

Victimized Kolbers division by Province;
West Azarbayejan: 157 cases including ( 45 killed and 112 wounded)
Kurdistan province: 70 cases including ( 26 killed and 44 wounded)
Kermanshah province: 24 cases including ( 5 killed and 19 wounded)

Killing and wounding of 8 child Kolbers
Of the total Kolbers who have been targeted by the direct firing of Iranian armed forces, 8 of them were under 18 years old who 7 of them have been killed. 6 child Kolbers have been killed or injured by the direct firing of armed forces and 2 by frostbite.

Any use of the information is merely allowed with the source quotation.