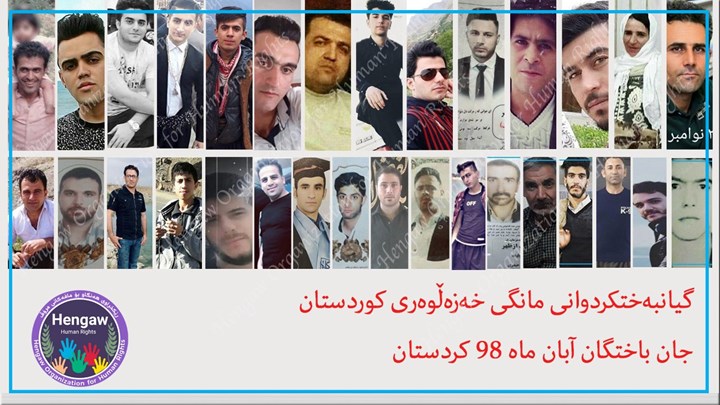 Hengaw: After three months of November protests that happened due to fuel prices increasing, Hengaw publishes the statistics report on the number of deaths and detainees of November protests in Kurdistan.
Based on the recorded statistics and the reports received by Hengaw, Hengaw confirms the death of 55 Kurdish citizens in the November protests which the identity of 41 of them have been authenticated for Hengaw.
According to this report, during the November protests, 29 citizens Kermanshah, 7 citizens in Javanrud, 6 ones in Mariwan, 4 ones in Sanandaj and one of them in Ilam have been died. Moreover, at least 8 Kurdish citizens in the cities of Tehran, Karaj, and Eslamshahr have been killed by direct firing from Iranian military forces.
Among those who have been killed and their identity have been authenticated, 4 ones have been underage and the 9 of detainees have been also underage.
According to a report received by Hengaw from a security source in Kermanshah, during the protests in this province, 36 citizens have been killed that the identity of 12 of them in Kermanshah and one in Javanroud have been authenticated by Hengaw.
The names list of the people who have lost their lives and their identity have been authenticated by Hengaw are as follows:
Kermanshah province
Kermanshah city:
1. Mohammed Mirzaei 2. Nader Bizhwand( From Chrdawl in Ilam) 3. Younes Ezzati 4. Borhan Mansournia( from Mariwan)5. Abdolreza Shirzadi 6. Mostafa Shirzadi 6. Hesam Baranirad( 17 years old from Ravansar) 8. Armin Ghaderi 9. Bahman Azizi 10. Mohammed Palani 11. Younes Jalili 12. Hamza Faraji 13. Mohsen karaminia 14. Saeid Rezaei 15. Sajjad Bagheri 16. Mozaffar watandoost
Javanrud:
1. Kaveh Mohammadi 2. Ebrahim Moradi (18 years old) 3. Mobin Abdollahi (from Ravansar) 4. Jabbar Tejareh 5. Younes Firouzbakht
Kurdistan province
Mariwan:
1. Osman Naderi 2. Mehran Tak( from Kalatrezan) 3. Daniel Ostowari ( from Nodsheh) 4. Behruz Maleki( from Sanandaj) 5. Arin Rajabi
Sanandaj:
1. Mohammed Reza Ahmadi 2. Ziba Khoshgowar
Tehran and Karaj
1. Mina Shekhi(From Saghez) 2. Mohsen Jaafarpanah (from Bijar) 3. Mohammed Heidaryan (from Songhor) 4. Naser Rezaei(from Ghorweh) 5. Poorya Naserikhah(From Kermanshah) 6. Mohammed Reza Mohammadi ( from Eslamabad Gharb) 7. Sardar Azami(from Ravansar) 8. Farzad Kamangir (Sanandaj)
Torture Murder:
1. Kaveh Weisani (from Kamyaran) 2. Ershad Rahmanian (from Sarwabad) 3. Hashem Moradi (from Ravansar) 4. Nader Rezaei Abtaf( from Kermanshah) 5. Sajjad Esmaeili (from West Aiwan)
Based on reports received by Hengaw Organization for Human Rights, in November protests, more than two thousands and two hundreds of Kurdish citizens have been detained by security forces which the identity of only 250 people have been authenticated by Hengaw.