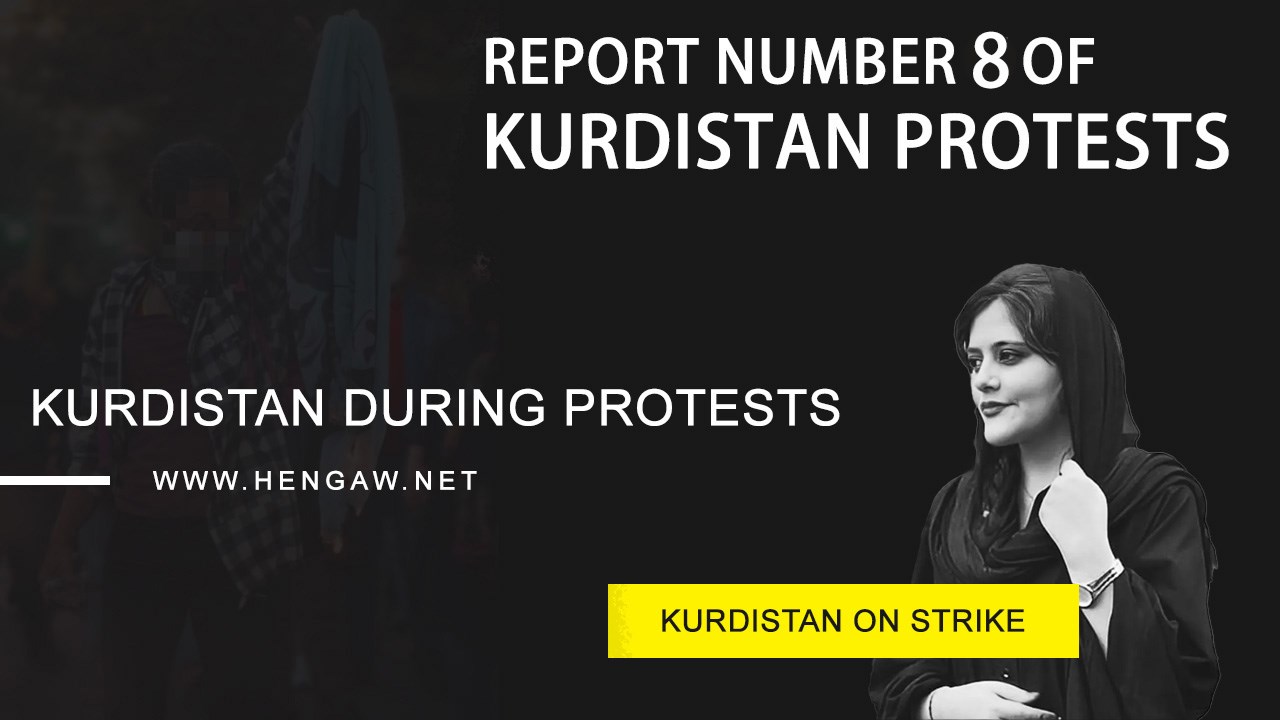 n the protests during the past few days in Iranian Kurdistan, one protestor was killed, the identity of 3 other victims persons has been clarified, and the number of arrests has increased to more than 2000 people.

According to the reports received by the Hengaw Human Rights Organization, during the past week, at least one citizen in Marivan named Mukhtar Ahmadi was killed by direct fire from the Iranian security forces, and the identification of 3 other people who died in the recent protests in Kurdistan, including Amir Hossein Basati, a 15-year-old teenager from Kermanshah, the death toll of recent protests in Iranian Kurdistan reached 23.

Separation of 23 killed Kurdish citizens by city:
Oshnavieyh:
1- Amin Marafet, 16 years old 2- Milan Haghighi 3- Sadruddin Litani 4- Abdul Salam Qadir Galwan
Urmia:
1- Farjad Darvishi 2- Abdullah Mohammadpour, 16 years old 3- Danesh Rahnama
Islamabad-e-Gharb:
1- Saeed Mohammadi, 2- Amir Fuladi, 16 years old, 3- Iman Mohammadi
Kermanshah:
1- Minu Majidi 2- Reza Sepehrnia3- Amir Hossein Basati, 15 years old
Diwandarreh:
1- Fuad Ghadimi 2- Mohsen Mohammadi
Piranshahr: 1- Zakaria Khayal, 16 years old, 2- Samad Berginia
Saqqez: 1- Fereydoun Mahmoudi
Ilam: 1- Mohsen Gheysari
Dehgolan: 1- Reza Lotfi
Quchan: 1- Ali Mozafari Salanqoch, 17 years old
Songhar ; 1- Alireza Fathi
Marivan:1- Mukhtar Ahmadi

Separation of killed and wounded citizens in different cities across Iranian Kurdistan and Iran:
Kurdistan Province (Sanandaj): 9 cities
Diwandarreh: 2 killed and 40 wounded, Saqqez: 1 killed and 100 wounded,
Baneh: 47 wounded,
Sanandaj: 170 wounded,
Marivan: 1 killed and 43 wounded,
Dehgolan: 1 killed and 37 wounded,
Bijar; 17 wounded,
Qorveh: 40 wounded,
Kamiyaran: 11 wounded

Total: 5 killed and 505 wounded

West Azarbaijan province (Urmia): 9 cities

Oshnavieyh; 4 killed and 67 wounded, Urmia: 3 killed and 80 wounded,
Piranshahr: 2 killed and 96 wounded, Mahabad; 45 wounded,
Bukan; 70 wounded,
Tekab: 7 wounded,
Maku: 6 wounded, Naqdeh: 27 wounded, Sardasht; 36 wounded
Total: 9 killed and 434 wounded
Kermanshah Province (Kermashan): 3 cities
Kermanshah; 3 killed and 55 wounded, Islamabad-e-Gharb: 3 killed and 40 wounded,
Paveh: 20 injured
Total: 6 killed and 115 wounded

Ilam Province; 3 cities
Ilam: 1 killed and 40 wounded,
Eyvangharb: 11 wounded,
Abdanan: 6 wounded
Total: 1 dead and 57 wounded

Other cities in Iran
2 killed
Total: 23 killed and 1138 wounded
More than 2000 Kurdish protestors have been arrested in the last two weeks

Based on the statistics registered in the Statistics and Documents Center of the Hengaw Human Rights Organization, over the w]two weeks, more than 2,000 Kurdish citizens have been arrested by the Iranian security agencies, and the identities of more than 400 of them have been confirmed for Hengaw. Out of a total of 400 people whose identities have been verified, 64 are female activists and 25 are teenagers under the age of 18.

Hengaw believes that the number of injured, arrested, and even killed citizens in different cities of Iranian Kurdistan is likely to be more and they will be all clarified as soon as the information is provided.