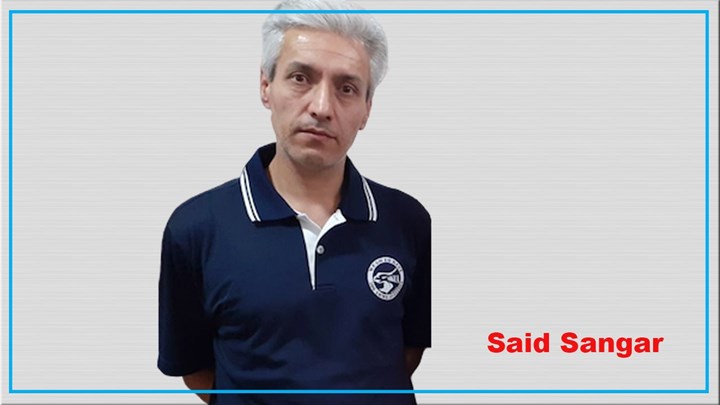 Hengaw: Saeid Sangar, a political prisoner from Piranshahr who is undergoing his 20th year imprisonment in Urumiyeh central prison, sentenced to 15 years imprisonment for other case.
According to the report received by Hengaw Organization for Human Rights, on Saturday, Feburary 11, 2020, the authorities of Urumiyeh prison have officially informed Saeid Sangar that he has been sentenced to 15 years in prison for other case.
Issuance of 15 years imprisonment is in the time that his sentence has been upheld for two years and he is being held illegally in prison and has not been able to protest for the new sentence.
Based on an informed source, Saeid Sangar was summoned to the second branch of the revolutionary court of Urumiyeh on Wednesday, February 26, 2020 on charges of membership in the People's Mojahedin Party of Iran and communication with outside prison and sentenced to 15 years imprisonment.
Saeid Sangar is a political prisoner born on May 2, 1973. He was arrested on August 31, 2000 in the city of Mariwan and transferred to Sanandaj and then to Tehran.
This political prisoner was sentenced to death by branch 1 of revolutionary court of Sanandaj, presided over by Judge Fatemi, on November 18, 2000, on charges of "Moharebeh( War against God) through membership in the People's Mojahedin Party of Iran and was transferred to ward 209 of Evin Prison in Tehran.
Saeid Sangar was transferred to Urumiyeh central prison in January 2009 and his death sentence commuted to life imprisonment. After four years he was transferred to Sanandaj central prison where he remained there until 2015. He was transferred once again to Urumiyeh prison on September 1, 2015 and has been detained in Urumiyeh prison ever since.
The sentence of life imprisonment of this prisoner was reduced to 18 years imprisonment by branch 4 of the Sanandaj judgment enforcement on December 23, 2016. In the same year, the releasing sentence of this political prisoner was issued but the intelligence agency prevented his release and now he is spending his sentence period in Urumiyeh prison without having right to leave from prison.