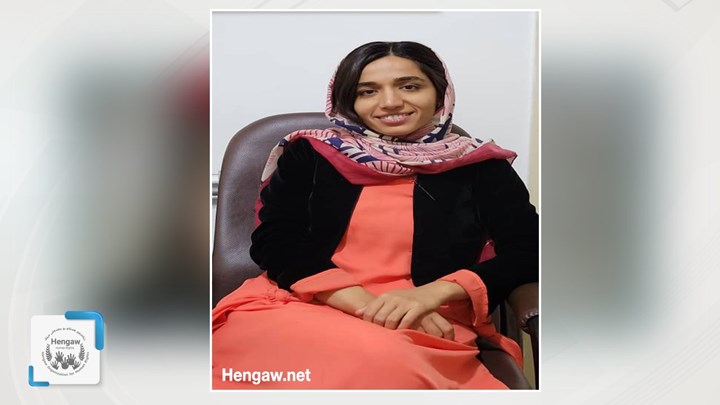 Hengaw: The Kurdish activist and Kurdish teacher Zara Mohammadi went to the court in Sanandaj to begin her prison sentence. The young activist was sentenced to five years in prison by the judiciary of the Islamic Republic of Iran.
According to the report received by Hengaw human rights organization, the Kurdish activist Zara Mohammadi had to begin her five-year prison sentence on January 8, 2022 in the women's prison in Sanandaj, Kurdistan Province.
Zara Mohammadi, board member of the Kurdish NGO Nojin and volunteer Kurdish teacher, was arrested by forces of the Ettelaat (Iranian secret service) in her hometown of Sanandaj in Iranian Kurdistan on May 23, 2019. The Ettelaat accused the young woman of working with a Kurdish opposition party. At the same time, Rebwar Minberi and Idris Minberi, two other members of the Nojin NGO, were arrested, too.
The 28 year old activist and leader of the NGO Nojin has been campaigning for civil, social and cultural rights of the Kurds in the Kurdistan Province for seven years. The young woman has also been giving voluntary Kurdish lessons in Sanandaj and the surrounding villages of the city for ten years.
On December 2, 2019, six months after her arrest, Zara Mohammadi was released on bail of 700 million tomans pending her judicial process. On July 14th, Zara Mohammadi was informed through her lawyer Dr. Abdullahi that the Sanandaj Revolutionary Court had sentenced her to ten years in prison on charges of forming an "anti-state group". Except for the Kurdish NGO Nojin, which Zara Mohammadi was involved in founding and in which she was active as board member, there are no other organizations that can be associated with Zara Mohammadi.
In October 2020, the Sanandaj Court of Appeal, chaired by Judge Mustafa Tayari, reviewed the ten-year prison sentence for Zara Mohammadi and reduced it to five years.
Zara Mohammadi was treated unfairly while in detention. She was brought before the Revolutionary Court in Sanandaj on September 18, 2019 without legal counsel. A relative of Zara told Hengaw that her trial began without her lawyer and family being notified.
It is common for lawsuits in Iran to be extremely unfair. Ethnic minorities are particularly badly treated and prosecuted on vaguely worded charges.