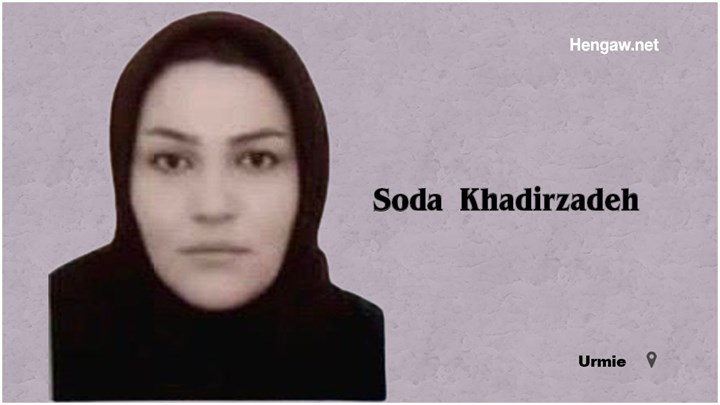 Hengaw: Monday, May 2, 2022

So'ada Khedirzadeh, a pregnant political prisoner imprisoned in Urmia Prison, spent the fifth day of her hunger strike. Prison officials met her and said there was nothing wrong with her case, but the Piranshahr Intelligence Office was preventing her release on bail.

According to informed sources in Urmia Prison, on the fifth day of her strike, So'ada Khedirzadeh has emphasized to continue her strike until her demands are met, even if her and her child's health (fetus) are endangered.

So'ada Khedirzadeh, who is 8 months pregnant, has been on a hunger strike in Urmia Central Prison since Tuesday, April 26, to protest her 7 months of indecision.

An informed source in the Urmia prison told Hengaw, "Mr. Bakhshi, the head of the prison, has met So'ada Khedirzadeh twice on Friday and Saturday and asked her to end her hunger strike, and the continuation of this strike is only for the benefit of the profiteers."

The source further stated that the prison authorities had told Ms. Khedirzadeh that we have no power to do in this case and the plaintiff in your case was the Piranshahr Intelligence Office and they prevent your release on bail.

So'ada Khedirzadeh, 32, a resident of Piranshahr, was arrested on Thursday, October 14, 2021, by Piranshahr Intelligence Service and transferred to the detention center of this security institution in Urmia. After 25 days and the completion of interrogations, she was transferred to the women's ward of Urmia Central Prison, and since then she has been kept in the women's ward of Urmia Central Prison without access to women's medical services during her pregnancy.

Last week, Hengaw released an audio file of the political prisoner, in which So'ada Khedirzadeh said: "I have been held in prison as a hostag, I have been threatened with forced confession, and security officials have offered me sex."