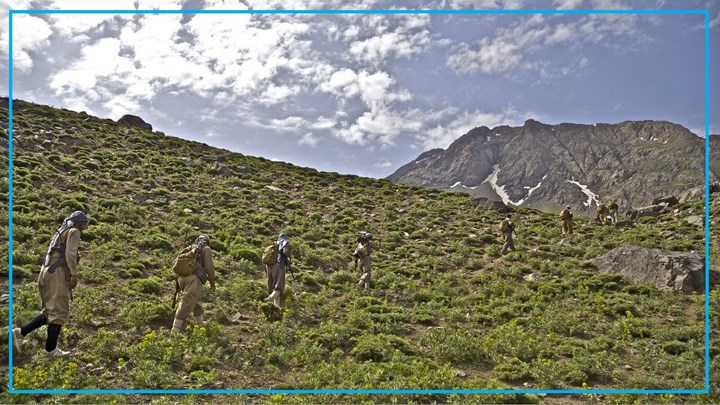 Hengaw : Nearly 50 people have been killed and wounded during 2020 in war and clashes between the armed forces of the Islamic Republic of Iran and Kurdish parties.
According to statistics recorded by the Statistics Center of Hengaw Human Rights Organization, at least 23 armed conflicts took place in Iranian Kurdistan during 2020, which is 10 cases less than 2019.
According to Hengaw's statistics, 17 members of the Iranian Islamic Revolutionary Guards, police and Basij were killed during the clashes, while 11 members of Kurdish parties and a secret member of these parties were killed.
A Kurdistan Free Life Party (PJAK) guerrilla has also been captured by Iranian Islamic Revolutionary Guards.
The highest number of clashes was recorded in Kurdistan province (Sanandaj), of which 13 out of 23 clashes took place in this province. Also There have been 10 clashes in West Azerbaijan Province (Urmia).
Separation of conflicts:
Out of the total number of clashes, 10 were carried out by PJAK and PKK guerrillas, 6 by Peshmerga of the Kurdistan Democratic Party of Iran (KDPI) and groups affiliated with this party (Zagros Eagles).
No party or faction has so far claimed responsibility for the other 7 clashes. According to information received by Hengaw from local sources, most of these clashes were carried out by groups close to KDPI and PJAK, and news related to all these clashes has been published by Hengaw before .
The casualties of Kurdish parties in these conflicts:
According to the statistics recorded by the Hengaw Human Rights Organisation's Statistics Center, 11 PKK and PJAK guerrillas and a secret PJAK member were killed and one guerrilla was captured during the clashes.
Only five of the 12 have been identified by the PJAK and PKK media outlets and have officially confirmed their deaths, and their identities have been registered in Hengaw Human Rights Organization's Statistics Center .
Also, according to statistics recorded by Hengaw Human Rights Organisation's Statistics Center, during 2020, at least 10 PJAK guerrillas were killed in the mountainous heights of Sulaimaniyah province in the Iraqi Kurdistan region due to the bombardment of Turkish Army .
Artillery and air strikes :
During 2020, Iranian Islamic Revolutionary Guards forces shelled the heights of Kurdistan 16 times and targeted the positions of the Kurdish opposition parties on the borders of the Iraqi Kurdistan Region with UAVs two times .
At least one civilian was injured in the attacks in Diwandara.

The death of 15 the guerrillas from Iranian Kurdistan in other parts of Kurdistan
According to Hengaw Human Rights Organization, during 2020, 15 guerrillas from Iranian Kurdistan in the ranks of the Kurdistan Workers' Party and other parties close to this party in three other parts of Kurdistan lost their lives.
The Kurdistan Workers' Party (PKK) has officially announced the deaths of these 15 people and published them in its media.

Based on Hengaw's documents and researches , it is emphasized that the Islamic Republic of Iran still has no adherence to the protection rights that watch internal armed conflicts and the basic rules of humanitarian law, such as the principle of proportionality, the prohibition of the use of explosive weapons and the separation of civilian populated areas from military purposes.