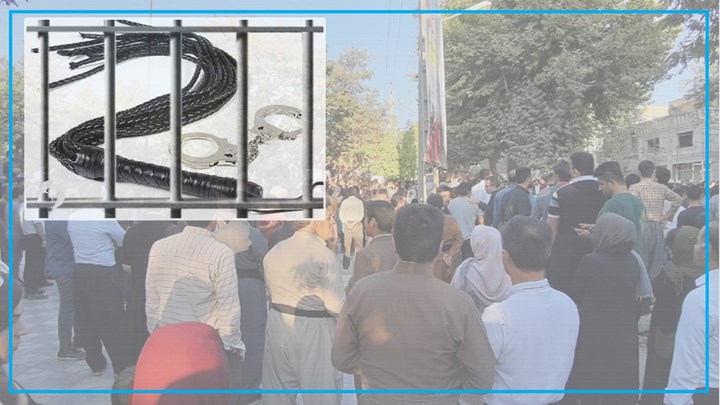 Hengaw : The judiciary of the Islamic Republic of Iran has sentenced at least 13 Kurdish citizens to imprisonment and flogging on charges of " illegal gathering " .
According to a report received by Hengaw Human Rights Organization, during the past few days, 13 citizens from Marivan identified as :
1- Fouad Yousefi
2- Afshin Rahmani
3- Kamal Kohnehpoushi
4- Seyed Omid Sajjadi
5- Shahab Zamani
6- Mobin Naderi
7- Tariq Rostami
8- Diako Taba
9- Hemmat Karimi Seyed Omid Haghparast
12- Ali Yaghoubi
13- Mohammad Naderi
These citizens have each been sentenced to 6 months imprisonment and 30 lashes.
According to an informed source, the sentence was issued by the Iranian Islamic Revolutionary and General Court of Marivan on charges of disturbing public order through illegal gathering and clashes with law enforcement officers.
According to this sentence for these 13 citizens, according to Article 618 of the Islamic Penal Code, each of them was sentenced to 6 months imprisonment and 30 lashes, which in terms of lack of criminal record and documented in Articles 46,48,49,50,52,54,55 Islamic Penal Code The sentences issued have been suspended for one year.
On Friday, October 12, 2019, a large number of Kurdish citizens in Marivan gathered in the city's Mellat Park to condemned the Turkish military attack on Syrian Kurdistan (Rojava), some of which were detained by Iranian security forces in the days following the protest. .
Hengaw had previously published the identities of five detainees as :
Hemmat Karimi,
Diako Taba,
Mobin Naderi,
Kamal Kohnoopoushi and Omid Haghparast.