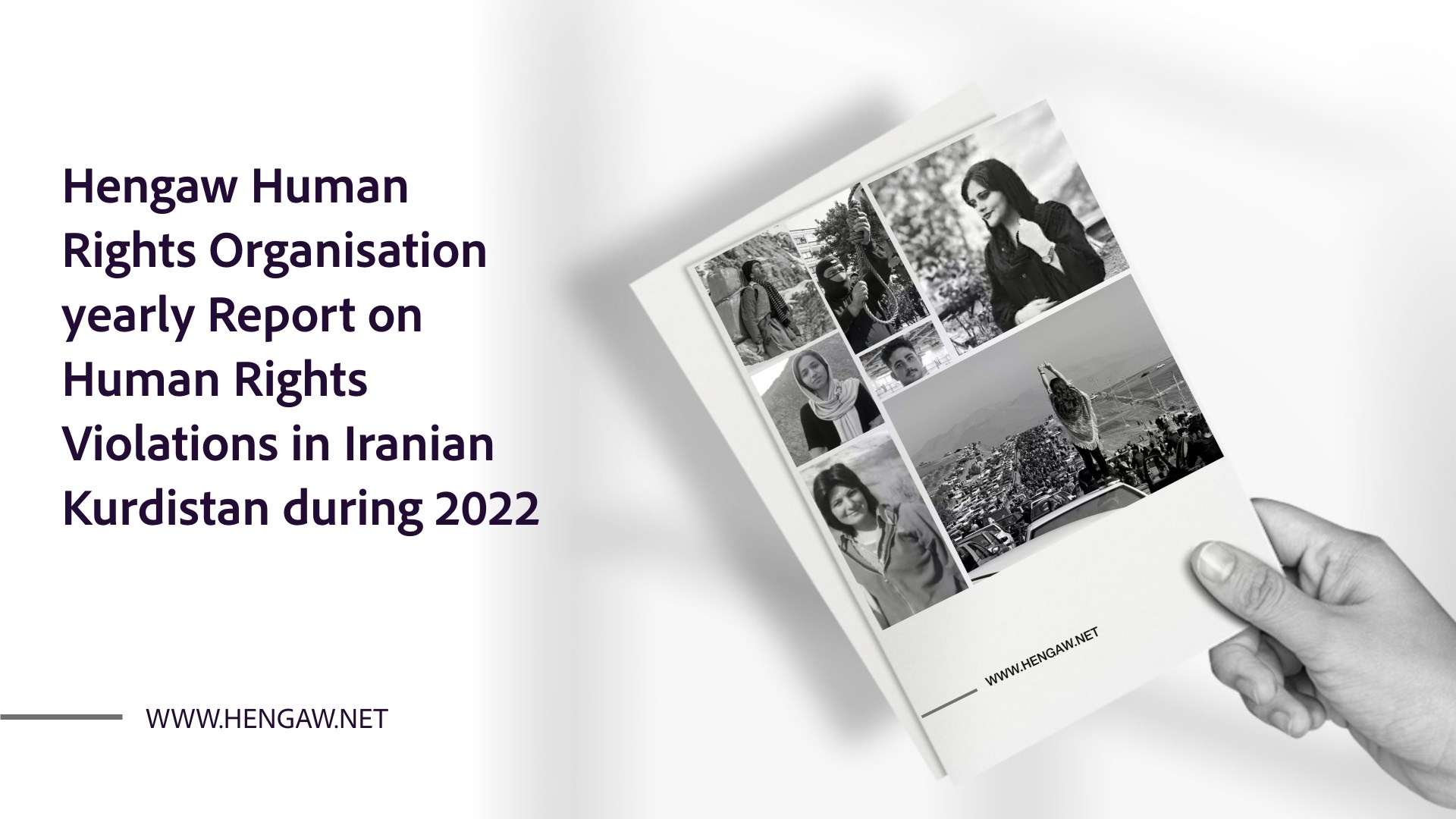 Hengaw: At the end of 2022, the Hengaw Organization for Human Rights will release a statistical report on the state of human rights and the increasing violation of the fundamental rights of Kurdish citizens in Iran.
Based on the statistics registered in the Statistics and Documents Center of the Hengaw Organization for Human Rights, in 2022, at least 52 Kurdish citizens were executed and more than 2,212 people were arrested, 155 of whom were tried and sentenced to death, imprisonment, and flogging. During this period, 290 Kolbars and traders were killed or injured. Also, 128 ordinary citizens were killed by the direct fire of the government forces; more than 3000 people were injured; 37 citizens were victims of mine explosions; and 19 prisoners died in the prisons. Also, 55 workers died due to work accidents, and 163 workers were fired.
A detailed report will be published in the coming days.
Executions:
According to Hengaw's figures, at least 52 Kurdish citizens were executed in Iranian jails by the government in 2022. A political prisoner named Firouz Mousa was one of those executed during this period. Also, death sentences have been carried out in 34 cases of intentional murder and 15 cases of drug-related crimes.
It should be noted that, among the executed prisoners, two women were executed in Sanandaj and Urmia prisons.
The killing of Kolbars:
In 2022, at least 290 Kurdish Kolbars and traders were killed or injured, of whom 46 lost their lives and 244 were injured.
With 163 deaths, the majority of Kolbars and traders were killed within Kermanshah province's borders.
Of these 290 people, 206 cases, equivalent to 71.3% of all cases, were hit by direct fire from the Iranian armed forces.
At least four Kolbars under the age of 18 died in 2022, and seven others were injured.
The killing of ordinary citizens:
Based on the statistics of Hengaw, in 2022, at least 128 Kurdish citizens were killed by direct fire or baton strikes by the Iranian armed and governmental forces, and more than 3000 were injured.
Out of the total of 128 citizens who were killed by the government forces, 116 cases were related to the popular resistance during the Jina Amini revolution, and 19 of them were under 18 years of age and are considered children according to international definitions. (In the popular resistance of Jina, 10 prisoners also died under torture, which is mentioned below in this report.)
Killed by mine explosions:
At least 37 citizens were killed or injured along Kurdistan's borders in 2022 because of the explosion of landmines and explosives left over from the Iran-Iraq war.
Of these 37 cases, 6 people lost their lives, and the majority of the victims were Kurdish Kolbars and farmers.
The state of prisons:
In 2022, at least 19 prisoners died in prison; 12 of them died under torture, and 10 of them were political prisoners.
Also, three prisoners died due to a lack of medical treatment, two prisoners committed suicide, and the cause of death for one prisoner is also unknown.
Illegal and arbitrary arrests :
During the last year, more than 7000 Kurdish citizens have been arrested by the security institutions of the Islamic Republic of Iran.
So far, the identities of 2,212 of these people have been verified for the Hengaw Organization, and most of them have been arrested on political charges for their participation in the uprisings and their cooperation with the opposition Kurdish parties of the government.
Those detained include 237 women and 180 minors under the age of 18. The province of Kurdistan (Sanandaj), where 865 incidents were documented, saw the greatest number of citizen arrests.
Sentenced detainees:
In 2022, at least 155 Kurdish activists were tried by the courts of the Islamic Republic of Iran and sentenced to imprisonment, execution, or flogging.
According to Hengaw statistics, 149 citizens have been sentenced to a total of 333 years and 1 month of imprisonment, 66 years, and 11 months of suspended imprisonment, and 222 lashes, and 4 political activists and 2 activists of the LGBT community have also been sentenced to death.
Labor rights and workers:
Based on the statistics of the Hengaw Statistics Center for 2022, at least 55 workers in Kurdistan have died due to accidents caused by their work and a lack of safety in the workplace. Also, 163 workers have been fired due to the lack of contractual security.
The data and statistics in this report only include those that Hengaw Organization has verified; actual numbers could be considerably higher.