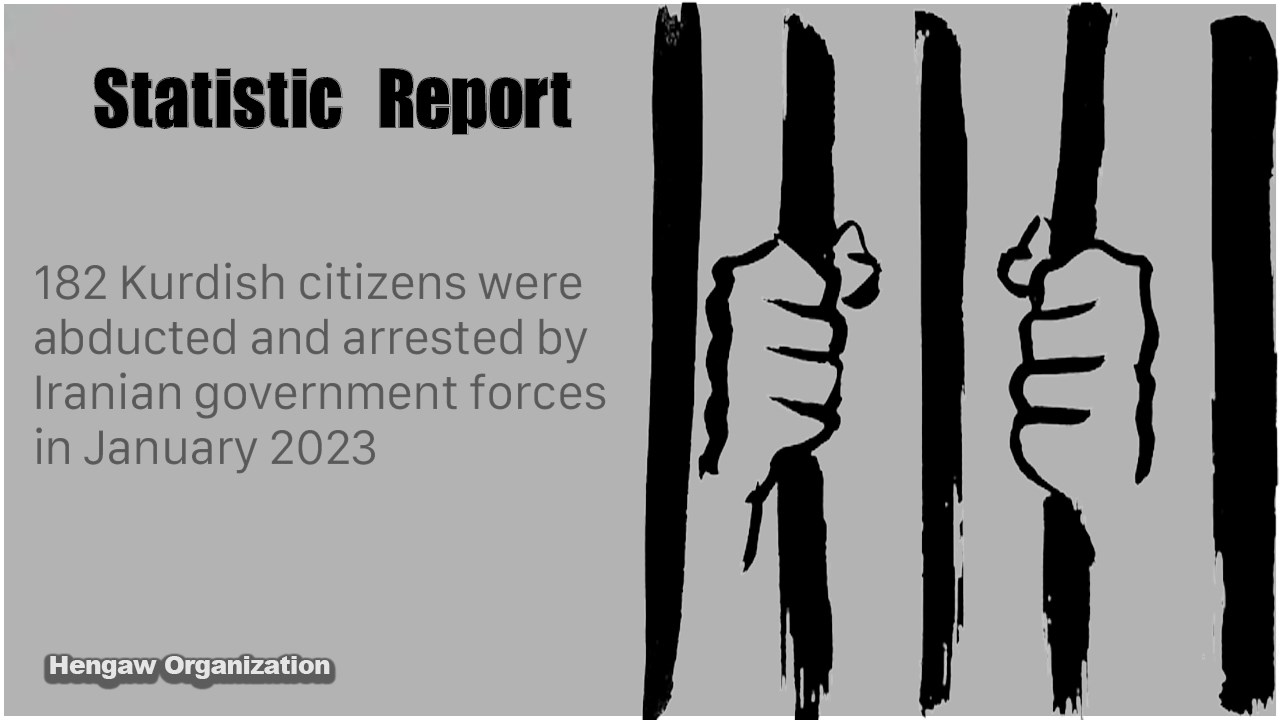 Hengaw: Thursday, February 2, 2023
Based on the statistics registered in the Statistics and Documents Center of the Hengaw Organization for Human Rights, in January 2023, at least 182 Kurdish citizens were arrested by the Iranian security institutions on charges of political, civil, and trade union activities. On average, six Kurdish citizens were arrested and kidnapped per day.
According to this report, 169 citizens were kidnapped by the Iranian government institutions on charges of political activity and cooperation with Kurdish parties, 10 citizens on charges of religious activity and support for the recent popular resistance and uprising, and 3 civil activists.
Last month, at least 12 women activists, 14 children and teenagers under 18 years of age, as well as 9 students and 6 university teachers and professors, were kidnapped in Kurdistan by the Iranian government institutions.
The most arrests were registered by Iranian Intelligence, with 146 cases. Also, in 105 cases, most of the arrested people were kidnapped from their homes by Iranian government agencies.
Of these 182 cases, 11 people have been arrested in their cities and sent to prison to serve their sentences.

Separation by the charge:
Political activist: 169 cases, equal to 92.8% of all cases.
Religious activists: 10 cases equal 5.5% of all cases.
Civil activist: 3 cases, equal to 1.7% of all cases.
Separation by province:
Kermanshah province: 44 cases
West Azarbaijan province (Urmia): 57 cases
Kurdistan province (Sandaj): 68 cases
Ilam province: 6 cases
In other regions of Iran: 7 cases
The agency in charge of the arrest:
IRGC Intelligence: 25 cases
Intelligence Department: 146 cases
Execution of sentences: 11 cases
Place of detention:
Street: 36 cases
Home: 105 cases
Court: 16 cases
Intercity route: 3 cases
Workplace: 10 cases
Intelligence Department: 5 cases
Hospital: 1 case
Traffic Department: 1 case
Mosque: 1 case
Airport: 1 case
University: 3 cases