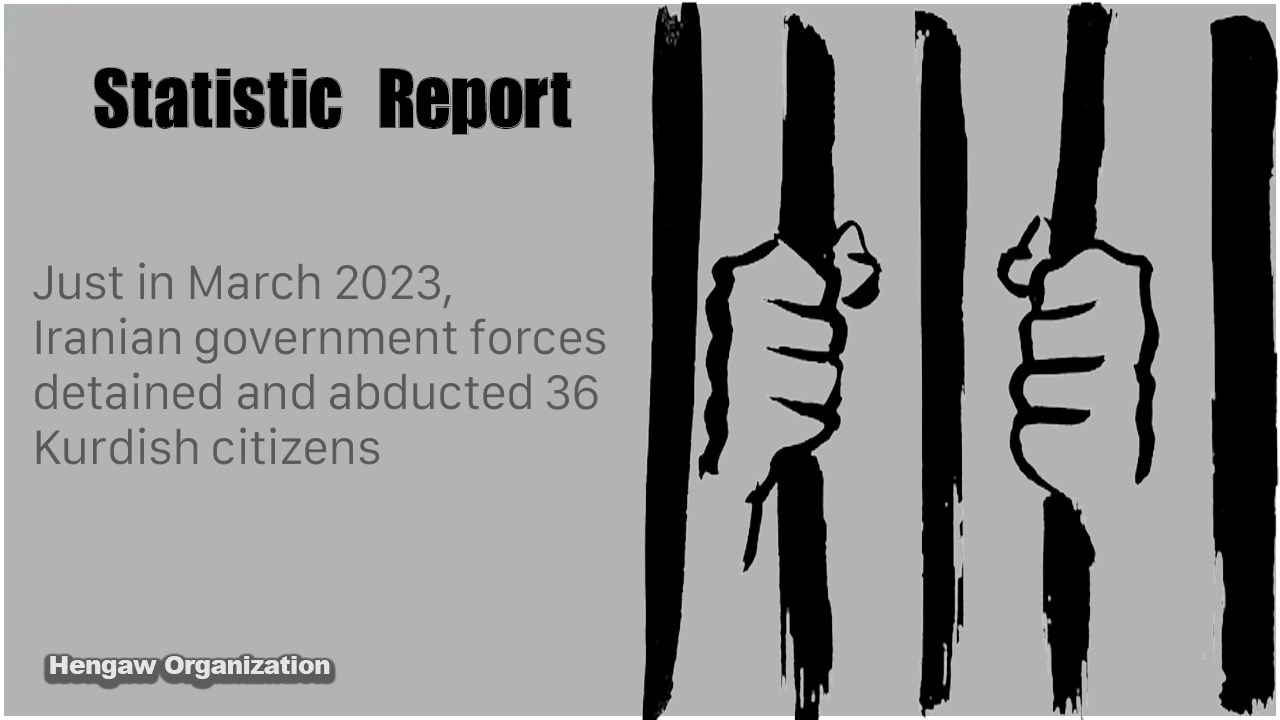 Hengaw: April 1, 2023
According to statistics kept by the Hengaw Organization for Human Rights' Statistics and Documents Center, the Iranian government's security institutions detained at least 36 Kurdish citizens in March 2023 on suspicion of engaging in political, civil, and union activities.
According to this report, 15 citizens were abducted for political activities and cooperation with Kurdish parties; 12 citizens were abducted for protesting against chemical attacks against schools and students; and 9 citizens were abducted by the government institutions of the Islamic Republic of Iran in connection with holding Newroz ceremonies.

Last month, at least two female activists, a teenager under the age of 18, as well as eight teachers were abducted in Kurdistan by the government institutions of the Islamic Republic of Iran.

The most arrests were recorded by the intelligence department, with 32 cases. Also, most of the arrested people—equivalent to 17 cases—were abducted in their homes by government forces.

It is worth mentioning that out of these 36 cases, four citizens were arrested in their cities after being summoned to the enforcement branch of the governors and transferred to prison to serve their sentences.

Separation by charge:
Political activist: 15 cases, or 42% of all cases.
Protest against chemical attacks against students: 12 cases, or 33% of all cases.
Nowruz Gina: Nine cases, or 25% of all cases.

Separation by province:
Kermanshah province: 3 cases
West Azarbaijan province (Urmia): 12 cases
Kurdistan province (Sanandaj): 18 cases
Ilam province: 1 case
In other regions of Iran: 3 cases

Detaining agency:
Intelligence Department: 32 cases
Execution of sentences: 4 cases
IRGC Intelligence: 1 case

Place of detention:
Street: 11 cases
Home: 17 cases
Court: 4 cases
Workplace: 4 cases