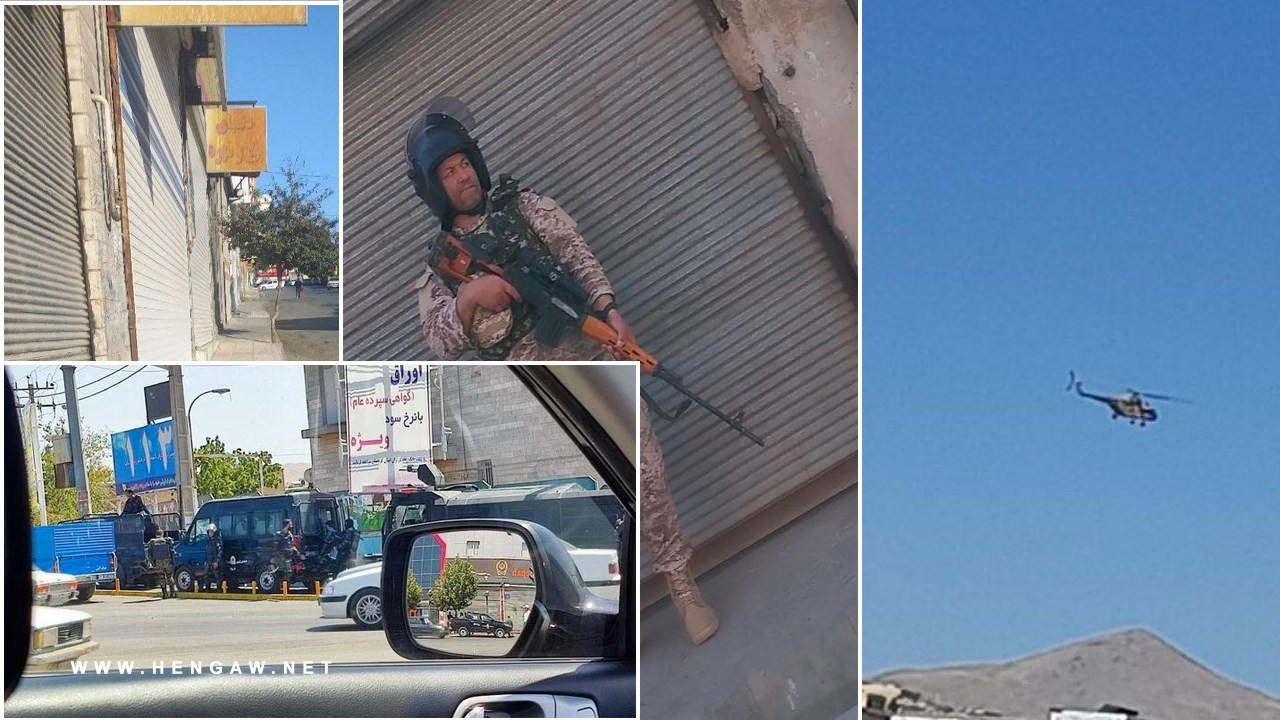 Hengaw: Saturday, September 16, 2023.
In response to a prior request from Kurdistan parties, organizations, and civic activists, marketers and workers in at least 18 cities embarked on a massive strike by closing their stores on the anniversary of Jina Amini's state murder and the beginning of the "Jin, Jiyan, Azadi" movement. According to the report received by the Hengaw Organization for Human Rights on September 16, 2023, a general strike was held in 18 cities of Kurdistan, including Bukan, Dehgolan, Marivan, Urmia, Sanandaj, Kamiyaran, Baneh, Qorveh, Ilam, and Bijar; also in Ravansar, Saqqez, Mahabad, Oshnavieh, Divandareh, Sardasht, Paveh, and Miandoab.

According to the images and videos that Hengaw received, while widespread strikes are being held today, a huge number of repressive forces, including snipers and special units, have been deployed in different places. They are also patrolling and creating terror in other cities, especially in Saqqez. The IRGC helicopters also frequently fly at low altitudes over the cities.

Last year, similar strikes were held on several occasions as a sign of protest against the government's suppression of public protests during the movements of 'Jin, Jyan, Azadi' in the cities of Kurdistan, and in consequence of these strikes, trade union activists and marketers were forced to sign a pledge and were also sentenced to pay fines by the Iranian authorities. In some cases, their shop was even sealed and their business licences were revoked.

These strikes occurred while an atmosphere similar to a state of war was created by the Iranian government forces of the Islamic Republic of Iran in the cities of Kurdistan, and thousands of armed forces along with equipment, armoured vehicles, helicopters, and military planes had been transferred to these cities during the past weeks.

Moreover, in recent weeks, most marketers were either summoned by government security institutions or threatened by phone calls not to participate in strikes. In Bukan City, five members of the gold sellers' union of the city were arrested.