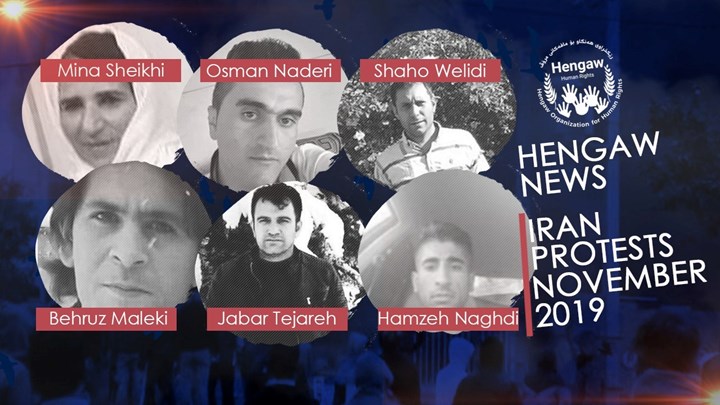 Hengaw: During the anti government protests in Kurdistan, only Saturday and Sunday, more than 45 people have been killed and over 500 injured, as a result of direct shootings by the Iranian Revolutionary Guards.

According to the registered statistics by the Hengaw Human Rights Organisation, 45 Kurdish civilians lost their lives after coming under direct fire of the Iranian Armed Forces and over 500 got injured, during Saturday and Sunday protests, in 14 cities across Kurdistan.

To date, Hengaw has been able to verify the identity of the 20 deceased. The following list shows the number of the dead in each city, along with the name of those, whom their identity has been verified:

15 dead in Javanrood
1. Kaveh Mohammadi
2. Hamza Naqdi
3. Ebrahim Moradi
4. Aziz
5. Mobin Abdollahi
6. Jabbar Tejareh
7. Younes Hushangi
8 dead in Marivan
1. Osman Naderi
2. Mehran Tak
3. Shaho Walidi
4. Edris Bivareh
5. Danial Ostovari
15 dead in Kermanshah
1. Mohammad Mirzai
2. Nader Biranvand
3. Mozzafar Zahiri
5 dead in Bokan
1. Hiwa
2. Edris
3. Shlair Dadvand
1 dead from Saqqez
Mina Sheikhi
1 reported dead in Sanandaj, but his identity has not yet been verified.

Also, more than 500 protesters were injured after the Iranian Armed Forces, opened fire with live ammunition on the protesters. However, most of the casualties have not been taken to hospitals or official medical centres, for fear of being arrested.

Since the start of the protests, more than 300 Kurds have been arrested and taken into custody by the Iranian security forces. The identity of 7 of those detained has been verified by Hengaw.

At least four Iranian regime's security forces, were also killed in clashes with protesters in the cities of Kermanshah, Marivan and Javanrood.