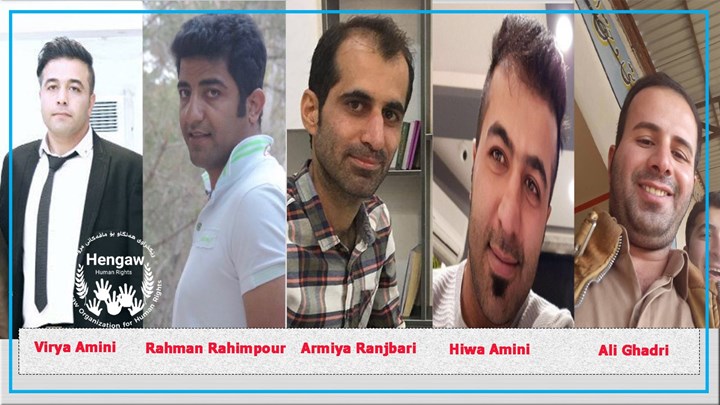 Hengaw: Five Kurdish citizens from Saqqez district of Kurdistan province in Iranian Kurdistan who were detained by the Iranian intelligence services in August 2020, have been sentenced to prison by the judiciary of the Islamic Republic of Iran.
According to a report received by Hengaw Human Rights Organization, in December 2020 , five Kurdish citizens from Saqqez, identified as Ali Ghaderi, Armiya Ranjbari, Hiwa Amini, Vuriya Amini and Rahman Rahimpour, were sentenced to a total of 4 years and 11 months in prison by the first Branch of the Iranian Islamic Revolutionary Court in Saqqez.
The trial of these five citizens was held on Wednesday, December 2, 2020 , and they were notified of the verdicts issued on Wednesday, December 10, 2020. These citizens have been tried on charges collaborating with the Kurdistan Free Life Party (PJAK).
According to the verdict, Hiwa Amini, Rahman Rahimpour and Armiya (Ayub) Ranjbari were each sentenced to 10 months in prison for collaborating with PJAK, and Vuriya Amini and Ali Ghaderi were sentenced to 8 months and 7 months in prison, respectively. Armiya Ranjbari was also sentenced to 13 months in prison for insulting the supreme leader of Iran , Ali Khamenei.
Ali Ghaderi, Armiya Ranjbari, Hiwa Amini and Vuriya Amini were arrested on Wednesday,August 5, 2020, and Rahman Rahimpour on Wednesday ,August 13, 2020, Iranian Intelligence forces in Saqqez.
These five citizens were temporarily released on bail of 50 million Tomans ($2000) each after a month of detention until the court hearing.