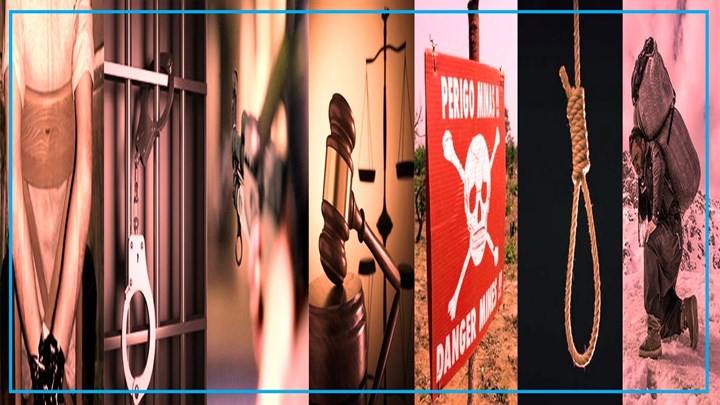 Hengaw: At least 77 human rights violations have been reported in Iranian Kurdistan over the past month.
According to the statistics recorded at the Statistics and Data Documentation Center of Hengaw Human Rights Organization, at least 77 human rights violations were registered in Iranian Kurdistan during May 2021, which are as follows:
17 Kolbars killed and wounded:
During the past month, at least 17 Kolbars and tradesmen have been killed or injured on the borders of Iranian Kurdistan. 4 of whom lost their lives. 3 of them were killed by direct fire from the Iranian armed forces and one was killed by natural disasters.
Also, out of a total of 13 who were injured, 11 were wounded by direct fire from the Iranian border guards and 2 were injured by landmine blasts.
Execution and death in prison:
In May 2021, at least one Kurdish citizen was executed in Ilam Central Prison for premeditated murder.
Also, during this period, a prisoner from Urmia was killed in the central prison of this city due to beatings by prison officials, and a prisoner in Bukan prison lost his life due to lack of medical care.
Civilians killed and injured and landmine blasts:
At least 5 civilians were injured in landmine blasts on Iranian Kurdistan's borders over the past month.
No civilians were killed or injured by the armed forces this month.
Arrest and imprisonment sentence(43 cases) :
According to Hengaw's statistics, at least 35 Kurdish citizens were arrested by Iranian security forces in different cities of Kurdistan on charges of political, ideological, and civic activities.
8 Kurdish activists were also sentenced to a total of 88 years and 11 months in prison by the Iranian judiciary for political, ideological, and civic activities.
Workers (9 items)
During this period, at least 4 workers from Sahneh, Urmia, Marivan, Sarvabad, Ilam, and Saqez lost their lives while working due to work accidents. One of these workers lost his life in the Kurdistan region.