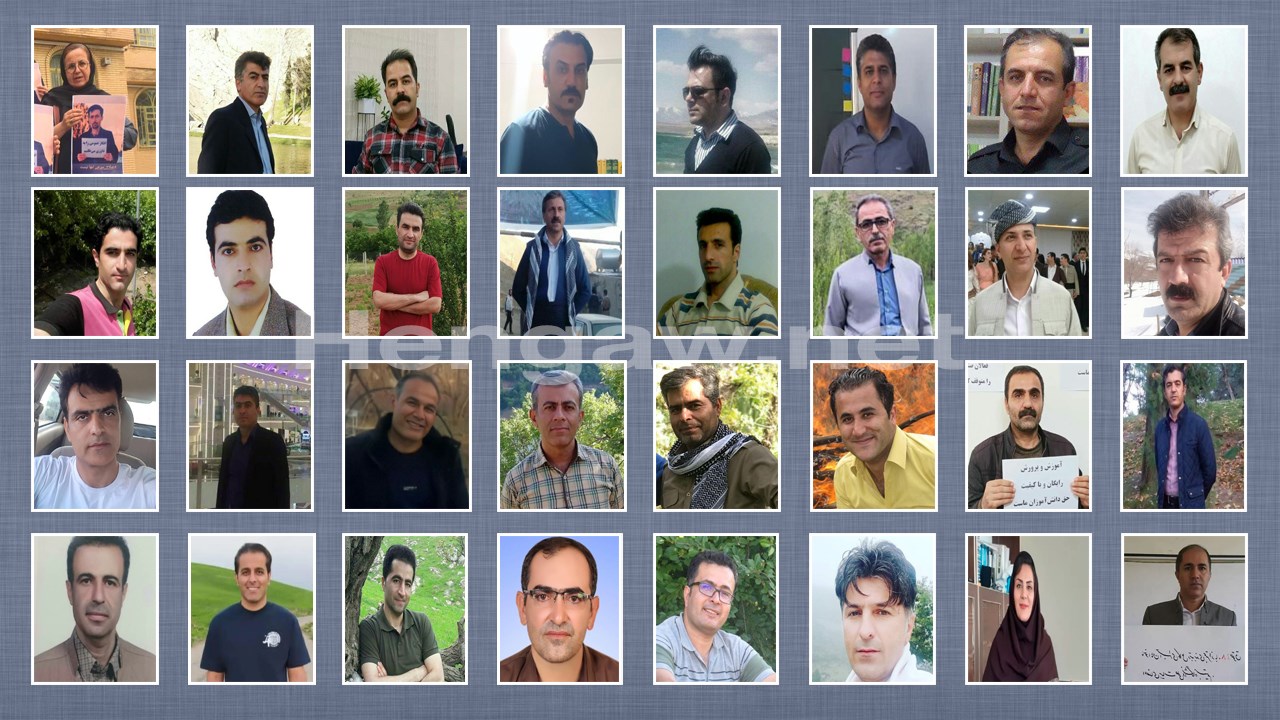 Hengaw: Friday, June 17
More than 40 teachers have been detained by security forces in the cities of Sanandaj, Marivan, Saqqez, and Divandareh over the past two days, and only 7 of them have been released. The others are still in custody, and their fate is unknown.

Hengaw sources reported that since teachers protested in the cities of Sanandaj, Marivan, Saqez, and Divandareh, the cities have been severely militarized, and telephone lines in Divandareh were disrupted. Security forces and a special unit in Sanandaj clashed with protesters and beat a number of them. Reports also indicate that several helicopters have been patrolling the cities of Sanandaj, Saqez, and Bukan since yesterday morning and security forces have been deployed in all public places and squares.

Hengaw announced the deployment of several Revolutionary Guards snipers on the roof of the Sanandaj Education Department building and the buildings overlooking the department building yesterday.

According to a report received by Hengaw, at noon on Thursday, more than 20 members of the intelligence service raided the house of Salah Haji Mirzaei, a member of the board of the Sanandaj-Kalatarzan branch of the Kurdistan Teachers' Union, and arrested him. Ghias Nemati, a member of the association's board of directors, and Behzad Ghavami, a member of the association, were also arrested.

At the same time, at least five teachers in Saqqez were detained by security forces during a protest rally in front of the city's education building, called Taher Ghaderzadeh, Esmail Reyhani, Amanj Amini, Hossein Mohammadi, and Ghader Yathrabi. At least 18 teachers in Saqqez were arrested last night too.
On the other hand, last night at least three teachers and members of the Marivan Teachers' Union, Aram Ghaderi, Tahsin Mostafa, and Seivan Soleimani, were arrested by intelligence forces and taken to an unknown location.
At the same time, five teachers in Marivan, called Saleh Habibi, Esmail Amini, Bakhtiar Ahmadi, Khaled Menbari, and Naseh Moradi, were arrested and interrogated for several hours on Wednesday after being summoned to the Marivan Intelligence Office. Teachers have been released following a written pledge not to take part in the nationwide protests on Thursday.
An informed source told Hengaw that security forces in Marivan beat Adel Mohammadpour, a veteran and retired teacher in Marivan. He has been injured in the hands.
Hengaw announced the arrest of five members of the Divandareh Teachers' Union on Wednesday, called Omid Shahmohammadi, Osman Rezaei, Hiva Ghoreishi, Parviz Ahsani, and Kaveh Mohammadzadeh, who are still in custody.
At least 18 teachers in Saqqez were arrested by security forces on Thursday, 13 of whose identities were verified for Hengaw as Khaled Abdollahi, Mohammad Fattahi, Soleiman Abdi, Aziz Marzi, Loghman Allahmoradi, Ahmad Ghaderi, Keyvan Mohammadi, Khaled Sheikhi, Anvar Farajzadeh, Seyed Salah Hosseini, Taher Hamedi, Zahed Moradi and Avat Razavi.

Also, Maryam Ahmadi, Reza Eliassy, Baha Malaki, Jabbar Pakzad, and Fateh Asadi, teachers and union activists in Sanandaj were summoned to the Sanandaj Intelligence Office and arrested on Thursday at 5:30 PM.
Hengaw was informed that the five teachers had been released on Thursday after four hours of interrogation and a written undertaking not to participate in the protest rally. It is worth mentioning that Mohammad Reza Moradi, a member of the Teachers' Union in Sanandaj, was arrested on Tuesday evening.
Detained teachers in Saqqez; 22 cases that 19 have been identified:
1- Khaled Abdullahi
2- Mohammad Fattahi
3- Suleiman Abdi
4- Aziz Marzi
5- Loghman Allahmoradi
6- Ahmad Ghaderi
7- Keyvan Mohammadi
8- Khaled Sheikhi
9- Anvar Farajzadeh
10- Seyed Salah Hosseini
11- Taher Hamedi
12- Zahed Moradi
13- Avat Razavi
14- Ghader Yathrabi
15- Taher Ghaderzadeh
16- Esmail Reyhani
17- Amanj Amini
18- Hossein Mohammadi
Detained teachers in Divandareh; 5 cases
1- Omid Shah Mohammadi
2- Osman Rezaei
3- Hiva Ghoreshi
4- Parviz Ahsani
5- Kaveh Mohammadzadeh
Detained teachers in Marivan; 8 cases
1- Aram Ghaderi
2- Tahsin Mostafa
3- Seivan Soleimani
4- Bakhtiar Ahmadi (released)
5- Khaled Menbari (released)
6- Naseh Moradi (released)
7- Esmail Amini (released)
8- Saleh Habibi (released)
Detained teachers in Sanandaj; 9 cases
1- Salah Haji Mirzaei
2- Mohammad Reza Moradi
3- Maryam Ahmadi (released)
4- Reza Elyasi (released)
5- Baha Malaki (union activist, released)
6- Jabbar Pakzad (union activist, released)
7- Fateh Asadi (union activist, released)
8- Ghias Nemati
9- Behzad Ghavami