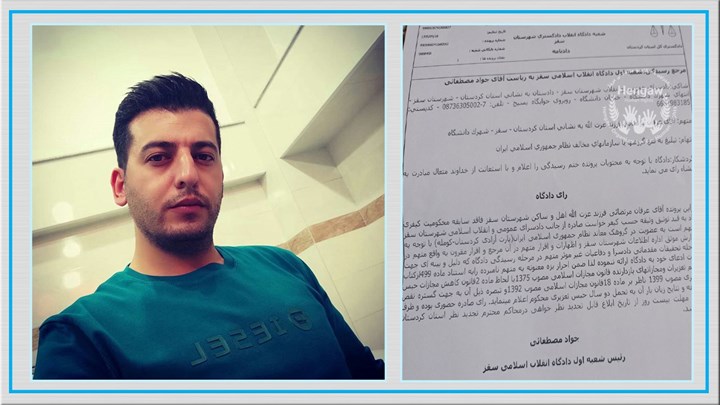 Hengaw: A Kurdish citizen from Saqqez district of Kurdistan Province in Iranian Kurdistan , who was detained by the security services of the Islamic Republic of Iran in late November, has been sentenced to prison by the Iranian judiciary.
According to a report received by Hengaw Human Rights Organization, Erfan Mortezayi, 32-year-old, has been sentenced to 2 years in prison by first Branch of the Iranian Islamic Revolutionary Court in Saqez , and this sentence was officially announced on Sunday, December 13, 2020.
The sentence was issued by Judge Javad Mostafayi on charges of membership in the Kurdistan Freedom Party (Pak) and the Komala Workers' Party of Kurdistan, and Erfan Mortezayi has 20 days to appeal the sentence.
Erfan Mortezayi was detained by the Iranian Intelligence Service in Saqez on Wednesday, November 11, 2020 , and was released on bail of 150 million Tomans ($6000) four days later.
Erfan Mortezayi, a former member of the Kurdistan Freedom Party (Pak) for several years and later a member of Komala, returned to Saqqez in March 2019 after leaving the party and was detained for four days by Iranian Intelligence service .
The Kurdish citizen was detained again later in June and was temporarily released on bail after four months.