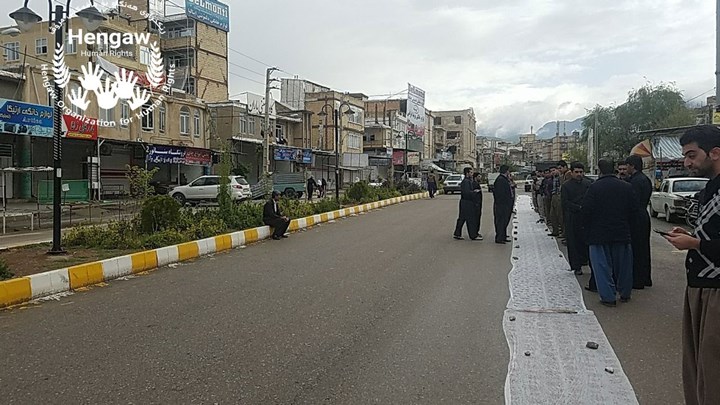 Hengaw: The merchants, shopkeepers, vendors and marketeers of the border towns of Kurdistan, keep strike going for fourth day, plus the cities of Mahabad, Piranshahr and Sardasht also joined the strike
.
Based on the report of the Human Rights organisation "Hengaw", today (Wednesday, 18 April 2018), shopkeepers in the cities of Baneh, Javanrood, Marivan, Saqqez, Sardasht, Piranshahr and Mahabad joined strike, in protest over the increase of Customs Tariff rates and the closure of border crossings with the Kurdistan Regional Government (KRG).

Baneh's political vice governor, Nejhad Shahidi, in a conversation with the IRNA news agency, referring to the strikers of the Baneh City's Bazaar, said: "Foreign agents are involved in encouraging traders to protest, to go on strike and to close the businesses and corporate units".

At the same time, more than 10 protesters have been arrested in the cities of Marivan, Baneh and Saqqez.

In a symbolic act to show people's poor livelihood conditions, the Bazaar traders and merchants on strike, spread empty tablecloths over many dozens of meters on the streets. Today, government agents have started removing the empty tablecloths.

In March 2018, the government announced the launch of the "Border Citizens' Cards" for border exchanges, called the "Pilehwari Card" in the cities of Baneh, Marivan and Sarvabad. According to this plan, marketeers in the region can import goods that are not represented in Iran only through government-issued passes with specified tariffs.