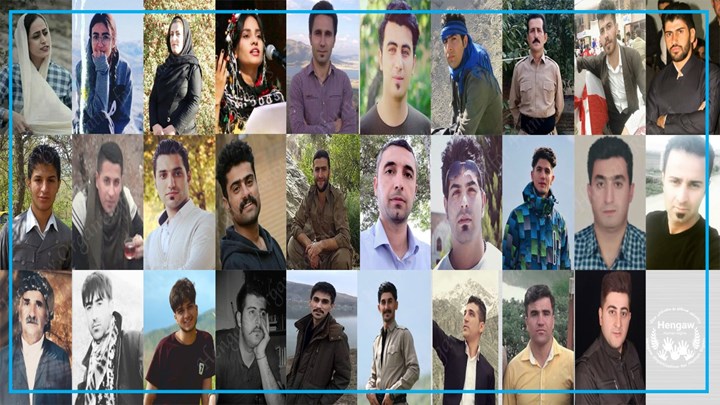 Hengaw : At least 34 Kurdish citizens have been detained in the past 10 days since the start of a new wave of mass detention of Kurdish citizens by Iranian security forces, 31 of whom are still in detention.
According to a report received by Hengaw Human Rights Organization, following the recent wave of mass detention , on Monday, January 18, 2021, Fardin Advaei, a Kurdish citizen from Selin village in Sarvabad district of Kurdistan has been detained after being summoned to the Iranian intelligence office in the city .
According to an informed source, this Kurdish citizen has been arrested on charges of collaborating with a Kurdish opposition party .
On the other hand, on the first day of the detentions , on Saturday, January 9, 2021, a girl from Mahabad, identified as Asrin Mohammadi, and a man from Marivan, identified as Faramarz (an unknown family member) were detained by Iranian Islamic revolutionary Guards Corps intelligence forces in Tehran and transferred to detention centers in Urmia and Sanandaj .
The detainees from Bukan, Mahabad, Rabat and Naqadeh, along with two students detained in Karaj, were transferred to the Iranian Islamic Revolutionary Guards Corps Intelligence Detention Center in Urmia, and the detainees in Marivan, Sarvabad and Sanandaj were transferred to the Detention Centers in Sanandaj.
Of the 35 detainees, three have been released. Taraneh Mohammadi from Baneh and Karo Alidad from Marivan were detained on the same day and Salman Advaei was released six days after his detention .
According to research conducted by Hengaw, all detainees informed their families of the detention in short telephone calls in Persian, but none of the families have been able to visit their children.
A number of media outlets also reported the detention of two citizens, Iman Abdi and Hassan Abdi, who were found to be the same person after an investigation.
Hengaw announces the names of the detainees as follows:
Mahabad:
1- Darya Talabani
2- Shapul Khezri
3- Soran Hosseinzadeh
4- Salar Rahavi
5- Afshin Mam Ahmadi
6- Sirvan Nouri
7- Iman Abdi
8- Farzad Samani (arrested in Karaj)
9- Soran Mohammadi
10- Amir Bayazidi Azar
11- Asrin Mohammadi
Marivan:
1- Zanyar Motamedi
2- Karvan Minuyi
3- Dana Samadi
4- Sirvan Karimzadeh
5- Jabbar Piroozi
6- Karo Alidad (released)
7- Sahib Badrouj (detained in Karaj)
8- Adel Parvazeh
Sarvabad:
1- Salman Advaei (released)
2- Siamak Advaei
3- Akram Adavaei
4- Fardin Adavaei
Rabat:
1- Bahman Yousefzadeh
2- Fereydoun Musapour
3- Farhad Musapour
Naghadeh:
1- Abdullah Haji Ahmadi
2- Peyman Haji Ahmadi
3- Galavij Abdullahi
Bukan:
1- Azimeh Naseri
2- Hossein Gardashi
Sanandaj:
1- Aram Yousefi
Baneh:
1- Mohammadi song ( released)