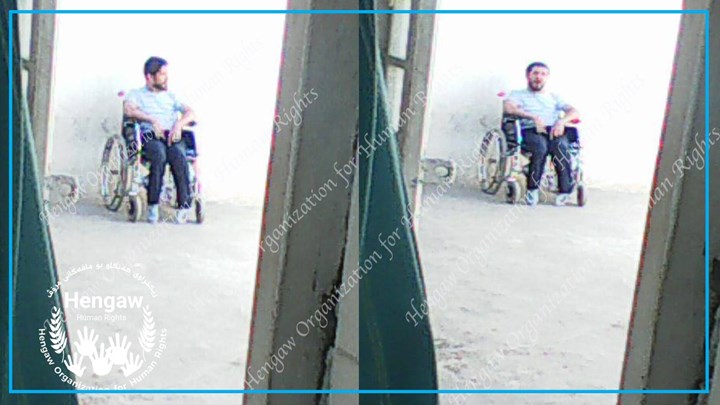 Hengaw : The General Directorate of Forensic Medicine in Urmia confirmed the disability of a Kurdish religious prisoner with a very severe degree, however, he did not issue a release sentence and made his continued detention conditional on the provision of appropriate healthcare .
According to a report received by Hengaw Human Rights Organization, the Forensic Medicine Department announced in a letter to Urmia Central Prison that a meeting of the Internal Medicine Neurology Commission for the case of Akbar Rashidi, a Kurdish religious prisoner, had been held at the General Directorate of Forensic Medicine office in Urmia.
In this letter, the forensic doctor has confirmed the disability of this 34-year-old Kurdish religious prisoner, and if the proper health conditions are provided, he must endure the conditions of imprisonment.
As the first source to publish the case of Akbar Rashidi along with the video, Hengaw had previously reported that this Kurdish religious prisoner needed a companion to carry out his personal affairs, and that other prisoners were helping with him.
Akbar Rashidi, who was born with a severe disability (one arm and two legs are completely paralyzed) was arrested on Tuesday, July 19 ,2019, by the Iranian Intelligence Service and detained for 3 days in a solitary confinement cell of this department then transferred to Urmia Central Prison on Saturday, September 7 . It is worth mentioning that he has been covered by the Welfare Organization for 17 years and is not even able to do his personal works alone.
This Kurdish citizen was sentenced by the Second Branch of the Iranin Islamic Revolutionary Court in Urmia in February 2020 on charges of "felony and membership in jihadist groups" to 15 years in prison and for " acting against national security " to 6 years in prison and for " propaganda against the regime " to one year in prison, which according to Article 134 of the Islamic Penal Code, the heaviest punishment is applied to him.
Directorate of Forensic Medicine in Urmia confirmed the disability of Kurdish religious prisoner with a very severe degree, however, he did not issue a release sentence & made his continued detention conditional on the provision of appropriate healthcarehttps://t.co/8d8c6770mn pic.twitter.com/IARQCFBA2j

— Hengaw Organization for Human Rights (@Hengaw_English) January 5, 2021