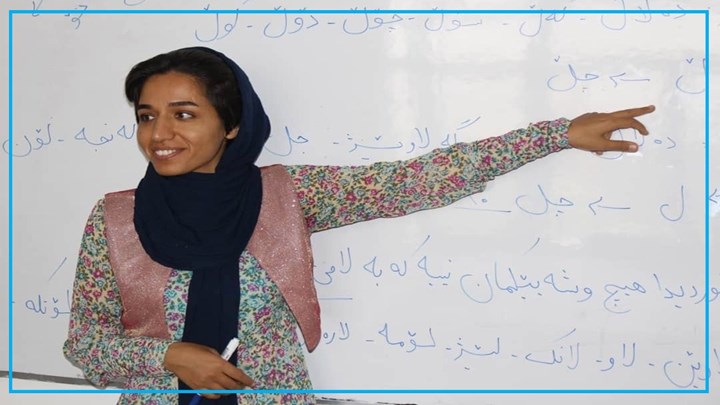 Hengaw : The Fourth Branch of the Iranian Court of Appeal in Kurdistan Province (Sanandaj) confirmed Zahra Mohammadi's 5 years imprisonment sentences .
According to a report received by Hengaw Human Rights Organization, the Iranian Court of Appeals in Kurdistan Province reduced the initial sentence of 10 years imprisonment for Zahra Mohammadi, a Kurdish language teacher and head of the Nojin Socio-Cultural Association to 5 years .
According to an informed source, the Court of Appeals of Zara Mohammadi was held in October 2020 in the Fourth Branch of the Provincial Court of Appeals, headed by Judge Mustafa Tayari, and this sentence has been officially notified to her in recent days.
This Kurdish language teacher was sentenced in July 2020 by First Branch of the Iranian Islamic Revolutionary Court in Sanandaj headed by Judge Saeedi, to 10 years in prison on charges of "forming a group against national security."
This sentence was issued while Zahra Mohammadi was just a member of the Nojin Association and was acquitted of all charges.
Zahra Mohammadi was arrested alongside two other members of the Nojin Association on Thursday, May 23 , 2019, after a raid on her home by the Iranian Intelligence Forces in Sanandaj.
Zahra Mohammadi is 28 years old,6 originally from Sarawleh village in Dehgolan district and a resident of Sanandaj and holds a master's degree in geopolitics from Birjand University.
This civil activist has been teaching Kurdish language voluntarily in the surrounding villages of Sanandaj for 2 years. She was one of the founders of the Nozhin Socio-Cultural Association and its chairwoman .
Nojin Association is one of the active cultural and social associations in Kurdistan province and its regions, including Sanandaj, Kamyaran, Dehgolan, Saqez and Baneh, and all its activities have been voluntary and public benefit.
It is worth mentioning that Judge Mostafa Tayari, head of the Fourth Branch of the Court of Appeals, is one of the notorious judges in the field of human rights. He is as formerly in the Second Branch of the Iranian Islamic Revolutionary Court of Sanandaj, which violated the fundamental rights of Kurdish political and civil activists in Kurdistan Province.